Amazing Indoor/Outdoor Living! Private Pool & Fruit Trees - Near Old Town
Property overview
Scottsdale Estates Ten, Scottsdale, AZ, USA
House

Sleeps: 10

Bedrooms: 4

Bathrooms: 3

Min Stay: 2–4 nights
4 Bedrooms, 3 Baths, Sleeps 10
Tour this property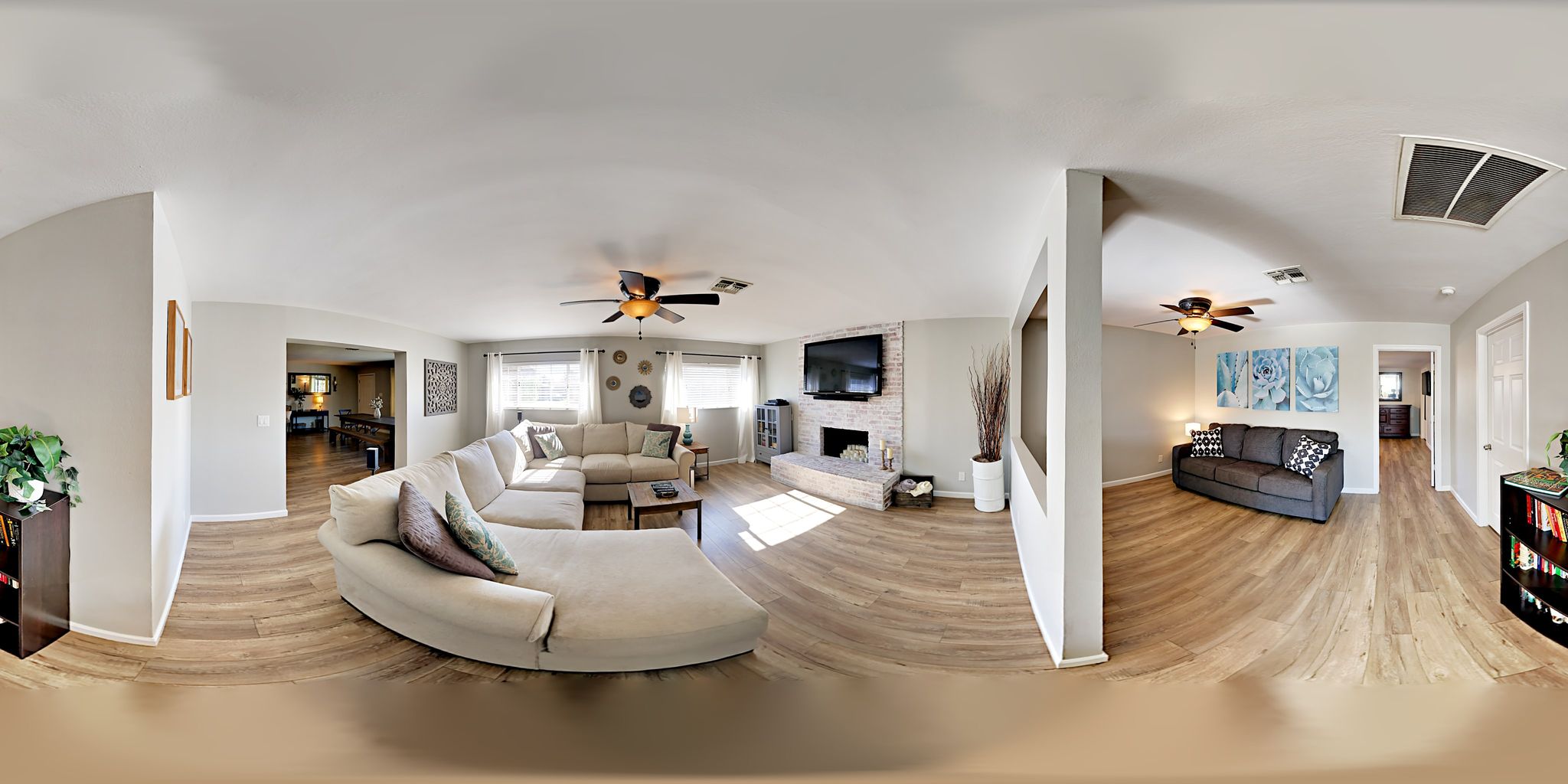 Property Manager
Ask a question
TurnKey Vacation Rentals
Member Since 2006
Amenities
Featured
Swimming pool

Internet

Air Conditioning

Pets Welcome

TV

Satellite or Cable

Washer & Dryer

Children Welcome

Parking

Heater
House Rules
Check-in: 3:00 PM
Check-out: 10:00 AM
Minimum age of primary renter:25
Max guests:10
Reviews
1–6 of 12
Perfect for travel team
Rating Details:
The property manager was very helpful.
The vacation rental was spotless.
I was very happy with the location.
I was very satisfied with the condition of the vacation rental.
Overall, I recommend this vacation rental.
Reviewer Comments:
We were here on a work trip . This was an excellent location, a beautiful set up which was spotlessly clean. The outdoor area was wonderful for relaxing swimming , and enjoying the weekend ! It is close to all the highways and restaurants, mall and old town.
Amazing home with everything one could want/need for a get away. Clean, cozy, perfect!!!
Excellent experience all around. Would rent this exact space again on an instant.
Beautiful and Clean
Great vacation home for family and friends! Very clean, stylish, and comfortable (beds, couch, pool lounge, etc.). Management company very responsive. Highly recommended.
Perfect place for a family gathering of all ages!
I don't know were to start. Every need we required in accommodations were met in every way. I do believe the home is the best kept secret ever for the price! We stayed 5 days to celebrate our Grand-daughters graduation from ASU so there was a lot of comings and goings. The kitchen is well stocked for cooking, the beds were very comfortable and the open concept allows for great conversation areas. I recommend this home for a relaxed stay with lots of room for quiet time and entertaining.
Great Place/ Privacy Compermised.
Rating Details:
The property manager was very unhelpful.
The vacation rental was spotless.
I was more than happy with the location.
I was very satisfied with the condition of the vacation rental.
Overall, I do not recommend this vacation rental.
Reviewer Comments:
This house was a very nice rental. It had all the amenities that you would need and it was very well kept and cleaned. However, one evening one of our guest was in bed due to feeling ill and the other two of us sat in the kitchen listening to some music having a few drinks. One of the guest had a friend that lived in the area stop by for a little bit to socialize. We were never outside nor was there a lot of noise. I received a text message from the management company at 10:02 stating they got a complaint of excessive noise and was everything all right? I said yes everything's fine and there's no loud noise, where did the complaint come from? They stated from a system inside the house. I asked them if they were listening in on our conversations and they declined to answer. I did turn off the tablet they had on in the house and started using the back door because I knew there were cameras at the front door. It's a shame that you have to stay at a rental where they're listening in and recording your every move. I did call The management company that night because they were supposed to be 24 hour service. However, an answering service company answered the phone and explained they cannot help me and to call back tomorrow. So the next day I talk to about it and they denied any type of recordings in the house. When I asked them about the text messages they sent me they stated they do not know why they were sent to us. They could not give me a reason on a report of noise and seemed a little surprised when I started questioning them. On my check out day I even had to take video of the house before we left just because I had no trust in this company. I had also received an email from them asking us to plug the tablet back in. So this house is great but you will be spied on your whole visit.
Owner's Response:
Hi Scott, Thank you for taking the time to leave this review, and we're so happy to hear you enjoyed our home. However, we would like to clarify that guests are never actively monitored or recorded while staying at our property. Please rest assured that your privacy and safety are both important to us. Our noise monitor can only measure decibel levels and does not have the ability to record or transmit conversations. This device is in place to monitor any excessive noise and alert us to any possible disturbances that could have put you and your guests at risk. Additionally, the security camera in front is pointed away from any private areas and is only used as an added layer of home security. We do apologize that this information was not properly communicated to you and will be following up with our Guest Experience Team to address your interactions with them. If there is anything else we can still do for you, reach out anytime and let us know. -The TurnKey VR Team
Awesome stay!!!
This place was awesome!! Centrally located, super clean and very spacious. We slept sooo well, the mattresses are unbelievably comfortable. We had a big group for Spring training yet never felt crammed. I especially loved the orange trees out front , we even made fresh OJ In the morning . Only complaint, pool not heated.. would have also been nice to have a few necessities like salt / pepper . Paper towels. Cooking spray. That sort of thing. Would TOTALLY recommend this home . Dog friendly with dog door was a bonus for our party!! Property management team was very responsive . Really appreciate the friendly service / text message option. Will definitely rent from turnkey in the future!!!
Owner's Response:
Hi Shannon,
Thank you for the compliments, and we're thrilled to hear you had a great time staying with us! It's also great knowing that you were able to make fresh orange juice each morning using the orange trees out front. With regards to the lack of spices and cooking spray, TurnKey does not stock any food-related items in our homes to prevent guests from consuming anything that has either been contaminated or has spoiled. By the way, you were fantastic guests, and we appreciate you taking such good care of our place. Please come back and stay again anytime! -The TurnKey VR Team
1–6 of 12
Map
Scottsdale Estates Ten, Scottsdale, AZ, USA