7 Things to do in Lunenburg
Lunenburg is for all kinds of visitors, but two in particular will feel the most excited: history buffs and sea lovers. This little town in the North Atlantic is a symbol of Nova Scotia's seafaring reputation.
Its rich history is all about boat building and exciting fishermen tales. Lunenburg is also home to a picturesque waterfront, a rustic lifestyle, and classic architecture. Let's take a look at the best things to do in Lunenburg and find out what makes it such a perfect day trip destination. This is especially true in the high season, from May to October – although there are some great winter activities there, such as an unmissable lobster crawl in February. We bet you'll be putting Lunenburg on your Canada travel bucket list before you finish reading!
1. Embark on the Bluenose II
The Bluenose was North America's fastest fishing and racing schooner for 17 years since 1921. She earned the title "Queen of the North Atlantic" and became a symbol of Nova Scotia and Canada. The original Bluenose was lost in 1946, but the legend was reborn in 1963 with the Bluenose II. Today, visitors can go aboard and even sail on the replica of this beloved historic vessel. If you're thinking about what to do in Lunenburg, this is an absolute must.
From June to September, you can take a harbour cruise aboard the boat, either in Lunenburg or in another port on the schedule. Or become a crew member of the Bluenose II for a day, where you and your family or friends sail the North Atlantic and get a taste of the old days of fishing. Check the schedule online to see which days she will be in Lunenburg and book in advance.
Local tip: even if you've booked, call in advance to make sure your cruise is still on. The Lunenburg weather can be unexpected sometimes.
2. Take in the view at the waterfront
Lunenburg's waterfront marina is one of the most scenic in Canada. Its colourful buildings are some of the many things that make it a UNESCO World Heritage Site.
One of the best things to do in Lunenburg is to sit on a patio with a dockside view, having a good meal or a drink. Take in the view of sailboats, the local boat builders and fishermen at work, and the gorgeous sunset.
If you visit Lunenburg from May to October, you can also enjoy the Fisheries Museum of the Atlantic. Right on the waterfront, it's a fun way for visitors to explore Nova Scotia's fishing heritage. The museum offers many exhibits and interactive videos, making it a great family attraction.
Local tip: check if there's any sea monster exhibit there. It's a rare find well worth your time.
3. Walk around town
Lunenburg is a walking town. Its main attractions are all central, being a stone's throw away from each other. So put on your comfy shoes and stroll around the streetscapes of this UNESCO World Heritage Site. You'll fall in love with the Lunenburg history and its 18th-century architecture.
Local tip: take a walk up to the Bluenose Golf Course for some of Lunenburg's best panoramic pictures. While you make your way up, keep your eyes open for a segment of the Berlin Wall.
The best way to experience city walks is with local tour companies. Guides in town know all about Lunenburg's history, folklore, and architecture. A highly recommended option is the Essential Lunenburg tour. A 1-hour journey through Old Town and its heritage. If you like spooky stories, go for the Haunted Lunenburg instead. This walk will take you through Lunenburg's dark past of legends and terrifying tales of hauntings, superstitions, and sightings. The lantern-lit horror walk finishes up at – of course – Hillcrest Cemetery.
Are you tired of walking, or don't want to move around much? Take a 45-minute horse-drawn carriage ride through the town's scenic streets. Getting around on a vintage carriage is surely one of the most unique things to do in Nova Scotia and Lunenburg. You can book online for yourself or groups of up to 20 people.
4. Go for culinary experiences
Being a seaside town, Lunenburg is the perfect place to indulge in a seafood feast. And lobster is the local star. Having it fresh is one of the best things to do in Lunenburg in winter – the season for this coveted shellfish. You can eat it at the Salt Shaker Deli, best known for its lobster roll and seafood chowder. Local tip: this is a very popular place, so go early or have a late lunch to skip the line.
If you want a harbour view, go to the Fish Shack, known for their scallops, fish & chips, and reasonable prices. Or try Lincoln Street Food for a more high-end experience. Its tasting menu includes seasonal, mostly fresh seafood.
One gourmet experience the adults can't miss is touring the Ironworks Distillery. It's a micro-distillery located on Lunenburg's South Shore, producing rum, gin, and vodka. Its handcrafted products are made with as many locally-grown ingredients as possible. Tours include free tastings, with no pressure on visitors to buy a bottle. (But the prices are reasonable if you choose to buy on-site.) Local tip: ask the staff or a guide to tell you the story behind their Shipwreck Rum. You won't regret it!
5. Visit Blue Rocks and beyond
Some of the best Lunenburg attractions are slightly outside of town. For example Blue Rocks, less than 10 minutes by car from Lunenburg,  is a beautiful fishing village, with blue slate rocks on the ocean's edge that lend the place its name. It is without question a dream location for artists and photographers. Its fish shack sitting on the water is one of the most photographed buildings in the county. No wonder people call Blue Rocks "Lunenburg's answer to Peggy's Cove", one of Nova Scotia's most scenic locations.
Blue Rocks is great for exploring the outdoors. Kayaks and bikes are available for rent in a shop nearby. Local tip: if you plan to spend a few hours there, go in the morning to catch the beautiful sunrise. You'll love Blue Rocks for being less touristy than downtown Lunenburg. And if you feel like exploring some more, drive to some of the hidden gems nearby. Westhavers Beach, Splinders Beach, Oxners Beach, and LaHave are sure worth the visit.
6. Go on a whale watching adventure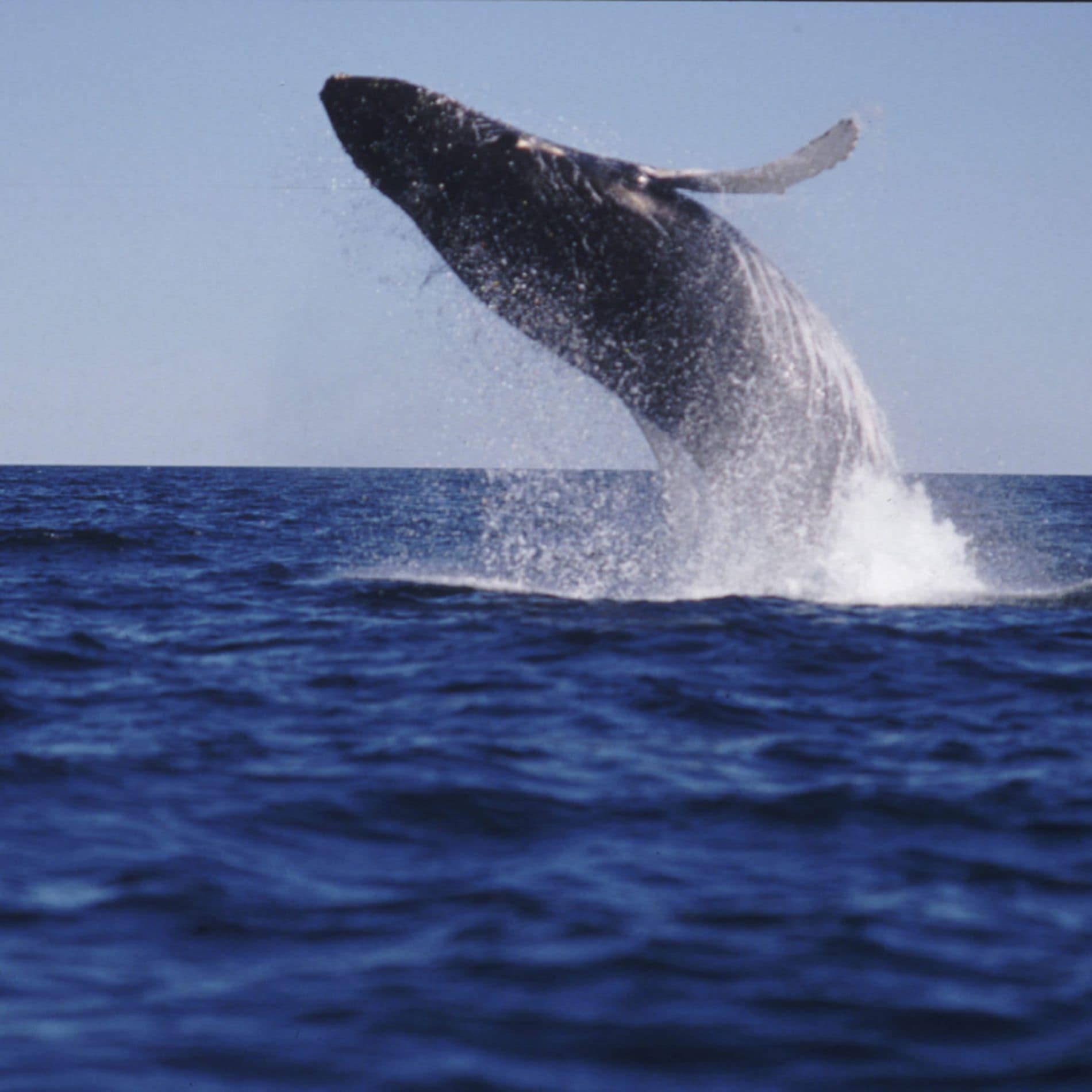 Lunenburg is one of Nova Scotia's best spots forwhale watching. From May to October, grab your binoculars and embark on a 3-hour tour to see these ocean giants.
Sometimes the whales get so close to the boat, you can actually touch them. There are a few species to watch in Lunenburg: fin, pilot, minke, and – the local favourite – humpback whales. You can also see dolphins, ocean sunfish, giant bluefin tuna, and leatherback turtles. And let's not forget the birds of Lunenburg – they're part of the animal pack too. Expect puffins, razorbills, terns, black guillemots, petrels, shearwaters, and gannets during the tour.
7. Go to a festival
Lunenburg's beauty has always been an inspiration for all kinds of artists. So it's no wonder that it hosts cultural festivals all year round, for all kinds of audiences. In July, local talents take part in two events. These are the Lunenburg Street Festival and Artwalk and the Nova Scotia Folk Art Festival. In August, it's folk music time. The Lunenburg Folk Harbour Festival features musicians from all around Nova Scotia.
And there's more for the foodie crowd. During summer, the Craft & Food Festival brings food trucks, craft vendors, and lots of fun to Lunenburg. The tickets are cheap, with discounts for children, students, and seniors. 
Looking for things to do in Lunenburg in winter? During the month of February experience the  Nova Scotia Lobster Crawl Festival, where you can sample dozens of variations of the traditional lobster roll and lobster-infused dishes.  The festival runs along Nova Scotia's South Shore region from Peggy's Cove to Barrington. 
Before travelling to Lunenburg, take a look at theupcoming events and activities in town. It's the best way to stay up to date on new experiences and traditional attractions of your taste.
Visiting  Lunenburg
The closest major city to Lunenburg is Halifax – the Halifax International Airport is only an hour's drive away. So it's a good idea to find accommodation there and travel to Lunenburg by car for a day trip.
Add some flair to your Lunenburg trip by picking a historic quaint rental close to the ocean. There are a lot of historical homes and buildings in town, dating from almost two centuries ago, that have become charming vacation rentals. Staying in one of them is a great way to enjoy all that Lunenburg has to offer.