Hosting a Thanksgiving meal at a Vrbo stay
---
Marrekus and Krysten Wilkes are husband-and-wife recipe developers and food photographers. Together they run the popular food blog, Cooks with Soul https://cookswithsoul.com where they share many of their favorite recipes and custom spice blends. Marrekus is retired Air Force, and Krysten is a doctoral student and full-time homemaker. In their free time they enjoy kayaking, skiing, fishing, and being outdoors. They currently reside in Maryland with their blended family of 6 children.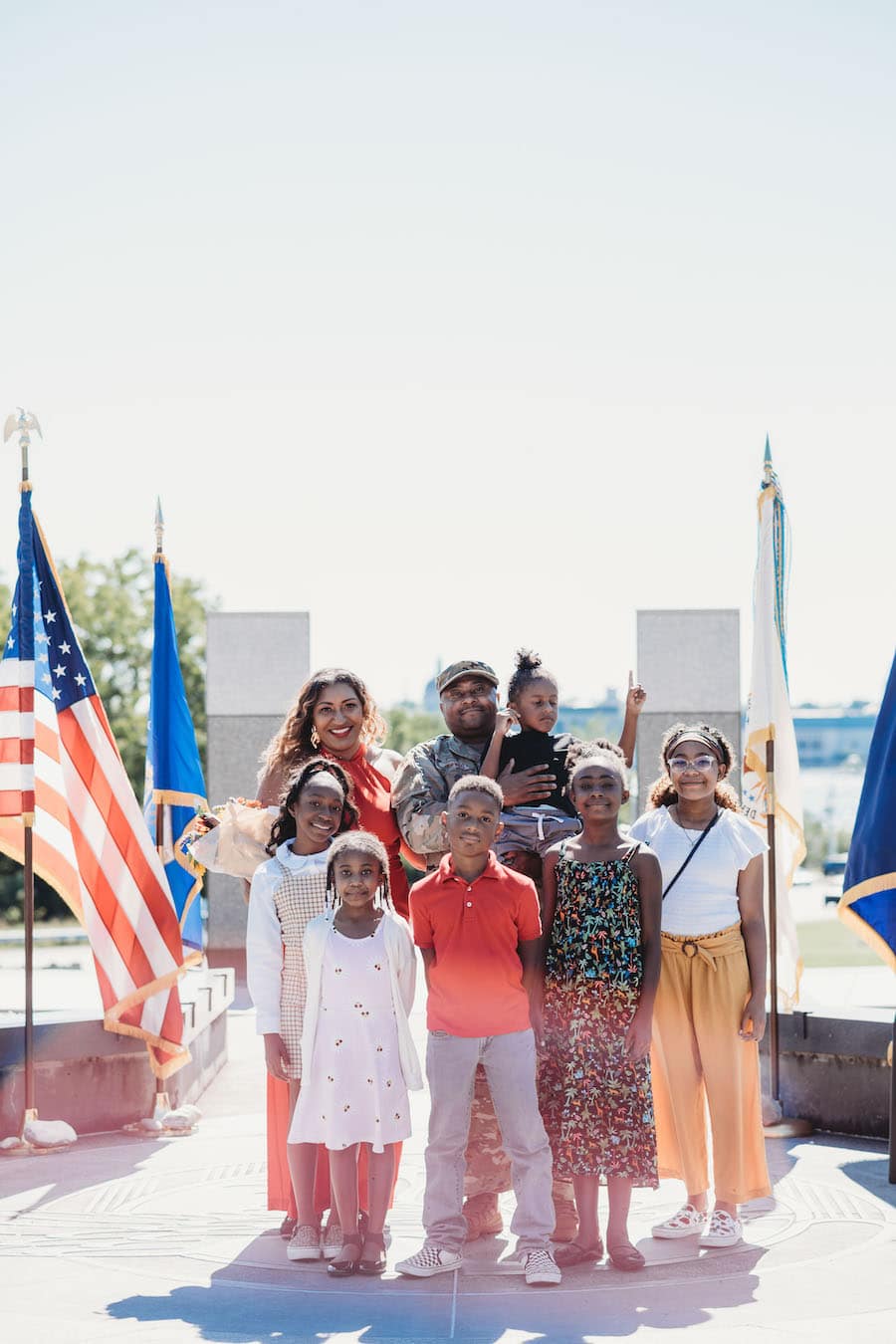 ---
We're like many families in that Thanksgiving is a time for us to gather with our loved ones far and wide. Being a military family of eight has made that somewhat difficult, due to constantly being on the move and deployments. However, now Marrekus is retired, we can finally make plans and even host our very first Thanksgiving dinner.
As food bloggers, people are always wanting us to cook and host, especially for the holidays. We love it because it's our true passion and an opportunity for us to try out new recipes. However, this Thanksgiving looks a little different. Still reeling from the pandemic, almost every room in our house has been converted into a makeshift workspace to accommodate working from home, homeschooling, and running a business. From desks and chairs in the living room to food photography equipment piled high in the kitchen, our house isn't prepared at all.
Booking a vacation rental this Thanksgiving is the perfect alternative to hosting a gathering at your house. Whether you plan to do a local staycation or organize a destination trip, having a dedicated space to plan and prep your meal and host family and friends for the holidays is a necessity. Simply scroll through pictures of the various rentals and pick your ideal space based on function, size, and even aesthetic. For example, our ideal vacation rental for hosting Thanksgiving includes a huge kitchen decked out with a gas stove and double ovens, an open layout so we can entertain while cooking, and backyard space for our kids to run around and play. Bonus if it comes with a firepit or hot tub to enjoy after dinner!
---
Our top three favorite destinations perfect for hosting Thanksgiving are: Vail, Colorado; Key West, Florida; and Deep Creek Lake, Maryland.
Vail, Colorado
Vail is the perfect location for hosting a Thanksgiving gathering because the ski resorts open just in time. I am a Colorado native, grew up skiing in the Rocky Mountains, and would look forward to Thanksgiving every year because it signaled the start of the ski season. Now, we can continue the tradition with our kids. It's also a short drive from my parents which means we can bring up any special cooking equipment for us to make a five-star meal.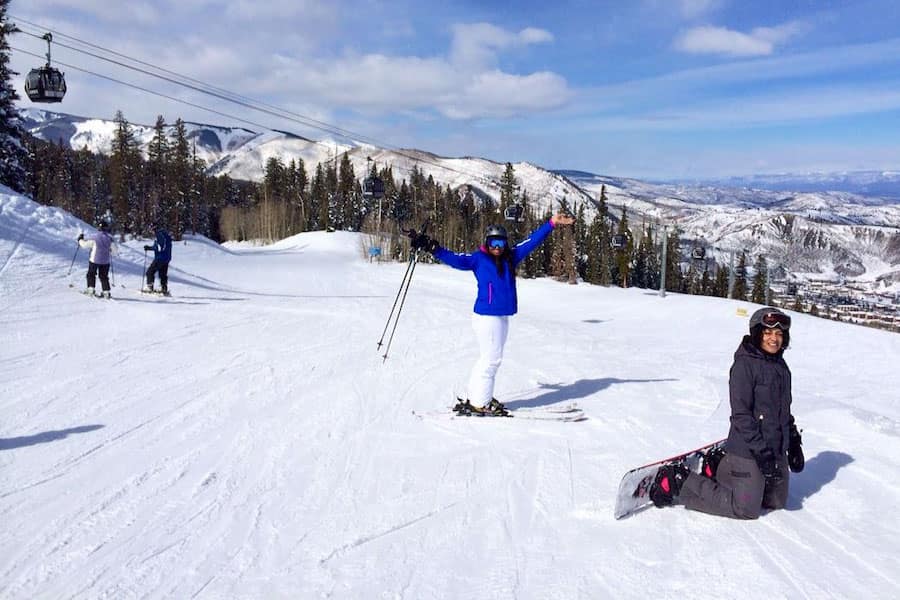 Key West, Florida
If you're looking for a warm vacation destination to host Thanksgiving, look no further than Key West. Located at the southernmost tip of the United States, Key West has the best small-town vibes where everyone is friendly and makes you feel at home. It's no coincidence that Key West's motto is "One Human Family". At one point we were stationed in Florida, so we can invite our friends and family there too. However, what we loved most were the beautiful beaches and warm weather, which makes Key West the ideal location for hosting a Thanksgiving gathering outdoors with a beautiful view.
Deep Creek Lake, Maryland
Staying local is another great bet for hosting Thanksgiving dinner this year. Maryland, where we currently reside, has so much to offer in terms of vacation rentals. Deep Creek Lake is one of the most scenic destinations and only a couple hours away. That means we can load up the car with all our special cooking equipment like roasting pans, stock pots, and Marrekus' favorite knives. We can also invite our closest friends who live nearby. A staycation is also more economical because you can drive there.
---
Planning Your Meal
Deciding on what to cook for Thanksgiving is one of our favorite parts of hosting. We start by making a menu and then writing down the ingredients and equipment needed. It's no different when you're renting a vacation property for the holiday. Planning ahead of time will help tremendously. Also, reach out to the property host if you have any questions about the availability of pots and pans, serving dishes, utensils, and other special cooking tools.
Another tip is to bring your own spices and herbs with you. We have our own line of seasonings and it's all that we use, so we travel with them everywhere. Whether you're planning to stay local or catch a flight, you can easily store your favorite seasonings in your luggage.
Finally, order your groceries ahead of time for delivery at your vacation rental. During quarantine we exclusively did grocery delivery, and it has changed the way we shop. Remember to grab things like dish soap, dishwasher detergent, napkins, and paper towels if not already provided at the property. We recommend arriving at your vacation rental a couple days before Thanksgiving, that way you can beat the rush and have your groceries delivered early.
---
What's on Our Menu
Each year for Thanksgiving we try to do a mix of traditional and non-traditional dishes that reflect who we are. One of our favorite places to visit is New Orleans. We were married there, and we love Creole and Cajun cuisine, so last year, we made a Cajun smoked turkey. This year we plan to incorporate a few seafood dishes, like crab cakes and seafood dressing, for a coastal inspired gathering.
Hosting a Thanksgiving gathering at a vacation rental is perfect for many reasons. Especially this year when our homes have been converted into multipurpose spaces. Whether that's a mountain getaway, a tropical tourist destination, or a cozy spot within driving distance to where we live, Vrbo has something for everybody. They truly bring a new meaning to the saying, "home for the holidays". Home is wherever we are all together – especially if there's an amazing kitchen!
In the spirit of the holidays, we're sharing one of our favorite recipes that is perfect no matter where you're planning to celebrate and sure to be a real crowd pleaser.
Jambalaya Cornbread Dressing
6 ounces andouille sausage, diced
1 pound chicken thighs, diced
6 tablespoons butter, diced
1/2 yellow onion, diced
1 red bell pepper, diced
4 garlic cloves, minced
1 14.5 ounce can diced tomatoes, drained
1 1/2 teaspoons Cooks with Soul The Boot seasoning (alternatively, you can use Cajun seasoning)
1 teaspoon Worcestershire sauce
16 ounces cornbread dressing mix
3 cups chicken broth
Preheat the oven to 350 degrees.
Heat skillet over medium high heat and sauté andouille until browned; set sausage aside.
Add chicken and sauté until completely browned. Remove from heat and set aside.
Heat butter in a separate large skillet over medium heat and add onions, bell pepper, and garlic. Cook until vegetables are softened, about 2-3 minutes.
Add the andouille sausage and chicken to the skillet with the vegetables. Add the tomatoes, Cajun seasoning, and Worcester sauce, and simmer for 2-3 minutes more.
Remove skillet from heat and transfer meat and vegetable mixture to a large bowl. Toss mixture with the cornbread mix. Slowly add chicken broth until the stuffing is dampened, but not too wet. Mix gently so as not to break up the bread cubes.
Pour the cornbread stuffing mixture into a greased baking dish and bake, covered with foil, for 45 minutes.
Remove the foil and bake an additional 15 minutes, until browned and slightly crisp on top.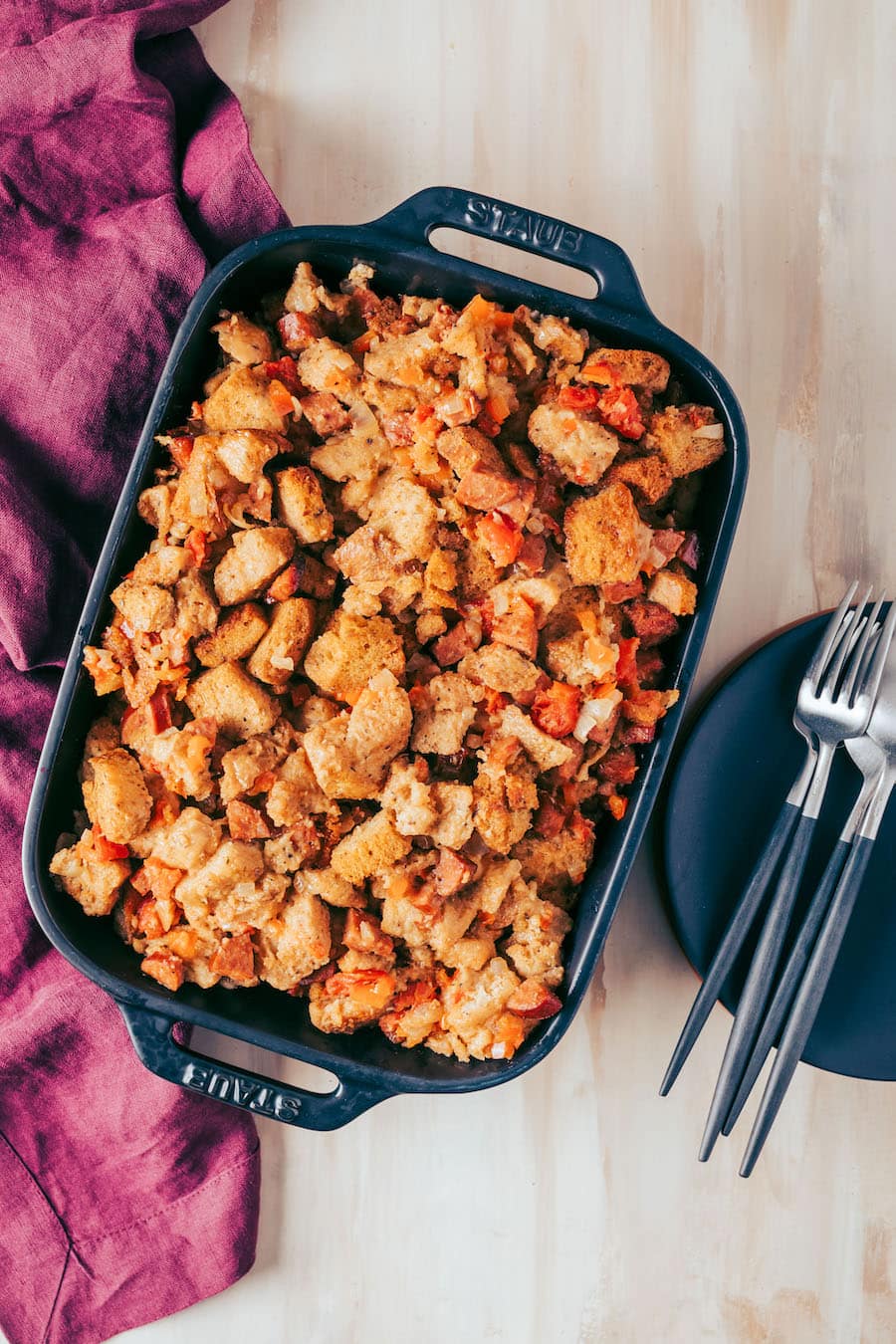 ---
Follow Cooks with Soul at:
---