Honeymoon vacation rentals in Jamaica
Whether you need a long break after your wedding or just want to take a quick tropical vacation with your significant other, you may want to consider Jamaica for your next romantic getaway. Many couples want a vacation destination where they can just kick back, relax, and enjoy each other's company, and Jamaica is exactly one of them. On the other hand, if you're in the mood for more activity and excitement, Jamaica can provide that, too. A quintessential vacation destination for honeymooners and longtime couples alike, Jamaica has a range of vacation rental options for all tastes and budgets.
Vacations rentals in Ocho Rios
One of the most popular spots in Jamaica for a romantic getaway, Ocho Rios offers a host of attractions for the active traveler, as well as options for those who want to stay put. You can climb the area's famed Dunn's River Falls for an exhilarating day trip, then hop on one of the region's many sunset cocktail cruises for a romantic way to start your evening. If lying on the beach is your thing, try Turtle Beach, which offers amenities such as a concession stand, restrooms, and showers. As far as vacation rental options go, Ocho Rios has everything, from cute cottages near the marina to luxe villas with outdoor kitchens, fitness rooms, and hot tubs. Whatever you decide, there's a vacation getaway in Ocho Rios that's perfect for your next couples escape.
Couples retreats in Negril
It's your honeymoon, so why not go all-out and rent a villa with a private chef, laundry service, and champagne on arrival? With Negril as your home base, you can work on your tan during a day trip to gorgeous Seven-Mile Beach, or visit during the evening and choose one of a multitude of restaurants for a cocktail and a front-row view of Negril's famous sunsets. The cliff divers at historic Rick's Cafe are a can't-miss attraction, and if you like spice, make sure you try Jamaica's famous jerk chicken. When you and your sweetheart are done with the fun and sun, head back to your luxurious villa and settle in for the night.
Home of the largest of Jamaica's 3 international airports, lively Montego Bay is the main tourist hub of this small island nation. Select a cottage for 2 with a hot tub and an outdoor shower, or decide on a condo with clubhouse amenities if you're in the mood for socializing. Pick a spot near "Mo-Bay" (as the locals call it) to watch the cruise ships sailing by, and visit the Hip Strip for souvenirs, abundant restaurants, and nightlife. There are also horseback riding, ziplining, and ATV tours available, and you'll definitely want to check out the brilliant Doctor's Cave Beach before you head back to your vacation rental at the end of the day to relax with cocktails on your oceanview deck.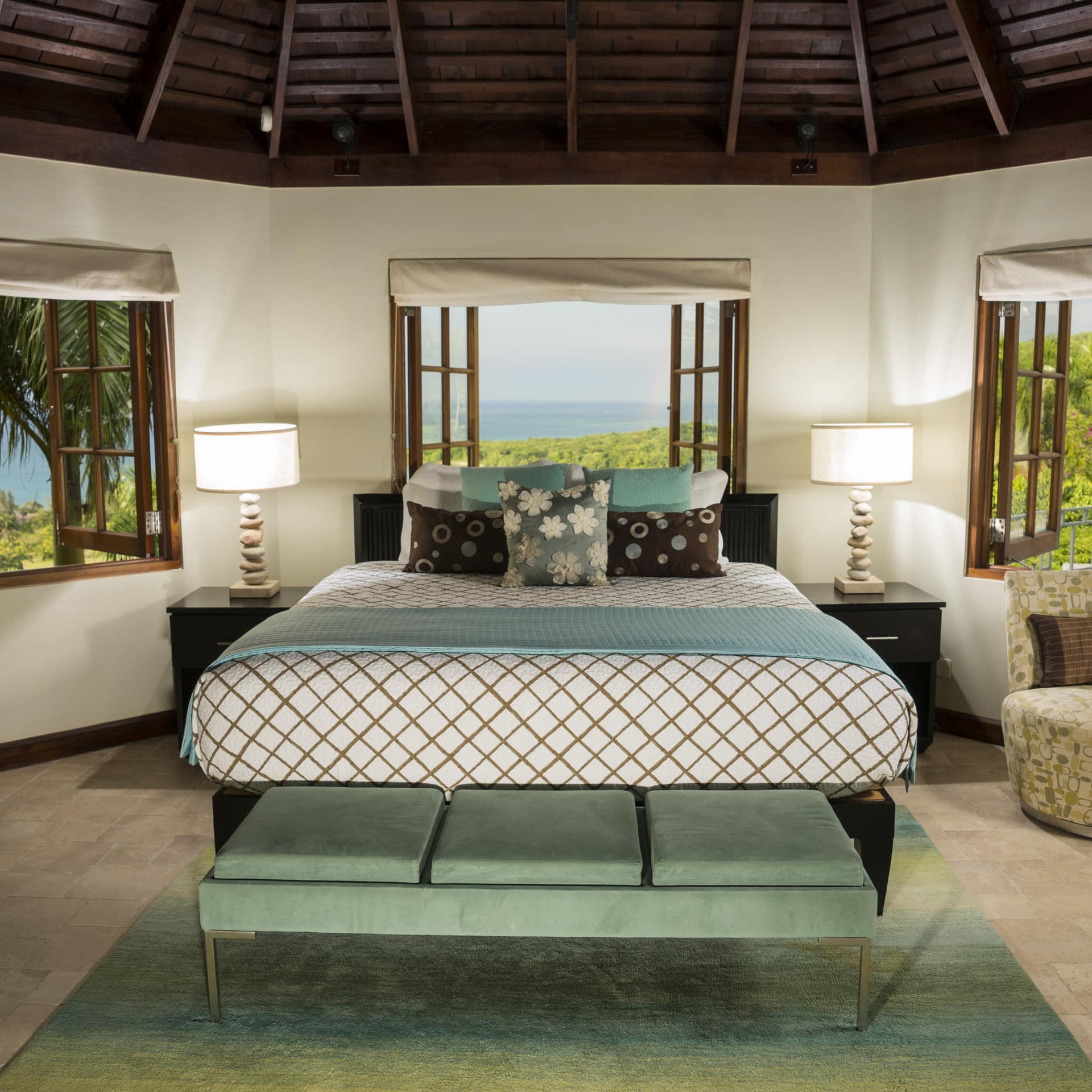 Home to both the popular Bob Marley Museum and the famed coffee-growing region of the Blue Mountains, Kingston is a perfect destination for a romantic honeymoon. Admire the cacti and orchids at Hope Botanical Gardens, then stop by the historic 19th-century Devon House for some of their famous ice cream. And luckily, a wide range of rentals await you—from cute cottages in the hills to lavish vacation homes complete with game rooms, fully equipped kitchens, and marble baths.
For a more off-the-beaten-path couples destination, opt for a rental condo in picturesque Port Antonio, home of the famous Blue Lagoon. While you're there, go for a bamboo raft trip on Jamaica's Rio Grande, hike in the nearby jungle, or go snorkeling at white-sand Winnifred Beach. Brush the sand off your feet and return to your vacation rental to enjoy a relaxing soak in your apartment's private hot tub before freshening up and heading out to one of the area's renowned restaurants. A romantic vacation for 2 doesn't get much better than this!