Best city and beach honeymoon ideas in the USA and abroad
After months of stress planning your wedding, your honeymoon should be a well-deserved break. Whether you and your special someone are looking for a lively new city to explore, or a relaxing beach location to soak up some rays, options abound. And, with plenty of vacation rentals on offer in cities boasting world-class culture and nightlife or on the relaxing sandy shores of the coastal states and beyond, there's no shortage of homes ready to be your springboard to an unforgettable honeymoon.
Following the many months of wedding-related business, why not make your first trip as newlyweds to somewhere sunny, warm, and stress-free? There's probably no better way to celebrate your first days of marital bliss—not to mention the end of wedding planning—than by some well-earned time on the beach. No matter what time of year you tie the knot, there are inviting sands to be found around the country and the globe. From the Southeast to the South Pacific and farther still, there are plenty of vacation home rentals to satisfy your need for a restful beach honeymoon.
Honeymoon ideas in Miami
With fantastic weather throughout the year, Miami is a top spot for honeymooners looking for a relaxing beach getaway. Miami Beach, across the Biscayne Bay from Miami City and home to famous South Beach, is the place to go for waterfront relaxation, with miles of sand running along the Atlantic coastline. The area is also home to Ocean Drive, known for its nightlife, and the Art Deco Historic District. And when you need a break from the sun, check out the numerous restaurants and cafes for some of the best eats in the country. Splurge on a vacation rental with an ocean view to make your honeymoon all the more memorable.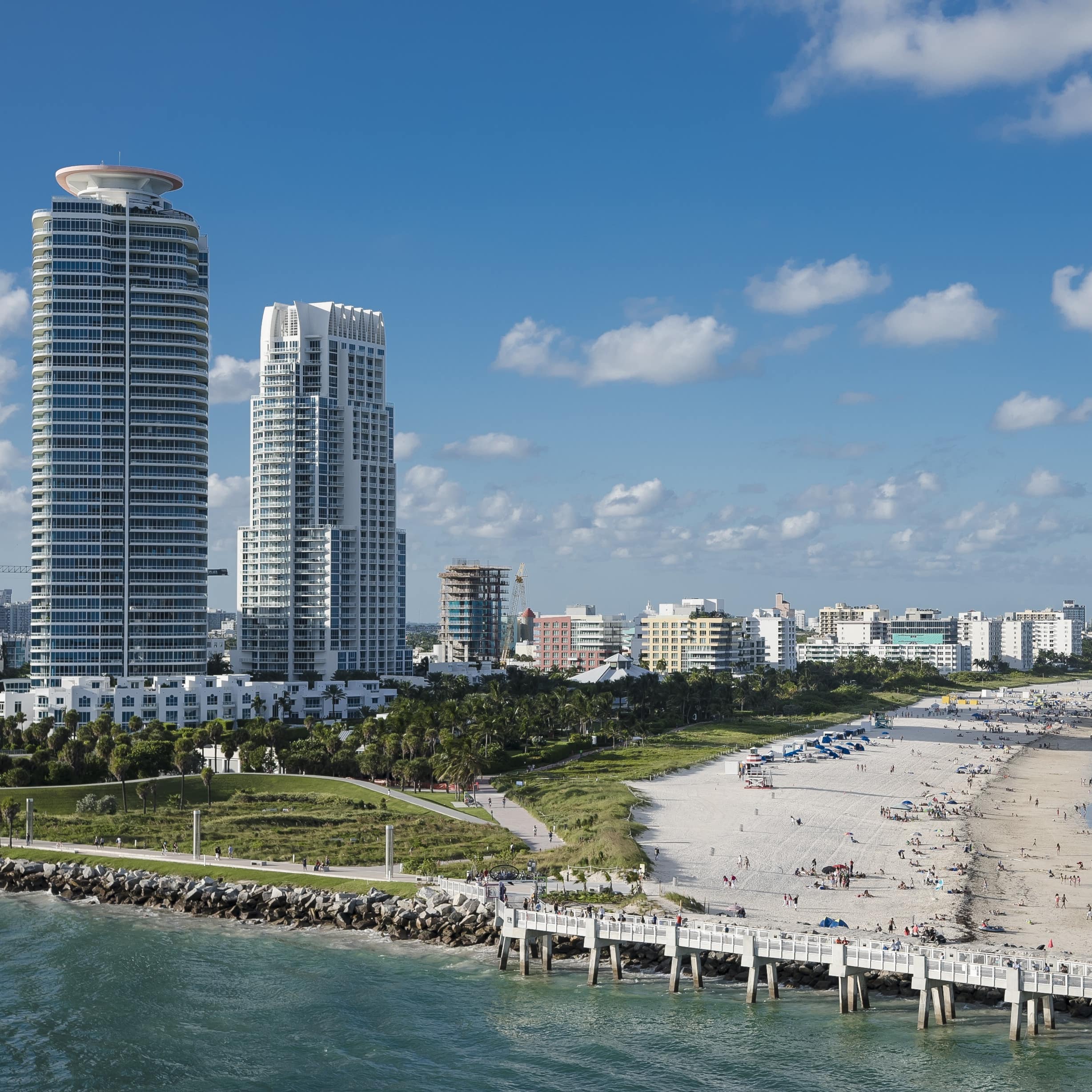 Oahu honeymoon ideas
Hawaii and honeymoons are linked like few other places, and it's easy to see why. The South Pacific paradise of islands has the breathtaking scenery, soft, white sands, and pristine waters all beach-goers seek. The island of Oahu boasts the best the state has to offer, with Waikiki, known around the world, only one of the many beaches in the area. In the shadow of the Diamond Head volcano, Honolulu, the state capital, is home to top-class museums, historical sites, and commerce, providing a bit of recreation before long hours on the beach. For more private aquatic unwinding, be sure to book a vacation rental with a hot tub.
Ideas for honeymoons in Bali
An island of unparalleled beauty and distinct culture, Bali is a one-of-a-kind destination for a once-in-a-lifetime trip. A journey a bit outside your comfort zone will be amply rewarded in Bali. Home to some of the finest beaches in the world, particularly in the Seminyak area, you could easily spend your days lounging by the water's edge. But Bali is also home to stunning cliff-top vistas, unique temples, and the can't-miss Ubud Monkey Forest, not to mention surfing and parasailing for the more adventurous. However you choose to spend your honeymoon, be sure to book a vacation rental with a pool to enjoy your own private waters.
If your idea of an exciting first trip as newlyweds involves great food, vibrant nightlife, and top-notch culture, honeymooning in one of the world's lively cities is ideal. No matter if you're looking for a bustling East Coast metropolis famous for its recreation, a verdant Pacific Northwest locale, or even a bustling Asian capital, there are plenty of desirable vacation homes for a memorable honeymoon.
NYC honeymoon ideas
When you're looking for a lively city for your honeymoon, few can compete with New York City. World-class museums, like the Met and MoMA, jostle for space with massive multi-purpose developments like the Hudson Yards project. The restaurant scene is second to none, and venues like the Essex Street Market gather the city's colorful culture under one roof. If you need a reprieve from the urban crush, take a stroll along the High Line or visit iconic Central Park. There are more than enough activities here to fill a lifetime, but you can take a break in a vacation rental with a fully equipped kitchen to cook up your own special meal.
Honeymoon ideas in Seattle
Perhaps it's not at the top of many lists of must-see destinations, nevertheless, Seattle has it all. The Emerald City boasts one of the country's best food scenes, the breathtaking scenery of the Pacific Northwest, and fantastic sightseeing. Foodies have long known that the city offers up some of the best fare in the USA, especially oysters, but its dining scene is as diverse as its population. Landmarks like Pike Place Market and the Seattle Art Museum are definitely worth a visit, and nature lovers should grab one of the ferry boats to the many islands of Elliott Bay and Puget Sound. Be sure to book a house rental with a terrace for a stunning view of the bay.
Tokyo honeymoon ideas
You could spend a lifetime doing one thing in Tokyo, it's that densely packed with goodness. To get the most from your honeymoon, best to diversify. Tokyo is, for many, the best place in the world to eat. Try one of the numerous ramen joints, or splurge on high-class sushi, and don't miss the alleys of izakaya, or micro-sized bars with great fare. For a bit of culture, check out the Senso-ji, the oldest temple in the city, or one of the many museums and sites of Ueno Park. To take it all in, head to the top of the Tokyo Skytree for a panoramic view of the city. Book a traditional Japanese house rental for the authentic Tokyo experience.