Road trip destinations from Seattle
With summer finally here, groups of families and friends are looking forward to getting away and relaxing. Summer road trips are not only cost-effective, but they also provide travelers the time to create lifelong memories while exploring what's off the beaten path.
Travelers get twice the space for half the cost of a hotel by renting a vacation home. More space means more bedrooms, making the trip affordable for everyone by splitting costs.
Booking a vacation rental through Vrbo means your next group getaway from a city like Seattle can cost as little as $41 per person a night. We curated a list of four road trip destinations from the city and where to stay in each.
1. Whidbey Island, WA
Whidbey Island features unique shops and galleries, delicious local foods, and picturesque gardens and farms. Just one hour and fifteen minutes from Seattle, this island offers a full range of outdoor recreation, including hiking, kayaking, boating, and more. Perfect for nature lovers, Whidbey Island has multiple state parks, including the island's most popular, Deception Pass State Park.
This 3-bedroom home on Whidbey Island boasts panoramic views from every room and outdoor living space. With the ability to sleep up to eight people, this home features a sparkling hot tub, modern amenities, and easy beach access. Previous guests rave about the relaxing atmosphere and fully stocked kitchen, stating that the home has everything you need for the perfect family vacation.
Stay in this Whidbey Island retreat
2. Leavenworth, WA
Leavenworth is a unique Bavarian village about two hours and twenty minutes from Seattle. The village offers authentic German cuisine as well as dozens of wine-tasting rooms and wineries. The village of Leavenworth is one of the top Pacific Northwest tourist destinations with over one million visitors each year. Some of the most popular destinations in the village include the Leavenworth Nutcracker Museum, Icicle Creek, and Waterfront Park.
Just moments from downtown Leavenworth, this 4-bedroom modern home offers a quiet setting with plenty of room for the whole group to spread out. The home features a private pickleball court, a hot tub, and an outdoor patio area. The Leavenworth Golf Course is a block from the property, inviting guests to enjoy a round or two.
Rent this modern home in Leavenworth
3. San Juan Island, WA
San Juan Island is the second largest and most populous of the three islands off the coast of Seattle. Home to the bustling town of Friday Harbor, this island features whale watching, fine dining, and the country's largest lavender farm. According to past travelers, outdoor activities such as kayaking, hiking, and fishing are great ways to enjoy the scenic island. This getaway destination is a two-hour drive and short ferry ride from Seattle.
Near San Juan Island's Friday Harbor, this 3-bedroom home features stunning waterfront views of Neil Bay. The spacious daylight basement offers various games, including ping pong and foosball tables, while the outdoor dock lends itself to water activities like kayaking and canoeing. There's no better way to end your day than with a relaxing outdoor barbeque with friends and family on the cedar deck.
Stay at Kingfisher Waterfront Paradise
4. Portland, OR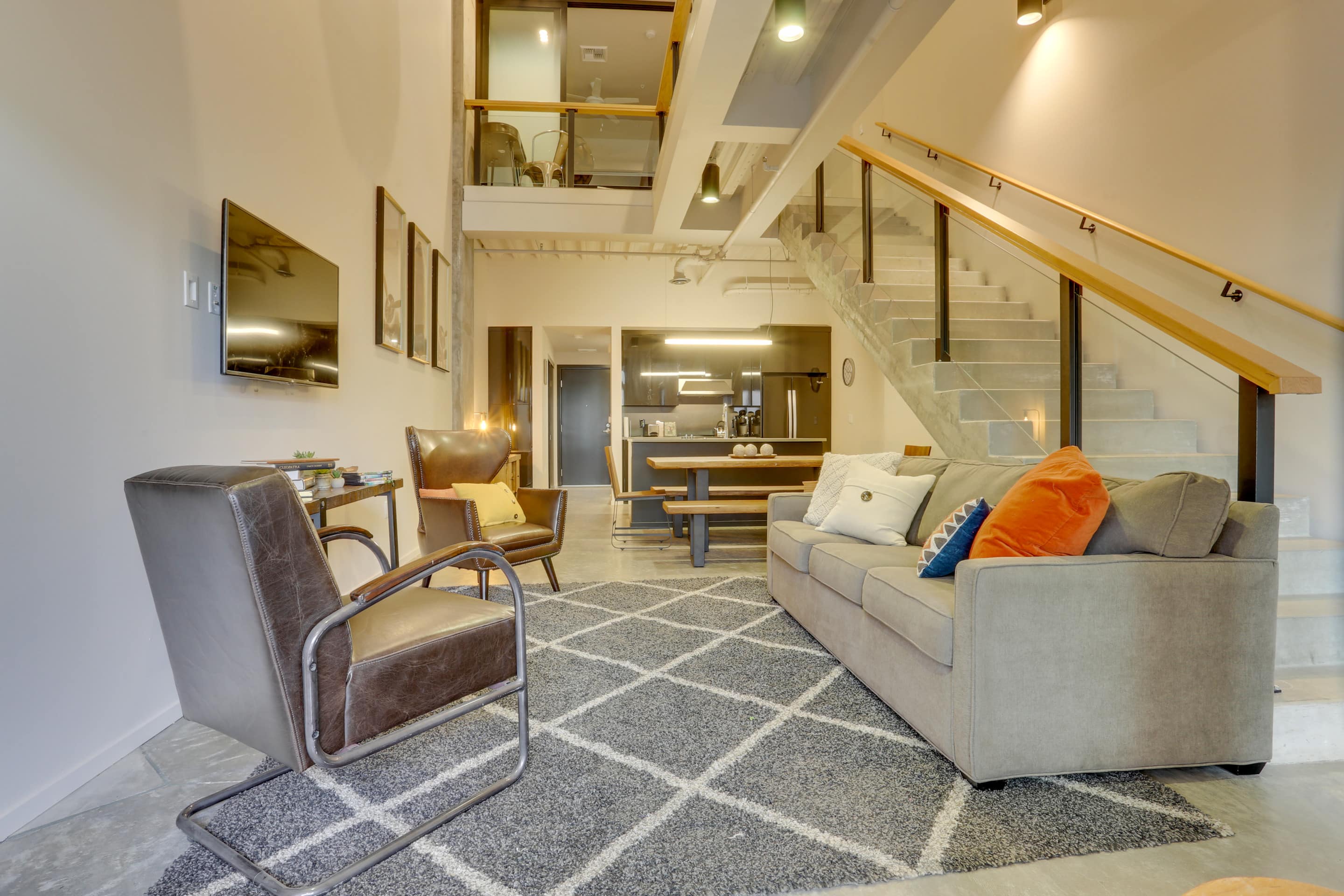 Portland is an eco-friendly Pacific Northwest destination known for its eccentric locals and vibrant downtown. Travelers flock to Portland for the hip eateries, coffee shops, microbreweries, and book stores. Popular attractions include the Portland Japanese Garden, Washington Park, Oregon Zoo, Powell's City of Books, and Shanghai Tunnels. The road trip to Portland is just under a three-hour drive from Seattle.
This sleek townhome features a private patio and an unbeatable location in the heart of Rose City. The chic industrial design of this space, along with the luxurious building amenities, will make you want to never leave. This townhome gives you the opportunity to live like a true local, with the ability to sleep up to five of your closest friends.