Your guide to great tropical vacation spots
Whether you're looking for fun in the sun during a low-key weekend away or hunting down the perfect villa rental for your dream honeymoon on a remote isle, you'll find that tropical vacations come in all shapes and sizes. And with rentals ranging from sedate to spectacular, there's no shortage of great vacation homes for whatever type of tropical vacation you have in mind. So pack your sunscreen and get ready for your next unforgettable getaway in one of these terrific tropical hotspots.
Tropical vacation spots you can visit on the cheap
As any true beach bum knows, there's no reason to pay an arm and a leg just to have your toes in the sand—loads of great locations for a tropical escape are just a quick plane ride from a number of major US cities. So whether you're heading off to the Caribbean or Costa Rica, brush off your passport and save big with these low-cost tropical treasures.
Great escapes in Guanacaste, Costa Rica
Thanks to a number of inexpensive flights from major US cities like Houston, New York, and Los Angeles, Costa Rica's Guanacaste Province is always a popular pick for lush tropical vistas on a budget. Book a low-cost cottage rental to use as your home base for day trips to some of the region's top ecotourism sights—whether you plan on sunbathing at Playas de Coco beach, taking in volcano views at Volcan Tenorio National Park, or hiking through lush landscapes punctuated with waterfalls in Rincon de la Vieja National Park.
Negril, Jamaica isn't your ordinary beach town
Another excellent choice for terrific tropical trips on a budget, Negril, Jamaica boasts plenty to see and do while still remaining easy on the wallet. Look for cheap flights to Montego Bay's Sangster International Airport, then make the 1.5-hour drive to your breezy island bungalow near the warm white sands of Negril's Seven Mile Beach. From here, you'll have easy access to superb snorkeling spots, laid-back eateries, sprawling tropical gardens, and the 19th-century Negril Lighthouse.
Terrific tropical vacations for couples
Nothing says romance like white-sand beaches, clear blue seas, and nobody else for miles around. Tropical vacations for couples can include hand-in-hand hikes through lush jungles, snorkeling trips amid vibrant coral reefs, and side-by-side massage treatments in luxe waterfront spas. No matter what you have in mind for your next romantic sojourn with your special someone, these top tropical vacations for 2 have everything you're after—and more.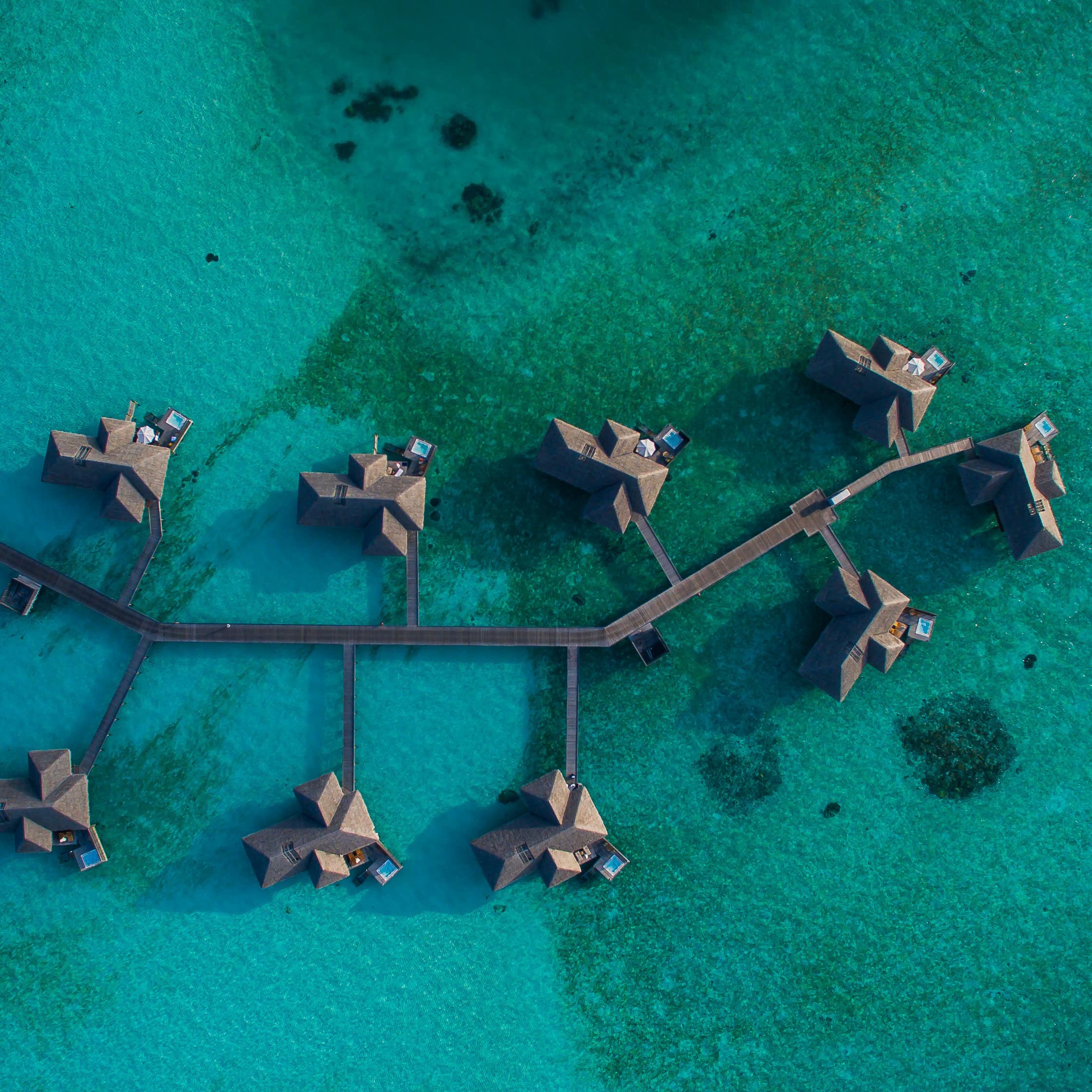 Romantic escapes in the Maldives
An island nation in the Indian Ocean, the Maldives is made up of 26 atolls ringed by white-sand beaches, turquoise waters, and colorful coral reefs. Outdoorsy couples will find plenty to do here, with swimming, snorkeling, scuba diving, sea kayaking, and surfing all on the table. In Male, the capital, you can visit restaurants serving traditional and contemporary fare, or stop in at the fish and produce markets by the harbor before heading back to your fully equipped vacation rental to prepare a mouthwatering meal of local delicacies.
Bora Bora is a tropical paradise
Dominated by the central Mt. Otemanu, a 2,385-foot-tall dormant volcano, Bora Bora is an island in French Polynesia that's perhaps best known for its crystal-clear waters, which offer excellent opportunities for snorkeling and scuba diving. You can find plenty of other activities here to make for a great couple's trip, too—lively Vaitape boasts bars and dining, while the resort-heavy Matira area is home to shops, spas, and bustling beaches. For that extra island experience, look for an overwater bungalow with a thatched roof, or a beachfront cottage with sweeping sea views.
Great getaways for the whole family
When you've absolutely got to find a crowd-pleasing locale that has something for the whole family, you can't beat a tropical beach. The younger members in your party can while away the days swimming and snorkeling along the shore, while older visitors will enjoy trekking through ancient ruins, sampling local fare, and kicking back at a wide array of waterfront bars and clubs. And you won't have any trouble finding the perfect home base for your next tropical family escape, as many vacation rentals offer planty of sleeping space, full kitchens, game rooms, and more.
There's lots to love about lush Kauai
The Hawaiian islands are a tropical paradise right in the USA that hold plenty of delights for vacationers of all ages. Look for cottage rentals on the laid-back island of Kauai for a low-key family getaway, where you can enjoy all sorts of waterfront recreation at beaches like Hanalei Bay, admire views of the red rock Waimea Canyon, or tour the tropical fruit orchards of the Guava Kai. All over the island, you'll find great vacation rentals for families, from cottages with sofabeds to airy villas with multiple bedrooms.
All-ages activities in the Riviera Maya
Another crowd-pleasing destination when you're traveling with the whole crew, Mexico's Riviera Maya is a lively spot with lots to see and do. Book a vacation rental near the resorts of Playa del Carmen for easy access to golf, the Xplor theme park, and the underground river at the Rio Secreto—dolphin encounters at Dolphin Discovery Riviera Maya are also popular. In Tulum, you can find your zen in a beachfront yoga class, explore Mayan ruins at the Zona Arqueologica de Tulum, or simply stretch out on the sandy beach.