Your guide to vacation homes in Florida
So, you're heading on a vacay to the Sunshine State? You're certainly in good company – this is one of the country's most visited spots. The upshot of that is there are stacks of excellent vacation homes in Florida, ranging from elegant villas overlooking smooth golf fairways to celebrity-worthy mansions in chic beach destinations. This guide can help you book yours.
Some alluring features of Florida vacation home rentals
Knowing what sort of pad you're after before you book is a sure way to zero in on the vacation homes that will get the wanderlust a-flowing the most. That's why the pointers below are such a helping hand, revealing a couple of the most sought-after features of Floridian places.
Florida vacation home rentals with private pool
Top of the list for many a luxury seeker is their own spot to take a dip. And why not? It brings an added level of opulence to any stay, no matter if it's a shared pool in a complex of condos or a shimmering infinity pool overlooking the turquoise Gulf of Mexico.
Vacation home rentals on the beach in Florida
Florida is a darn fine place to go on the hunt for beachfront vacation homes. Why? Well, for starters it has two long coastlines, on the Atlantic Ocean and the Gulf, both peppered with resorts that have boulevards and promenades just meters off the sand. On top of that, there are the resplendent Florida Keys – small specks of coral islets in the south, where virtually every letting is within at least earshot of the water.
The various types of Florida vacation home rentals
With so many different types of flats and cottages to consider vacationing in down in the Sunshine State, it helps to have a guide to navigate through the lot. Viola…
The condo has risen to become perhaps the single most popular choice of vacation home in Florida. They are stacked together or joined in complexes in major resorts, offering a space to call your own with all the frills – self-catering kitchens, living rooms, big balconies – only with the added bonus of shared amenities like swimming pools and gyms. And they can be darn good value for money.
Your very own luxury villa in Florida
You only need to take one look at the five-star estates of West Palm Beach or the glitzy island homes that pepper Biscayne Bay just off South Beach to know that the Sunshine State isn't shy of a little high-class living. There are even grand mansions with pools and oodles of bedrooms that are up for rent for events like weddings, family reunions, or corporate escapes.
You might need to hop away from the buzzy middle of resorts like Destin, Key West, and PCB to find them, but there are cottage stays to be had on the shoreline of the Panhandle and the Florida Keys. They are great options for the lovers, with compact and romantic styles – think wood walls and palm-shaded porches.
Exciting locations to find your Florida vacation home rental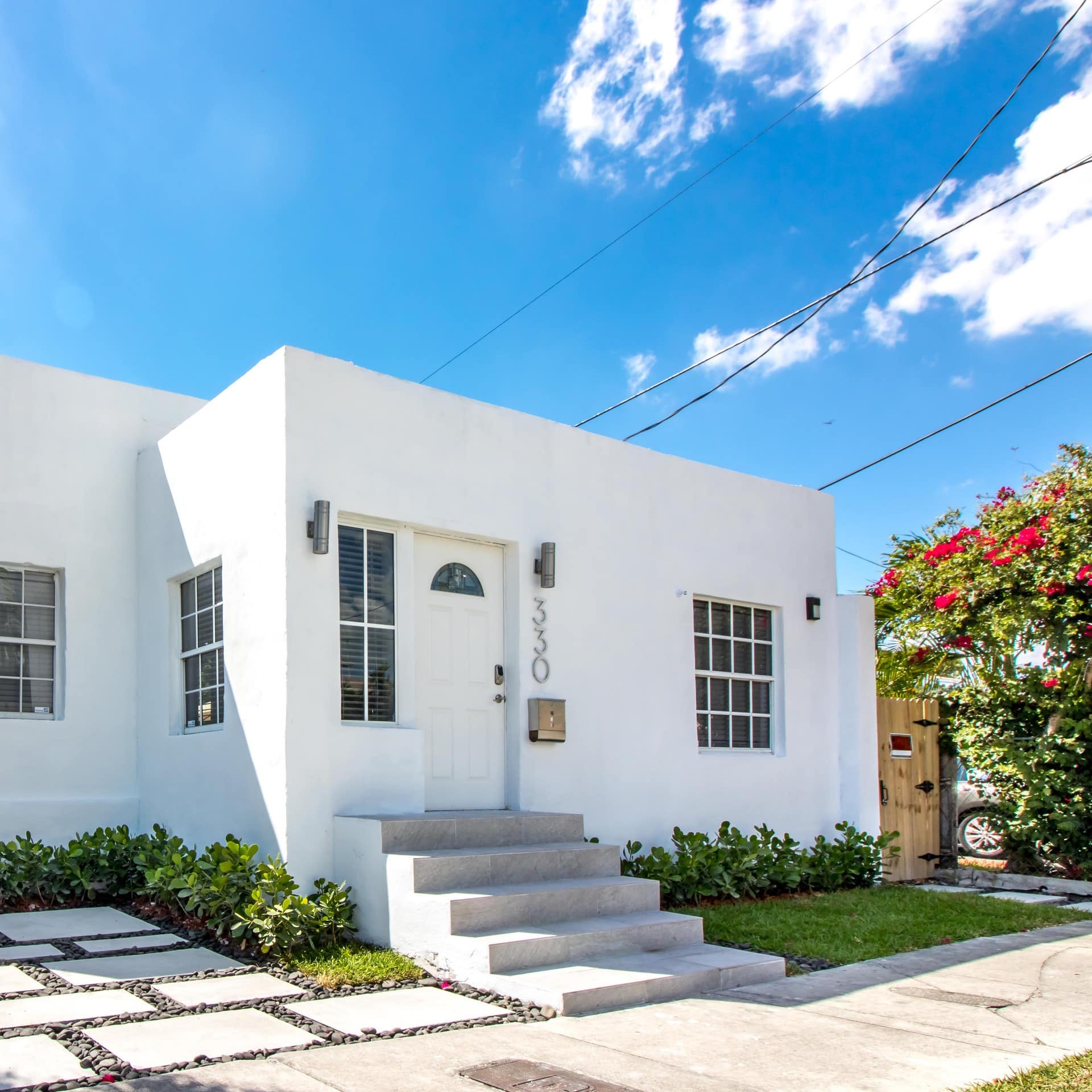 Florida's up there with the most celebrated vacationing states because it doesn't just offer one sort of getaway. Sand, sea, and sun is the obvious way to go. But there are also manicured golf courses that tout sporting trips for folk with the clubs in tow, along with fizzing cities packed with art and nightlife.
When someone says beachfront in Florida, they really mean beachfront. Condominiums rise literally a stone's throw from the quartz sands of Panama City Beach, for example, where you can score a stay with a balcony that overlooks the bars and family amusements of Front Beach Road. You'll find others actually tucked between the dunes, down by the reserves of Santa Rosa Island or dotting the well-to-do promenades of Sanibel.
There's no shortage of amazing cityscapes in Florida, most of which are really easy to get to on domestic flights. You could choose bumping Miami to taste spicy Cubano street food and smoke Havana cigars. You could hit Fort Lauderdale for spring break madness. Or, perhaps you want to treat the family to Orlando's magic-making theme parks and some heart-thumping rides on looping rollercoasters?
Florida isn't hailed as a golfing mecca for nothing, you know. PGA-rated championship courses spread out by the coast at Ponte Vedra. Sarasota has acclaimed links rounds to conquer. The Emerald Coast is laced with big resorts that count several courses on the same grounds. To get as close as you can to the first tee, you can even look for a deluxe Florida villa that's part of a golf complex.