Panama City Beach during the holidays
Panama City Beach isn't just a paradise during the warmest months, it's one the of the country's most iconic holiday destinations. Visit in December and January to explore the beachside attractions, catch a stunning view from 170 feet in the air, or indulge in some world-class retail therapy. No matter whether you want to hike, bike, or take in the Christmas lights, Panama City Beach promises a holiday to remember. Here are some of the best things to do in Panama City Beach during the holidays.
Getting in the holiday spirit
If you're looking for a one-of-a-kind holiday experience, Panama City Beach has everything you could want. There's a wide variety of things to do and see for all sorts of people, from a massive Christmas tree to spectacular shopping opportunities and breezy beachside dining. No matter how you spend your holiday, a Panama City Beach Christmas is sure to be one you'll cherish.
Christmas tree at Aaron Bessant Park
Aaron Bessant Park, located adjacent to Pier Park, is home to a huge Christmas tree you won't want to miss. The 38-foot-tall tree is decorated with shining ornaments and bright lights from top to bottom. It's up for quite a while as well, from the week of Thanksgiving to New Year's Day, so it's easy to fit into your vacation when you visit for the holidays.
Beach Home For the Holidays, hosted in Aaron Bessant Park during the Thanksgiving weekend, sets the stage for the most magical month of the year including musical performances, movies and fireworks! You will also find carol-themed concerts, s'mores, fireworks, and an appearance by Santa Clause.
SkyWheel at Pier Park
The Skywheel at Pier Park lets you experience Panama City Beach from 170 feet in the air, offering a whole new perspective on the city and surrounding environment. It's especially appealing throughout December, as you can see romantic lights twinkling below as you're carried to new heights. The SkyWheel offers a great way to level up your Instagram grid, so don't forget your camera.
Christmas shopping
While Christmas shopping is popular throughout town during December, Pier Park takes it to the next level. You'll find more than 115 shops with holiday items, as well as first-rate seafood restaurants and entertainment options. Keep in mind that most of the shopping opportunities here tend to be on the higher-end side of things, but that doesn't mean you can't still find some great deals. For a Panama City Beach style adventure, check out some of the top local picks with Decor by the Shore. Pick up a "passport", get it stamped at each stop, and head back to the Visitor Centre for a special souvenir.
Enjoying the outdoors
One of the best aspects of visiting Panama City Beach during the holidays is that you don't have to worry about the cold. Panama City Beach is warm all year long, so you can enjoy the famous beaches when you visit, all while avoiding the summer throngs. That's just the beginning, however, as this coastal city is packed full of opportunities for unforgettable outdoor adventures.
Enjoy the beach without the crowds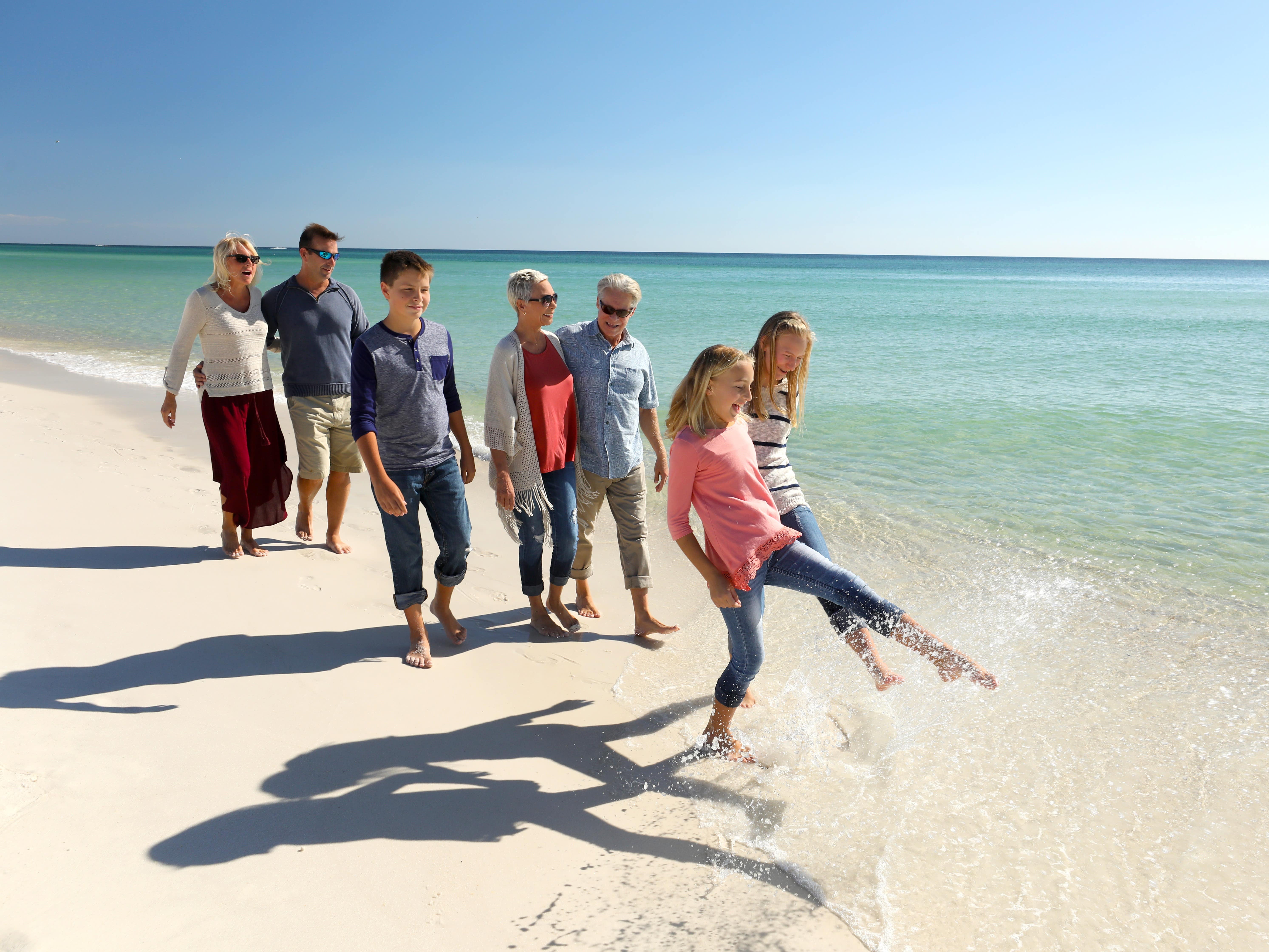 Panama City Beach may be the name of the entire area, but the 27 miles of beachfront consists of a handful of different beaches. You can stroll soft and sugary white sands, take a dip in refreshing waters, and dig into a plate of local seafood, with nearly 100 access points making it easy to take a trip to the beach of your choosing. Panama City Beach weather in December averages in the high 60s to 70 degrees, so pack your shorts and flip flops and enjoy the balmy breezes.
Nature parks
Several nature parks can be explored in Panama City Beach, including Camp Helen State Park, St. Andrews State Park, and the Conservation Park. You'll find Camp Helen west of the city between Lake Powell and the Gulf, and it offers hiking trails, oak trees, and abundant wildlife. St. Andrews is good for fishing and water sports, with several trails as well. At the Conservation Park, you can enjoy dense trees and 24 miles of trails highlighting Florida's lush natural environment.
Biking down Gayle's Trails
If you're looking for biking trails around town, Gayle's Trails are among the best. Named after former mayor and conservationist Gayle Oberst, this trail system not only offers plenty of space for biking, but it also functions as a fun way to get around town. Keep in mind that some of the trails are still in progress. That means that while some are paved, others have just a dirt base.
Roast s'mores at a private beach bonfire
Taking in the sunset is easy with Endless Beach Rentals. Pick a location and a date, and they'll put together a private beach experience for you and your group. Their custom-built propane fire pits allow you to relax without having to worry about ash and smoke, and you can add extras like fairy lights or cornhole. They'll even set up beach hammocks, allowing you to just kick back with an ice-cold cocktail and a beautiful view of the infinite ocean.
Places to eat
During your visit to Panama City Beach, you won't want to miss out on the thriving culinary scene. Restaurants in the area are welcoming and varied, so people with all kinds of tastes and preferences are sure to find something to keep them satisfied. Check out some of the best restaurants in Panama City Beach.
Firefly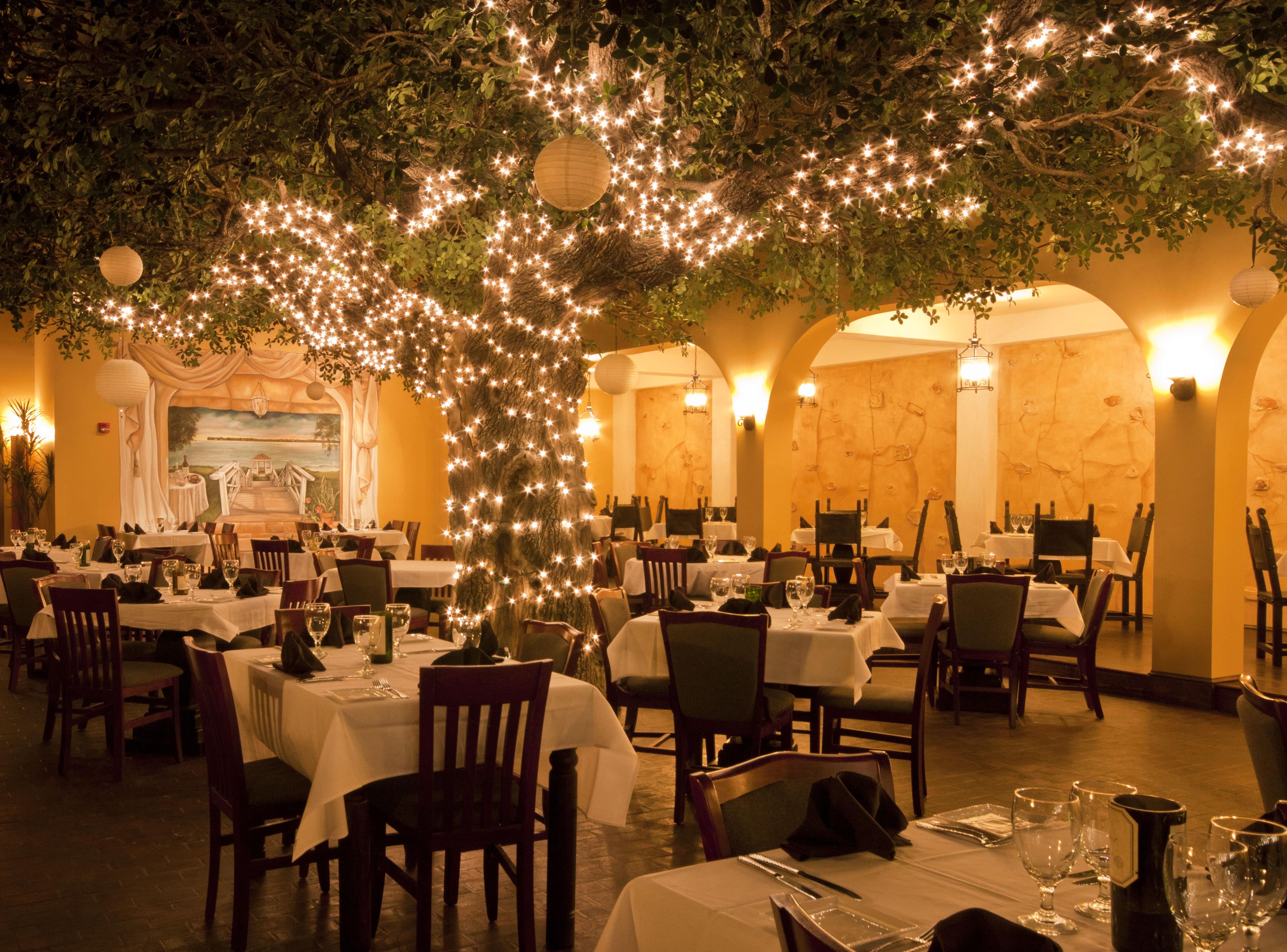 Firefly is the restaurant to visit if you're looking for a high-end experience. You'll find a wide variety of menu options including lobster, artisan pizza, sushi, and filets. This fine-dining establishment has hosted world-famous musicians and athletes, as well as an American president. All dishes are farm-to-table, utilizing fresh and local ingredients. Plus, the wine list alone is impressive enough for a visit.
Grand Marlin
At The Grand Marlin, you'll find some of the best seafood in Panama City Beach. They have a shucked-to-order oyster bar and a menu with fresh seafood that takes full advantage of the area's coastal location. Gulf Coast seafood is the specialty here, and it's prepared by a renowned executive chef, but you don't have to dress up to dine out. Diners here are perfectly welcome with beach shorts and flip-flops.
Schooners
At Schooners, you can enjoy a relaxing environment with ice-cold beer, live music, and a stunning view. You won't find a fine-dining experience here, but all the food is fresh and delicious. It's just a bit more laid-back, with generous Florida-sized portions. It's open late, too, so if you're looking for a bite to eat well after sunset, this is the place to go.
This article was written in partnership with Visit Panama City Beach