Welcome to Fire Island
A skinny barrier island lying three miles from the southern shore of Long Island, Fire Island stretches for a little over 30 miles between the Atlantic Ocean and Great South Bay. Part of the Fire Island National Seashore, peppered with wild deer, and close enough to Manhattan for a weekend break, it's long since been a favorite hangout for New Yorkers – though everyone is welcome here. First-timer? You'll find what you need to know about Fire Island vacation rentals, including the best spots to find them, coming up.
Planning your Fire Island vacation
The perfect vacation is often the result of a little planning, so let's first look at the basics of renting a vacation home on Fire Island – from choosing the perfect rental to the best time to visit to getting here and getting around.
Choosing your Fire Island vacation rental
Vintage cottages, contemporary summer homes, stylish privately-owned condos, and more – Fire Island vacation rentals certainly come in countless flavors. Loved-up couples can snuggle up in cozy rentals steps from the sand, while families and groups can pick from the parade of Fire Island rentals with pools, private outdoor spaces, and plenty of room for the whole gang. There are pet-friendly rentals, too – perfect if pup is coming along for the ride.
Best time to visit Fire Island
The de facto season in Fire Island runs between Memorial Day and Columbus Day Weekends. It's a season that sees the island's population swell from the usual 400 or so permies to around 20,000 – plus thousands more day-trippers to boot – so it pays to book vacation rentals nice and early. Budget travelers should always nail things down in advance – last-minute deals on an island that's so small it takes less than ten minutes to cross its width aren't always that easy to come by in the busy summer months.
How to get to Fire Island vacation rentals
It's possible for day-trippers to drive to both Smith Point County Park and Robert Moses State Park, but Fire Island is otherwise car-free. Notwithstanding the visitors who opt for private charters, those heading for a lengthier stay arrive on the ferries that chug out of Bay Shore, Patchogue, and Sayville on the Long Island shore. Enterprising youngsters with pull-along wagons stand ready at the Fire Island side to transport any luggage to your rental – in exchange for a few quarters.
Loaner bikes are included in many Fire Island rentals but the absence of paved roads between many of the communities can make it tricky to get very far on two wheels. An easier way to get to the island's best bits is to walk, though it can be fun to take the water taxi too. These call at most of the Fire Island towns about once hourly on weekends for much of the year, switching to a daily service between June and September. Golf cart rentals are available in larger communities.
The big question that remains is where to stay. Fire Island plays host to a string of tiny communities, each one with its own vibe and oodles of appeal. Dive in to discover some of the best-loved Fire Island vacation rental destinations.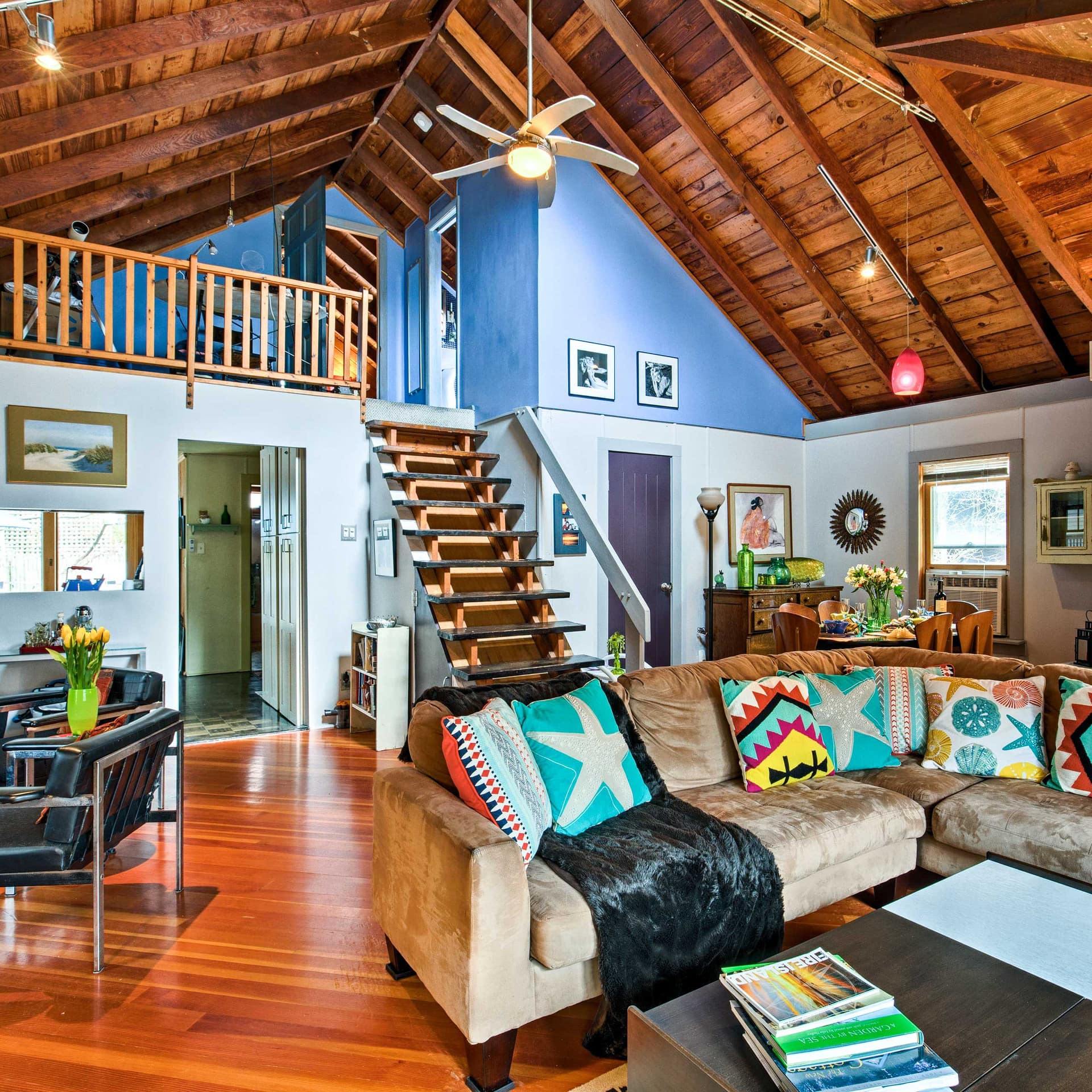 Liveliest Fire Island vacation destination
One of the busier villages to offer Fire Island rentals, Ocean Beach is a top spot for families and singles alike. It's home to the biggest downtown of all the communities – a collection of about a dozen bars and restaurants and a smattering of gift shops and boutiques that together earn Ocean Beach a reputation as the island's unofficial capital. On summer days, visitors gather for free concerts on the dock, often staying on after dark to enjoy one or two of the community's signature "Rocket Fuel" cocktails and dance until dawn.
LGBTQ+ vacation destinations on Fire Island
For the LGBTQ+ community, Cherry Grove and Fire Island Pines rentals are the obvious choice. Cherry Grove was the nation's first openly gay and lesbian community, the male-dominated Pines coming along a little later but still earning its spot in the rainbow-colored history books. The party atmosphere is palpable in the island's combined gay haven, though perhaps never more so than during the annual Invasion of the Pines – an exuberant Independence Day event that sees flocks of men in drag saunter off the ferry to be welcomed by thousands of excited locals and visitors.
Quiet Fire Island vacation destinations
Travelers hoping to find peaceful vacation destinations on Fire Island are rarely left disappointed. Several of the island's communities are what you might call one-bar towns, although there are some with even fewer amenities to their name. Fire Island house rentals in Seaview and Robins Rest, for example, are set in exclusive enclaves that are as sleepy as they are secluded. Fire Island rentals in Kismet offer a compromise, the island's westernmost community packing in a few restaurants, an annual clam shucking contest, and a superb view of the northern shore's Fire Island Lighthouse – but still ever-so peaceful.