Your Jersey Shore adventure starts here
The Jersey Shore has long since beckoned vacationers from New York, Delaware, and Pennsylvania, as well as from New Jersey itself. This is a destination where everyone's welcome to create their own experience – whether that means strolling traditional wooden boardwalks, relaxing on Atlantic beaches, or winning big in glittering casinos. Jersey Shore rentals sit pretty throughout the entire region, so no matter if you're looking for a base in a peaceful seaside village or a bustling beachfront town, the perfect place to call home awaits.
Planning your stay in a Jersey Shore vacation home
First-timers might want to brush up on the need-to-knows about Jersey Shore vacation rentals. They're coming up below, along with a few quick tips about the best times to book and visit.
Choosing a Jersey Shore vacation rental
For travelers hoping to find a cute beachfront cottage for two, Jersey Shore house rentals, or a pet-friendly rental, Jersey Shore delivers and then some. For budget travelers, condo rentals can prove affordable, no matter the season, though those with a bit more in the way of spending power won't find themselves short of more luxurious options on the Jersey Shore. Party house rentals are another popular choice, especially for those groups of friends sharing the cost of a Jersey Shore vacation home.
Best time to stay in Jersey Shore rentals
Sand, surf, and salty air attract millions of people to the Jersey Shore between Memorial Day and Labor Day, though there's plenty to be said for swerving Jersey Shore summer rentals in favor of enjoying the region's off-season delights. There are fewer crowds for starters, though the weather's still plenty mild enough in early May and late September for a stay in a Jersey Shore beach house rental with a pool. Hang fire until December, though, and you'll enjoy a winter vacation that's bursting with holiday cheer.
When to book rentals on the Jersey Shore
Last-minute Jersey Shore rentals can usually be found online, though if you're hoping to visit in the height of summer, it can pay to nail down travel plans early. Booking around three months ahead of your Jersey Shore vacation should see you score a stay in your chosen rental, though die-hard fans will often start looking right after the new year festivities. Regardless of when you book vacation rentals, be sure to check if your chosen destination requires beach passes and, if so, whether they are included in your Jersey Shore rental.
Best Jersey Shore vacation home destinations
Now you've found out a little more about Jersey Shore vacation rentals, let's look at some of the best places to find them. From the country's unofficial playground to its oldest seaside resort, you'll be spoiled for choice.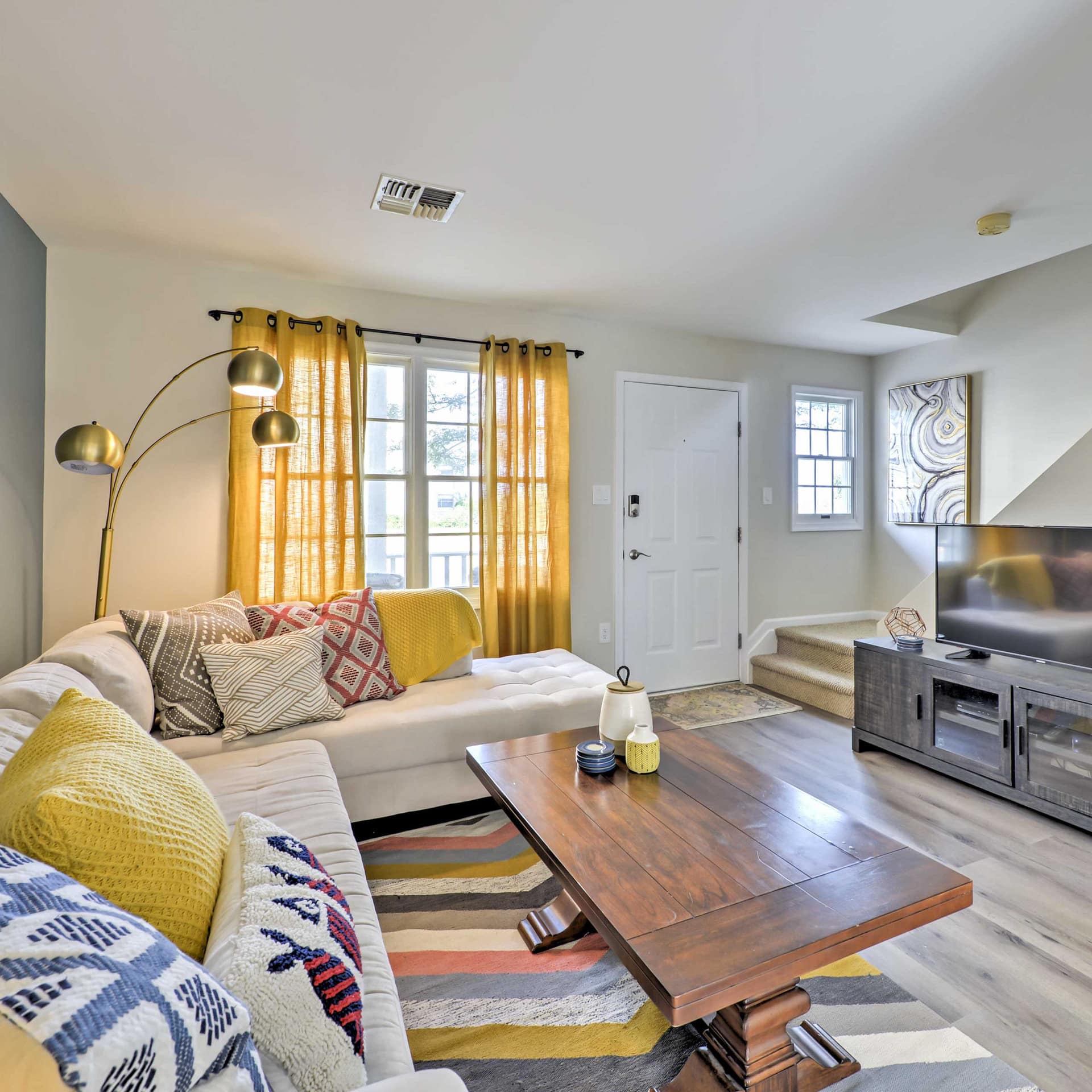 Jersey Shore vacation rentals in Avalon
Welcoming beachgoers for more than a century, Avalon is the cool kid on the Jersey Shore. The town shares the pretty Seven Mile Beach with neighboring Stone Harbor, though a pristine stretch of sand is not the only reason to check out Avalon vacation rentals. Visitors can stroll the town's half-mile boardwalk, enjoy a spot of retail therapy downtown, or challenge the kids to a round of miniature golf. After dark, the vibe heats up at Avalon's buzzy bars and parade of waterfront restaurants.
Cape May vacation rentals
America's oldest seaside resort sits at the southern tip of the Cape May peninsula. It's known for the 600 or so Victorian buildings that pepper its streets – a must-see line up that's earned this beachfront spot National Historic Landmark status. There are beautiful beaches to enjoy too, along with shopping in the Washington Street Mall and outdoor time in the gorgeous Cape May Point State Park, where a lighthouse serving up sweeping views of Delaware Bay offers yet another reason to choose a Jersey Shore vacation rental in Cape May.
Atlantic City hardly needs an introduction. This is a city that's well known for the glitzy casinos that line its iconic four-mile boardwalk – but Atlantic City rentals are by no means the sole hangout of the high rollers. Families flock to America's Playground to enjoy over-the-water entertainment at Steel Pier and self-guided tours of Ripley's Believe It or Not Museum. In the warmer months, events like Thunder Over the Boardwalk and the Jazz on the Beach concert series add to the appeal of spending summer on the Jersey Shore.