Your guide to vacation rentals in New York City
Everyone should visit New York City at least once in their lifetime. The bright lights, magical sights, and edgy vibe all make it a must-do. The best way to enjoy the city that never sleeps is at your own pace – and you can do exactly that from the comfort of NYC vacation rentals. Whether you're a first-time visitor or a lifelong fan, read on for top tips about where to stay and how to score your perfect New York rental.
Best places to stay in New York rentals
So, you've decided to visit the city that's so good they named it twice. But where are the best places to stay in New York City? It's a city that packed with great options, for sure, but you can narrow down the selection by explo
ring some of the city's best-loved hangouts right here.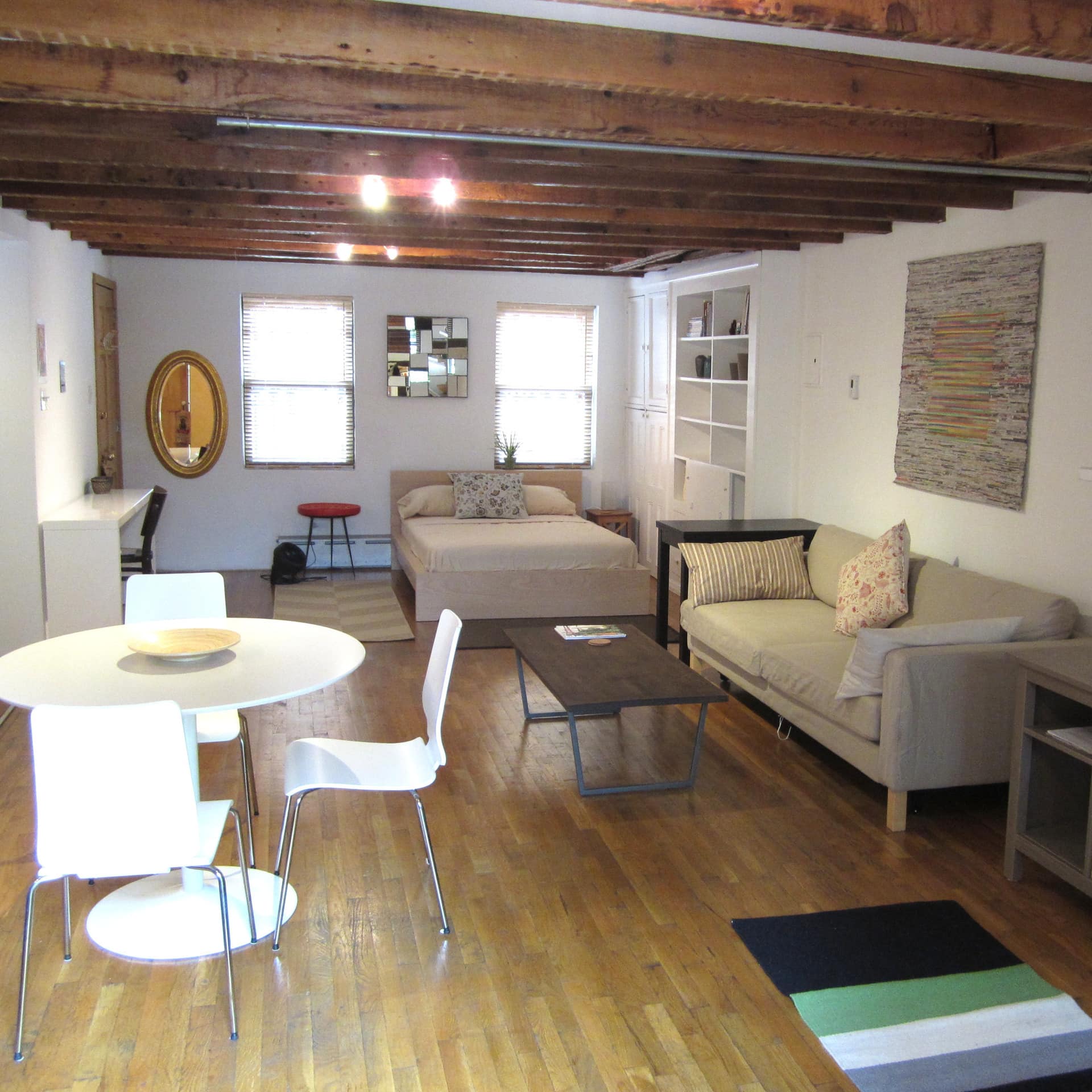 First-timers flock to admire New York's most illuminated spot, so it makes sense to book accommodation near Times Square. In Midtown Manhattan, vacation rentals are all but a short walk away from the square – and on the doorstep of other must-sees too. Rockefeller Center, 5th Avenue, and Broadway are among the big-hitters nearby, but it's the classic sights like yellow cabs and street-si
de hot dog stands that announce you've landed in the Big Apple.
Brooklyn vacation rentals
Planning a New York City trip doesn't mean you should only look at vacation rentals in Manhattan. Not with Brooklyn sitting right across the East River. This borough's huge and full of great spots, though Williamsburg has a little something to sweeten the deal for everyone. Overflowing with art, it's a trendy pick no doubt, though a line-up of cool coffee shops and must-try restaurants make it a top choice for foodies too. The best bit? Budget-friendly Williamsburg regularly shows up in lists of the cheapest places to stay in New York City.
Vacation rentals in Queens
Queens' line-up of vacation rentals has plenty going for it. On the doorstep of JFK, the homes here are certainly a handy choice if you prefer the convenience of staying close to the airport. Rentals tend to be within an hour's drive of Manhattan too – and are even closer to the beaches of Nassau County. Plus, it's a borough with countless delights of its own. Vacation rentals in Corona offer easy access to Mets' games at Citi Field, while those near downtown Flushing put you on the doorstep of the Asian food heaven that is the New World Mall.
Now you've discovered some of the best places to stay in New York, you'll find answers to the most common questions about New York vacation rentals coming up. Plus, there are some handy tips about the best time to visit and how far in advance you should nail down your plans.
There's loads of choice on the menu when it comes to New York rentals. Families hoping to stay in one of the sweet New York City brownstones need only look at rentals in Manhattan's Upper West Side many of these charming picks throwing in views of Central Park for good measure. Loved-up pairs who don't mind snuggling up can make savings by renting a small studio, though a tempting parade of luxury New York rentals with hot tubs means there's plenty of scope to go more upmarket. Pet-friendly pads are also available, so pooch can come too.
When's the best time to stay in a New York rental?
That rather depends on what you expect to get from your New York trip. It's very much a four-season spot, though the best of the weather lands between May and October – bearing in mind that both July and August can be a bit sticky. There's plenty to enjoy during winter vacations in New York too – not least horse-drawn carriage rides around a snow-covered Central Park and the annual holiday spectacle served up by the Radio City Rockettes. Budget travelers will find New York City vacation rentals at their cheapest during January and February.
How far ahead should you book NYC rentals?
You can usually find last-minute vacation rentals in New York, even if you visit during the city's busiest times – though if you're after something specific like a pet-friendly rental, you'd be better off booking a couple of months ahead of your stay. Planning New York trips in advance means you'll benefit from the widest choice of rentals. Plus, if you're planning to head to the city for a popular event like the holidays, Halloween, or New Year, booking early often results in a cheaper rate too.