A guide to Dauphin Island rentals – pick your stay
Billing itself as the Sunset Capital of Alabama, Dauphin Island could just as easily compete for the title of the Birding Capital of Alabama, the Beach Capital of Alabama, or the Military History Capital of Alabama. This is a place where protected swamp and coast forest reserves roll into white-tinged sands and boardwalk nature trails, while cannon-armed Fort Gaines keeps watch overhead. Oh, and there are oodles of darn fine Dauphin Island rentals to pick from. This guide can help you with those.
Some top features of Dauphin Island vacation rentals
If you're not already tempted enough by the promise of sun-filled days on the stunning Alabama coast, let the pointers below stoke the wanderlust just a tad more. They've got enticing glimpses of what's to come in the world of Dauphin Island rentals.
Sometimes, the Gulf gets just a little rough and wild and chilly for a swim, especially come fall evenings. Cue Dauphin Island house rentals with their very own pool. These can get particularly tempting on the oceanside, where those swimming spots huddle between pockets of sea-oat meadows and offer views down to the sparkling shore.
Planning on bringing the pooch along? There's good news. For one, animal-friendly vacation homes are all over the place – you can even find them on the front row with views of the Gulf of Mexico. What's more, the vast majority of Dauphin Island Beach is open to dogs on leashes. The only stretch they can't go a-strolling is down by the West End Beach Park.
Stay smack bang on the sands
There might be no more sought-after sort of vacay home in these parts than Dauphin Island rentals on the beachfront. Straddling Bienville Blvd and facing Pelican Bay, there are tons of choices. The best will have wooden decks that open to the sunsets and stand on stilts just by the breezy dune parks.
Skip over to the Mississippi Sound side of the barrier island and there are homes that spill straight down to the sloshing water's edge. They might not have the dramatic coastal views, but for boaters, they have something even better – a private mooring. So, if you're eager to do some fishing, hit Mobile Bay on a birding safari, or just explore the wetlands of Dauphin Island in depth, these could be the ones for you.
The best areas of Dauphin Island for vacationers
Hit the ground running by prepping yourself with a little geography knowledge about Dauphin Island. The pointers below are brimming with it, revealing some of the very best corners of the town where you might consider putting down roots for a week or two.
The bulk of Dauphin Island vacation rentals sits on the south side of Bienville Blvd, which weaves past marinas and beach parks as it goes east-west from the causeway to the end of the barrier. There are all types, whether you're after a large family casa with an oceanfront yard or a cozy apartment for two. A whole load of them also have gorgeous vistas of the Mexican Gulf.
The reward for cruising down the whole length of roadway that's available on Dauphin Island is a clutch of characterful beach bungalows that are on stilts on the wild and windswept reserve of West End Beach. It's not ideal for anyone coming with the canine, on account of stricter pet controls. But it is perfect for romance and relaxation – the area's untouched, calm, and blessed by blinding sunsets.
Dauphin Island's northern shore is pierced by inlets, creeks, and swamplands. It's a pretty picture of the South's Gulf Coast region, and the place to be if you're looking for a home that has its own boat dock. Nearer to the main bridge connecting to mainland Alabama, there are cottages that fringe the famous Indian Shell Mound Park – a fascinating prehistoric site laden with archaeological finds.
Getting low-cost vacation rentals in Dauphin Island, AL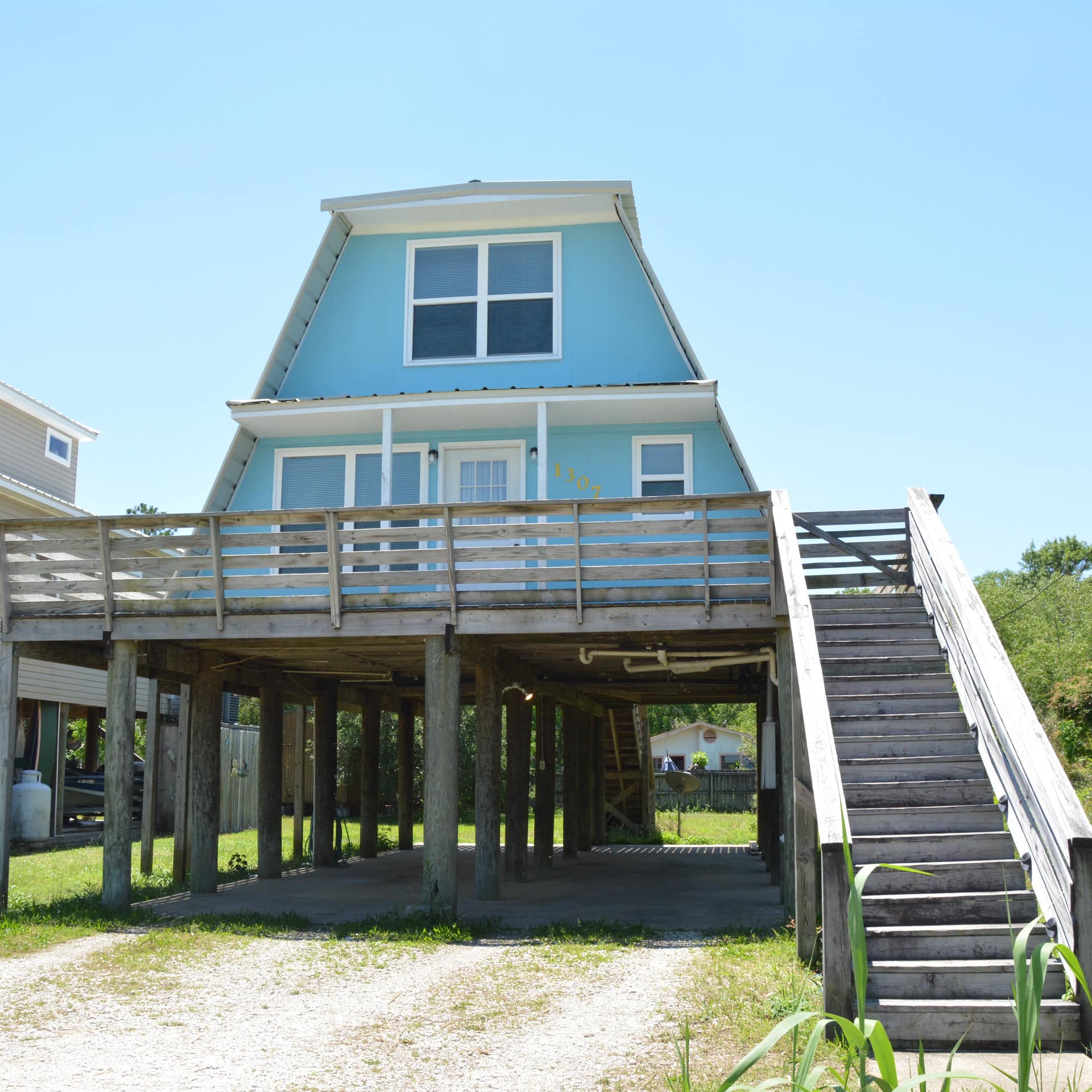 Ease up pressure on the travel fund by thinking about the tips below. They showcase just a couple of tried-and-tested methods that could get you booking vacation rentals in Dauphin Island, AL, for their lowest rates.
Summertime bookings should be made well in advance
A reputation for untouched and untrodden sands, blazing sunsets, and amazing wildlife is always going to bring huge crowds to Dauphin Island rentals in the summer months. If you're planning a getaway here between Memorial Day and Labor Day, be sure to book as early as possible, so you get the full whack of potential bargains.
the majority of travelers heading Dauphin Island way will have their heart set on a home only feet from a pristine Gulf Coast beach. There are plenty of those available, but they do tend to cost a tad extra than their compadres a street or two to the north. Cheaper again are the rentals by the marinas of the Mississippi Sound.