Coastal trips to Emerald Isle rentals
Drop the bags in your Emerald Isle rental and viola – you're instantly in a place that oozes classic beachside living. The R&R flows fast, with water sports and fishing, with pristine beachfront to laze on, and pretty wetlands to explore on the Bogue Banks. This guide aims to help you pinpoint the perfect place to stay, no matter if you're after something for two or a large space for the whole crew.
Features to look forward to in Emerald Isle, NC, rentals
Wi-Fi, fitted kitchens, comfy living rooms – these are all common to a vast majority of Emerald Isle rentals by owner. But what about those frilly extras that push things to the next level? A few tempting glimpses of those are listed below.
Emerald Isle vacation rentals with a swimming pool
It's 85 by morning and 85 by afternoon on the thermometer during the midsummer in Emerald Isle. You'll be hopping back and forth to the Atlantic Ocean to cool off all the time, but if you've got your very own pool you might not have to. There are lots of different choices in this category, but the very best put those sparkling splash pads in the middle of decks surrounded by the dunes.
Sumptuous and historic Emerald Isle vacation rentals
There are just a few escapes on this salt-washed barrier island that are sure to leave you sighing with nostalgia and wishing to come back. They are built like historic homes, with groves of old live oaks and draped Spanish moss swirling around them. If you're thinking of an Emerald Isle wedding or family reunion, they might just be the rentals for you.
Bringing the complete crew? Not a problem. There are vacay homes right up and down the length of this barrier island that can cater to larger groups. Some can even sleep more than 10 comfortably. But it's not just extra bedrooms that makes them so good for that. It's also larger yards, big kitchens, and proximity to whizzing waterslides or boating marinas.
Areas to find your favorite Emerald Isle rental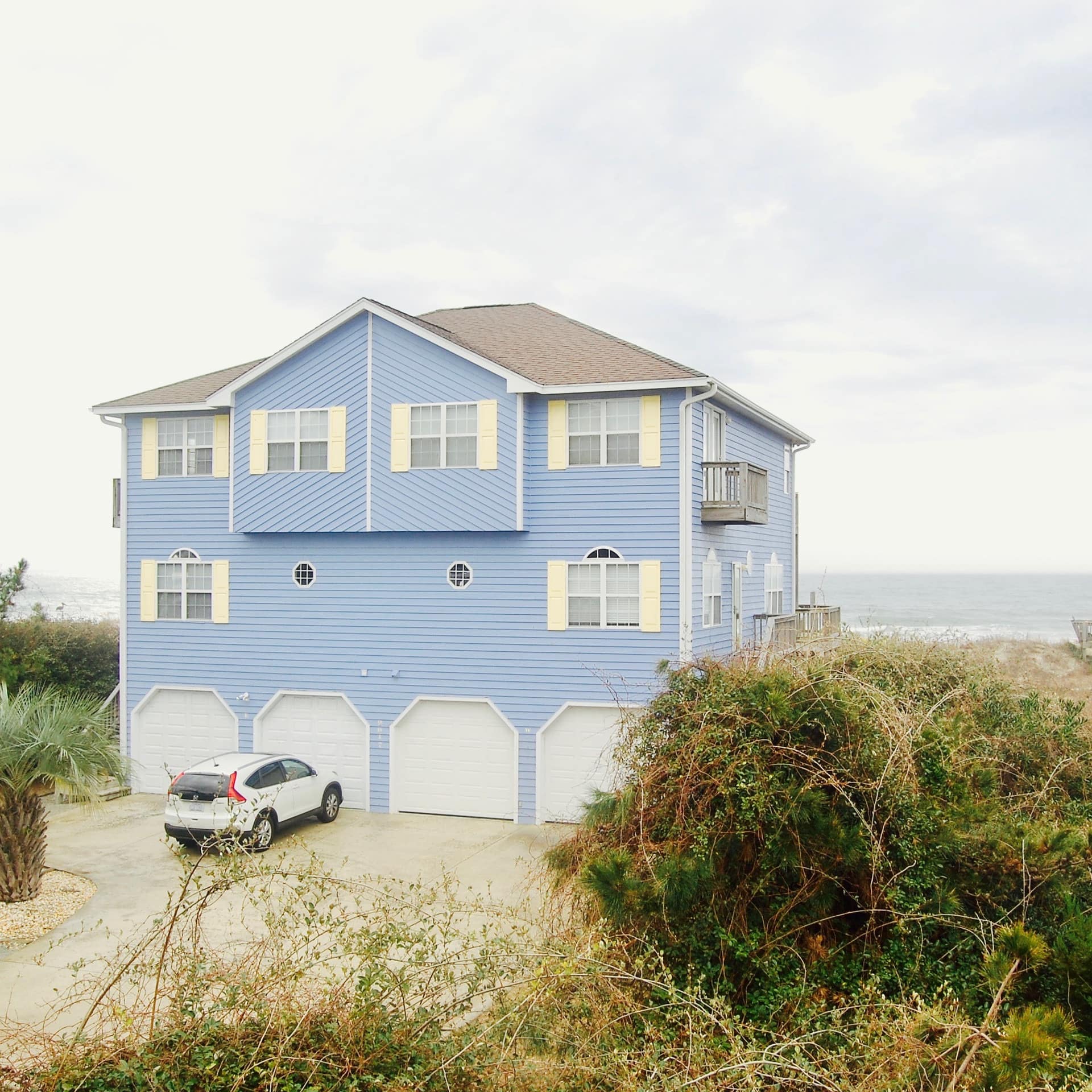 There's a whopping 12 miles of connected beachfront to explore in Emerald Isle, not to mention a dune-fringed barrier isle filled with nature parks, and a whole load of sound-side inlets with fishing piers and marinas. The pointers below can help you navigate it all…
Emerald Isle beach rentals on the oceanfront
There's an abundance of beach-facing homes and cottages and condos to pick from on the long stretch of Atlantic coast that runs by Emerald Isle. At the far western end of the barrier is the low-key village of The Point, where multi-story homes have swimming pools and oak-topped gardens just feet from the shore. Running eastward from that is Ocean Drive, where lodges and bungalows on stilts get you closer to the water parks and family grills.
Sound-front rentals in Emerald Isle
On the flip side of Emerald Isle is where you'll find the banks of the big Bogue Sound. Around Emerald Isle Park, there are oversized mansions with room enough for five, six, or eight guests. They are painted blue and white, with picketed porches and driveways. Head to Emerald Drive from there and it's all about scoring pads with a private boat jetty.
Mosey down the coast roads to the next town of Indian Beach if you're pining after a dash of pampering on your NC escape. The homes there increase in size, there are luxurious complexes, and oceanfront condos that gaze over pristine beaches and pool-packed yards. The town also hosts taste-bud-tingling boat-to-table seafood bistros.
Ensuring you get the best deals of all in Emerald Isle
Keeping costs down on the accommodation front is all important if you're watching the budget with a beady eye. That's where the hints below can help. They reveal some tried-and-tested ways folks have dodged the highest rates in Emerald Isle vacation homes, leaving more for fishing charters and family meals out on the town.
Emerald Isle peaks in summertime
There's a noticeable surge in the cost of rental places in Emerald Isle when May gives way to June, July, and August. It's worth remembering that that's not entirely down to the better weather – things can be balmy and dry in late spring and autumn, too. It's mainly due to the timing of the college and school breaks. If you can skip those and come another season, you might be pleasantly surprised with rates.
Don't worry – the beach is never far away from any Emerald Isle vacation rental. If you don't mind making the short walk a block or two and over the dunes, it's usually possible to save heaps by not springing for an oceanfront home. The same is true on the sound side of the resort, where homes with private jetties charge more.