A destination guide to South Carolina beach rentals
The Palmetto State is a pretty one, no questions. As it tumbles into the Atlantic Ocean, you catch a mosaic of barrier islands, open wetlands, ancient oak forests, coastal plains, and quaint fishing towns. Together, they offer everything from boardwalks to remote golfing getaways. You'll find both of those – and oodles more – on this guide to South Carolina beach rentals…
Ocean Drive beach rentals – a Myrtle Beach staple
If you're after South Carolina beach vacation rentals that combine family fun and hard-earned R&R in the same trip, you could well find them on Ocean Drive, a mainstay of Myrtle Beach. It's a part of the bustling Grand Strand, which spans a whopping 60 miles of scintillating white-sand coastline and uber-clean waters. In the vicinity, you can choose all sorts of stays. There are compact condos with shared pools just steps from where the waves caress the shore. There are opulent golfing villas that gaze over the 18th green.
Sullivan's Island beach rentals – something for everyone
Just a short hop across the Cooper River from the cobbled sidewalks and Antebellum grandeur of Charleston, Sullivan's Island manages to mingle rich history with wild water sports and plenty of chilled beach charm. It's one of the smaller barrier isles in the region, but has boardwalks that scramble over oat-swaying dunes, and more than three miles of pristine sand to enjoy. And when you tire of beachcombing? Fort Moultrie and Fort Sumter ooze Civil War battle tales and Revolutionary-era past alike.
Sightings of paddleboards and surfers, fishing folk and sunbathers are just about as common as each other down in much-vaunted Folly Beach. This is one of the most popular escapes for the city slickers of Charleston after Memorial Day, and it's easy to see why. There are sugar-soft sands backed up by thickets of palmettos and pines. Gorgeous South Carolina oceanfront vacation rentals straddle a lovely pier and packs of seafood restaurants. You can even challenge your wave riding on the gnarly peaks of The Washout surf spot.
Real luxury in IOP
IOP for short, Isle of Palms in all its glory, this stunning speck on the map of South Carolina has established itself as one of the state's best sporting retreats. There are villas next to tennis clubs. There are golf courses showcasing majestic fairways of emerald green. There are yachting schools and sailing centers. But it's not all about getting the heart rate going, either. In fact, the South Carolina beach rentals that await here are often uber-exclusive. They have access to glistening coastal pools, spa facilities, and haute surf-and-turf kitchens.
The handsome coastal home of Hilton Head
A well-heeled golfing haven that counts several award-winning championship and PGA-rated courses on its roster, Hilton Head is also blessed with the soft sands and walking paths of Coligny Beach Park. What's more, the houses here are upscale and handsome, with come-at-me Lowcountry looks – timber cladding, wide decks, nautical-inspired interiors. And they are close to the state line with Georgia. Hop across that on a daytrip and you'll be greeted with the sumptuous architecture and live-oak avenues of Savannah.
Planning a trip with kids? Have a look at our Hilton Head family destination guide for inspiration.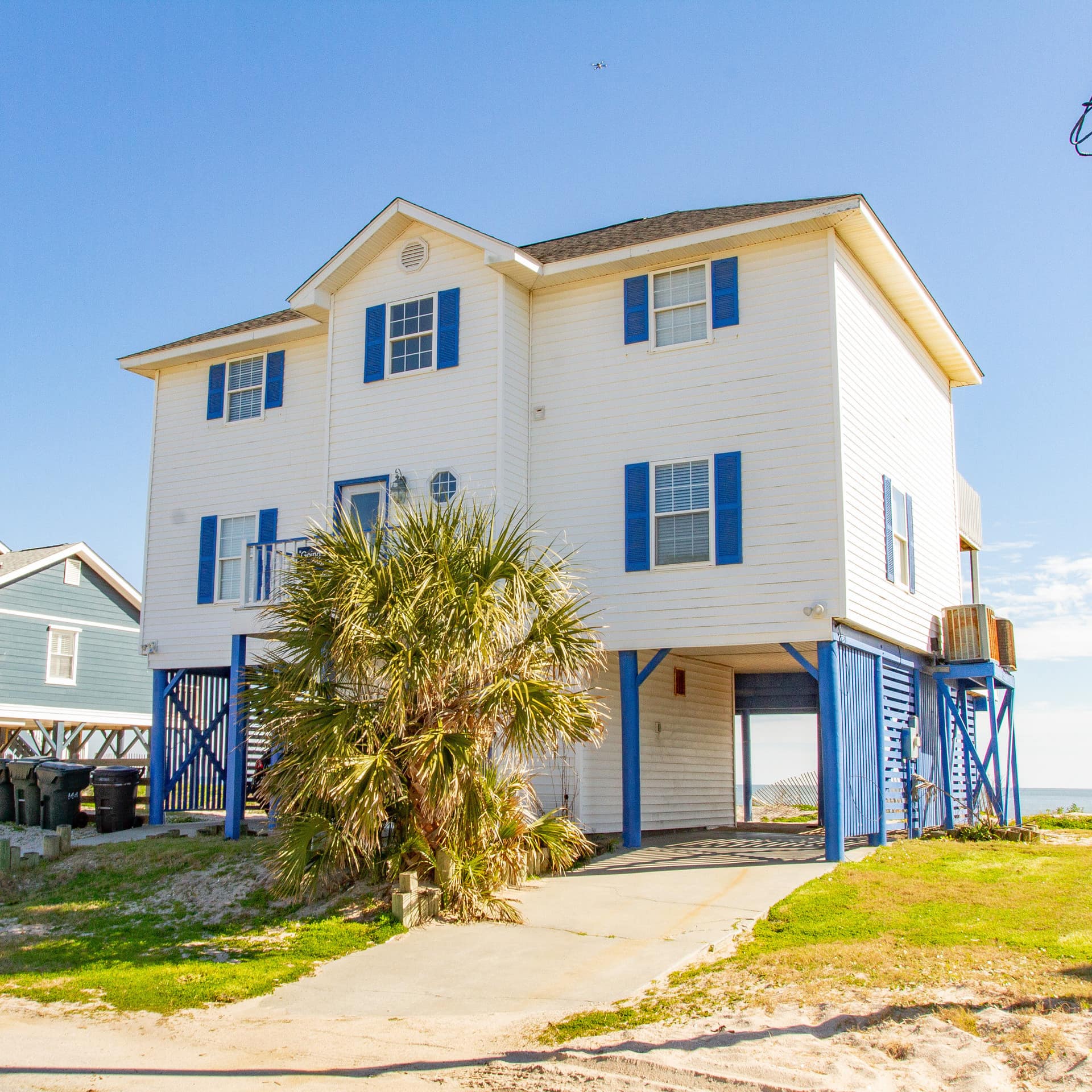 Engulfed by lush bayous and swamps, Edisto Beach is a diamond in the rough. Nature lovers can get cottages that pepper the inland roadways and creeks, amid a land of gnarled oaks, azaleas, mosses, and feral bobcats. Those after sun might prefer the big South Carolina beach rentals on the coast. Palmetto Blvd is the place to head for those, as it swings away from the port and straight along boulder-spotted Gray's Beach.