Uncover Tybee Island rentals to suit you
Just a whisker away from the sweet southern belle of Savannah – one of the most historic and handsome cities in the whole of the South – Tybee Island throws white-tinted beaches, sub-tropical coast forests, and fresh ocean surf into the mix. This guide can help you discover the Tybee Island rental that's right for you, whether you're coming as a couple or transporting the whole family to Georgian shores.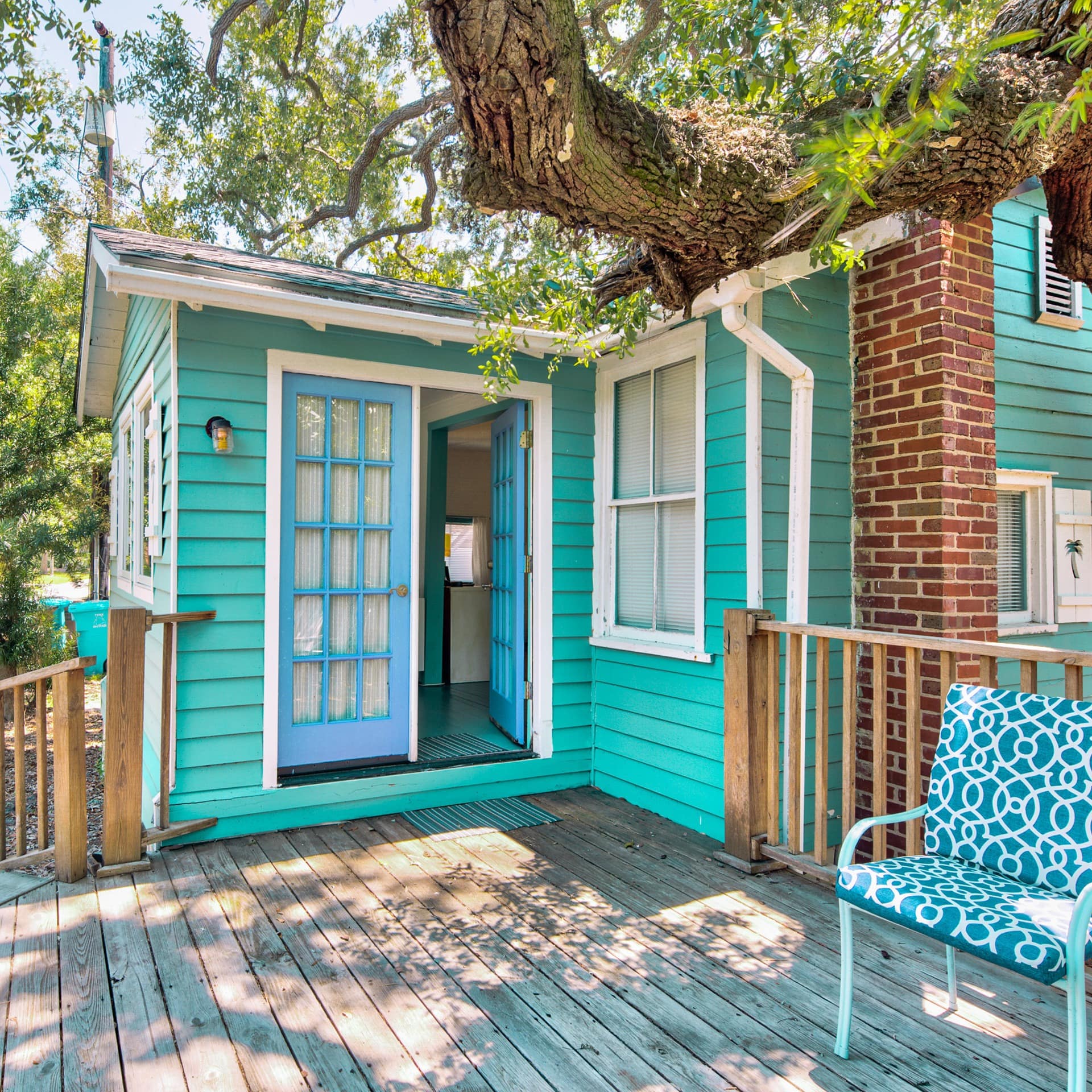 You're likely to find some of the very best Georgia coast vacation rentals in Tybee – it's one of the most popular escapes on the Atlantic-washed edge of the Peach State, after all. What's more, the resort town is a mere 18 miles from the heart of sumptuous Savannah, so it's accessible for all sorts of travelers.
A captivating Tybee Island cottage rental – the real South
The forget-me-not looks of the buildings don't stop the moment you leave behind the Savannah Historic District. Not a chance. Down on Tybee Island, there are gingerbread bungalows that nestle in palmetto groves under the shade of high oaks and pine trees. They're often painted Creole-Carib shades of pink and yellow, and have leafy yards strewn with hammocks.
There's no reason the hound should stay at home. Surely all that driftwood needs chasing on the beaches, and there are surf breaks for pooches to ride, not to mention historic Fort Pulaski, which welcomes pups on the leash. Add to that a range of pet-friendly Tybee rentals and you'll be packing the dog biscuits and water bowl in no time.
There's no doubt about it – there's something really special about scoring a Tybee Island vacation rental on the beach. Edging closer to the soft, sugary sands than any other style of accommodation in the region, they let you fling open the living room doors and be bathed in salty breezes.
Know where to go for Tybee rentals
Tybee Island Beach isn't actually just one beach, but rather a long and arcing stretch of sand that goes from Tybee Creek in the south to the mouth of the Savannah River in the north. So, you know where to look for that perfect home away from home, there are a few helpful neighborhood introductions below.
South Beach and Butler Avenue – where most will look
It's all going on down on South Beach and Butler. These combine to give the most vivacious length of coast in the region. The Pier & Pavilion is filled with rod-slinging fishers. There are surf shacks past 19th where you can hop on a longboard and conquer the swells. There are bike rentals and palm trees and places to eat. And you get one of the widest selections of Tybee Island beachfront rentals – think condos and apartments aplenty.
Want to kick it and relax? There's arguably no better option than North Beach around Lighthouse Point. That might be a surprise considering it's the closest of all to the heart of Savannah, but the powder isn't quite as fine and the water isn't quite as clear here, which means there are fewer people generally. That's all made up for by the photogenic outline of the Tybee Lighthouse and the rich history of Fort Screven, dating all the way back to 1897.
Savannah beach rentals on the Savannah River
One way to escape the crowds and still be close to the grand Antebellum mansions and draped Spanish mosses of Savannah is to opt for a rental on the beaches that line the Savannah River. They aren't near the beating heart of the city, which means they are likely to be quieter and more remote. But loads sit by boat jetties and kayak rentals, for anyone interested in exploring the surrounding creeks and wetlands.
Ways to save money when booking Tybee rentals
Savannah's shores a-calling but the budget not that big? Don't panic. There are some great ways you can cut the cost of a stay here, even if you're set on getting a romantic Tybee island cottage rental or a pad that's just feet from the beachfront…
Tybee Island is up there with the most popular getaways in the South, drawing loads of Georgia locals come the summer months. The upshot is that it's a good idea to get in there early with a booking, as the best-priced homes will always go like lightening.
There are alternatives to summer in Tybee
There sure are. Spring is a good pick. It's a little cheaper, with balmy days and smaller crowds. Fall is another favorite for low-cost rental hunters. You'll find rates can dip considerably in September and October, and there are even fewer days of rain on average than in August before it.
You don't have to join the big crowds on South Beach, you know. There are babbling creeks, grassy wetlands, and wild rivers that snake inland here, all of which play host to some more off-the-beaten-path Georgia coast vacation rentals that could cost just a fraction of what you were expecting to pay.