Discover Lake Michigan vacation rentals on the beach
One of North America's five Great Lakes, Lake Michigan has long attracted a crowd to its shores. It's a shoreline that stretches for more than 1,600 miles, touching not only Michigan, but also Indiana, Illinois, and Wisconsin – so there's plenty to keep visitors entertained along the way. Enjoy it for yourself from the comfort of a Lake Michigan vacation home rental. Whether you're looking for a couple's hideaway or a vacation house rental with space for the family and then some, there are loads of styles to choose from. Let's take a closer look at Lake Michigan vacation rentals and some of the hottest places to find them.
Some of the most sought-after of the lake's vacation rentals are, of course, Lake Michigan rentals on the beach. But what are they like and when's the best time to stay in one? The answers to some of the most common questions about Lake Michigan beachfront vacation rentals are coming up.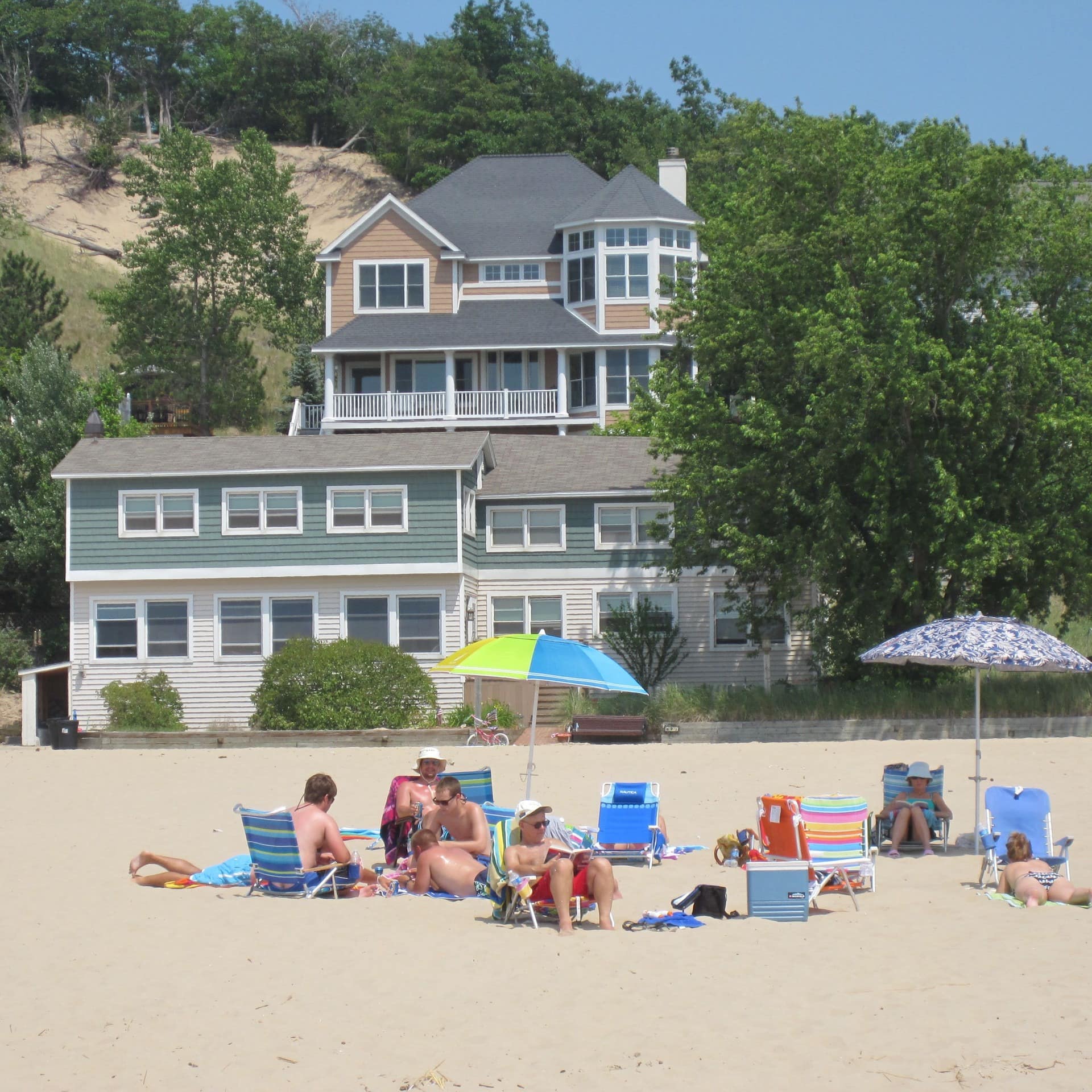 What are Lake Michigan rental homes like?
All kinds are available. If you're on a budget or are just looking for something simple, a cute cottage or bungalow might suit. Travelers with a bigger budget or more people to accommodate will be comfier in something larger, of course. Lake Michigan vacation house rentals fit the bill nicely – many of these more spacious options offering amenities like private pools and smart chef's kitchens. Luxury beachfront vacation rentals on Lake Michigan might go a bit further in their efforts to impress, tacking on extras such as bubbly hot tubs and bundles of private outdoor space. From a practical perspective, most rentals include essentials like WiFi and linens.
When's the best time to stay in Lake Michigan rentals?
Summer is the most popular season to visit Lake Michigan, especially if you're planning to enjoy a stay in one of its beachfront rentals. With a calendar that's bursting with fun events like South Haven's Mermaid Megafest, it's the busiest period, for sure. Of course, the higher demand can push up rental rates a little too, as is the case when the fall foliage transforms the lakeside into a fiery spectacle of red and burnt orange and visitors flock to catch the show. Cheap beachfront rentals on Lake Michigan can usually be found in early- and mid-spring, though your time on the sand may well be limited to a windswept walk.
How early should Lake Michigan rentals be booked?
If you're heading to the shores of Lake Michigan during the busy summer months, it's probably wise to do a spot of planning early on – better that than miss out on your dream beachfront rental. It will also pay to get plans nailed down in advance if you want something specific – perhaps a pet-friendly vacation rental on Lake Michigan or one of the lake's rentals with private pools and space enough for gatherings with family and friends. That's not to say that you can't visit Lake Michigan on a whim. There are tons of last-minute deals to tempt you to the beach no matter when the mood strikes.
Now you know a little of what to expect when choosing and booking Lake Michigan's beachfront pads, why not check out some of the hottest vacation home destinations on the lake's shores? From beach towns to bustling cities, you'll be spoiled for choice.
Serving up an idyllic lakeside escape, South Haven is one of Lake Michigan's most popular beach towns – and you won't be left in any doubt as to why once you spend time enjoying its unspoiled beauty and old-fashioned charm. South Haven beach rentals come in all flavors, too – from condo rentals crammed with amenities to cute, pastel-hued cottages to elegant vacation house rentals, it's all on the menu. When you're settled in, you'll find the Michigan Maritime Museum nearby – a small but fascinating spot that offers sailing trips and riverboat excursions on replica vessels like Friends Good Will and Lindy Lou.
Sitting within an hour's drive of downtown Chicago on Lake Michigan's south shore, Michigan City has oodles of appeal, thanks to attractions like the Old Lighthouse Museum, Washington Park, and the grand 19th-century Barker Mansion. Nestled within the Indiana Dunes, Beachwalk vacation rentals are among the most popular of Michigan City's private rentals, this residential-style community counting a communal pool, playgrounds, and a fishing pier among its highlights. Cottages and beach homes sit just steps from the sand – a stretch of the golden stuff that some would argue is Lake Michigan's finest.
Along with South Haven some 30 miles to the north, Holland is one of the seven so-called Lake Michigan "beachtowns." It's a town that's best known for its Dutch-inspired heritage – seen in its finery during May's Tulip Time Festival but never far away thanks to the likes of Windmill Island Gardens and Nelis' Dutch Village. You'll be wowed by the vacation home rentals in Holland, too. Some of the most desirable rentals sit near Holland State Park, this 142-acre park boasting white-sand beaches, stunning sunsets, and unforgettable views of Holland Harbor Light – a 19th-century wooden lighthouse that goes by the name of Big Red.