Make memories in Ocean Lakes rentals
Serving up oodles of fun since the early 1970s, Ocean Lakes has long since attracted fun-loving families to the south end of Myrtle Beach. Today, the Ocean Lakes Family Campground is one of the country's favorite family vacation home destinations and one you'll find packed with youngster-approved things to see and do – and plenty of ways for the grown-ups to relax too. While primarily known as a campground and RV park, getting back to basics is not essential when enjoying a stay at Ocean Lakes. This popular Atlantic Coast resort boasts hundreds of vacation home rentals that offer the perfect place to make memories with the kids.
Plan your stay in Ocean Lakes vacation rentals
Want to find out a little more about renting a vacation home at Ocean Lakes? Coming up is a look at the different types of rentals on offer, along with some top tips about bringing a pet and the best time to visit.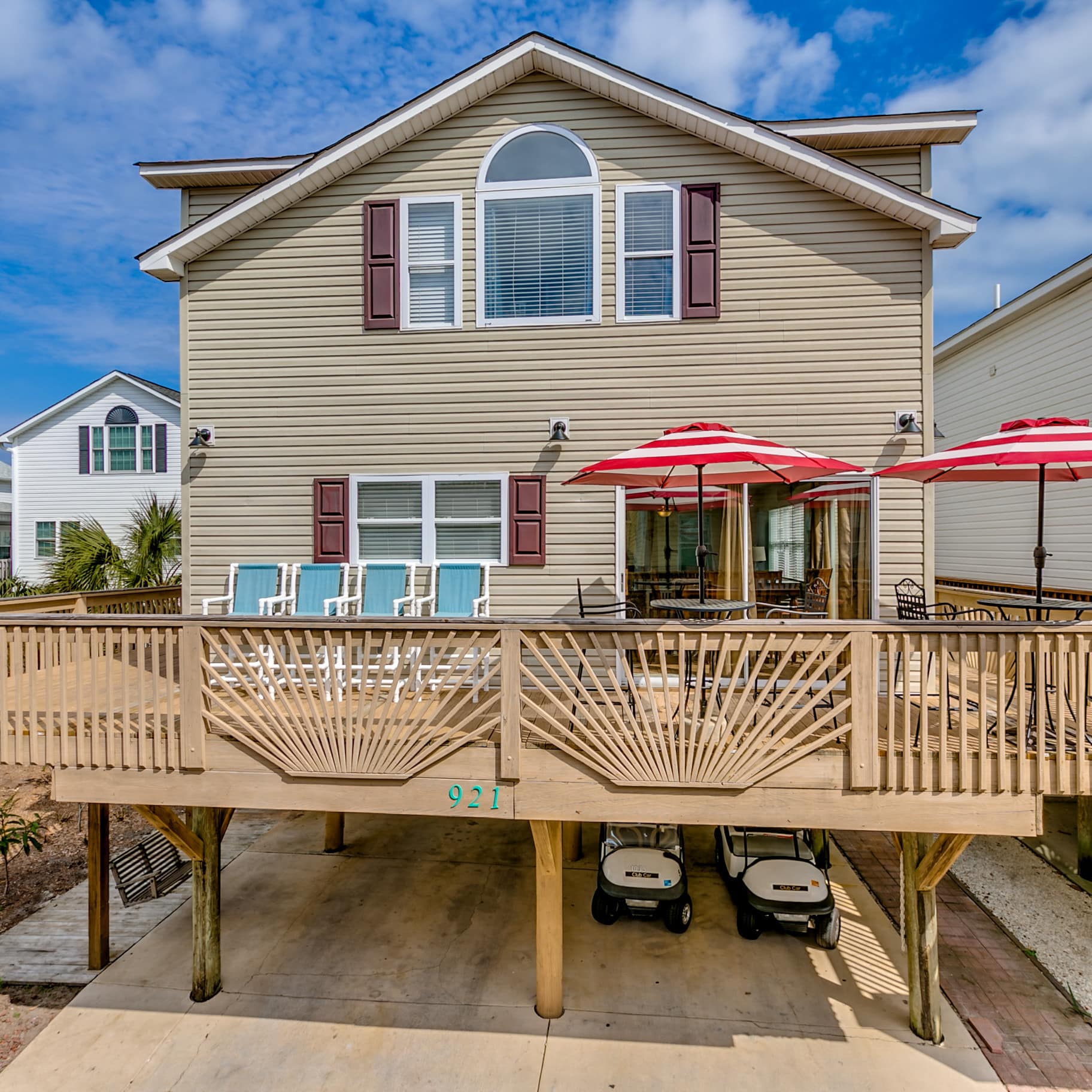 Types of Ocean Lakes rentals
The choice of vacation rentals at Ocean Lakes includes a delightful selection of cottages and vacation house rentals, both of these property styles coming in a range of sizes to suit families big and small. Some boast a lakefront setting or views of the beach, while others come complete with a free golf cart to help you get around the park. There are some good choices for budget travelers too – not least cozy mobile homes and trailer-type digs, but also a selection of Ocean Lakes condos with pools in the park's north-eastern corner.
Ocean Lakes treats the majority of pets as family and welcomes leashed dogs to most areas of the park. As far as accommodation goes, both the campground and RV park are pet-friendly, though the park-owned vacation rentals aren't. Homeowner rentals at Ocean Lakes are a different story, though – many of these properties more than happy to have your four-legged friend join in the fun. If you do plan to bring a dog, it's worth avoiding summer rentals in favor of an off-season stay when dogs are welcome to play on the park's mile-long stretch of beach.
Best time to stay in Ocean Lakes rentals
To enjoy the best of the weather, you'll want to head to Ocean Lakes between June and August. This is prime hit-the-beach season and a time when the park lays on a seemingly endless line-up of fun events for families – so it can pay to get your dream vacation rental booked nice and early. If you'd prefer to enjoy a quieter vacation and perhaps a little more space on the sand, looking at rentals outside the busy period between Labor Day and Memorial Day should see you enjoy an unbeatable combo of fewer crowds and more affordable Ocean Lakes rentals.
There's always something going on Ocean Lakes. Whether you're there for the weekend or have scored a summer rental, here are just a few of the things you'll find waiting for you.
One of the park's newest attractions, Sandy Harbor Family Fun Center is packed with cool experiences. This three-acre water park features a lazy river, a splash zone, and several pools – including the Tad Pool for tiny visitors. Elsewhere, there's mini golf, along with arcades, cafes, and oceanfront snack shacks. And, better still; it's all just minutes from Ocean Lakes rentals.
Sitting behind the Sandy Mart in the heart of Ocean Lakes, the Nature Center Discovery Lab offers a closer look at the shells, fossils, and sea life from South Carolina's stretch of Atlantic Ocean. Other activities include beach walks along the shell-packed Grand Stand and "Dig and Discover" events. Plus, there's a chance to meet a baby alligator and a leopard gecko named Spot.
Visiting attractions like Sandy Harbor and the Nature Center is a must, though you don't need to head anywhere specific to have fun at Ocean Lakes. Step outside your rental to explore and you'll come across everything from oceanfront playgrounds and fish-filled freshwater lakes to sports courts and horseshoe pits. Add Ocean Lakes golf cart rental or bicycle rental into the mix and you have all the ingredients for a blissful, carefree day.