Picking out where to stay in Yellowstone
The first national park in the US, Yellowstone draws millions each year to its sweeping natural landscape of deep canyons, verdant forests, and bubbling hot springs – not to mention the frequently erupting Old Faithful geyser. If you're wondering where to stay in Yellowstone for the best access to all this and more, this guide will help you out.
Different types of places to stay in Yellowstone
Whether you've come to the Wyoming to show the kids the famous spouting geysers of Yellowstone or are looking for some R&R out in cowboy country, there's a vacation rental in these parts just up your alley. Places to stay in Yellowstone range from cozy cabins for twosomes to large lodges that add a bit of luxury to an outdoorsy vacation.
National park vacays are all about the great outdoors, and Yellowstone is certainly no exception. The perfect spot to get back to nature – what with all the hiking paths, wildlife sightings, and kayaking trails – this destination speaks to those looking for a chance to connect with their surroundings and breathe in the fresh air. Cue Yellowstone cabin rentals, which keep things bucolic and earthy with their simple timber or log designs, wood-paneled interior walls, hand-built furnishings, and killer views of the surrounding mountains from covered porches adorned with rocking chairs.
A family trip out West is on pretty much everyone's bucket list, and Yellowstone remains an ever-popular destination for taking the kids on horseback rides and introducing them to roaming bison. Luckily, lots of vacation rentals near the park pack in plenty of space for the crew, along with those homey touches that make traveling with young ones a bit easier. Compact spaces might utilize bunks to maximize sleeping zones and breakfast nooks by the kitchen for dining, while luxurious lodges have up to eight or more bedrooms along with picture windows, vaulted ceilings, and large decks with grills for cookouts.
Room for two
Nothing says romance like the peace and quiet that comes from a getaway to Big Sky country. Between days spent exploring Yellowstone's thermal basin and trekking through forests and canyons, your cozy vacation rental offers the perfect spot relax and enjoy some quality time together. The little extras like crackling fireplaces, bubbling hot tubs, and balconies under the stars might just be the best part of the whole stay.
Locations for Yellowstone National Park rentals
It's no secret that Yellowstone is a sweeping park – it fills up the northwest corner of Wyoming and touches sections of Montana and Idaho, too. With five different park entrances and so much ground to cover, it can be tricky to narrow down the best place to stay in Yellowstone. The destinations below should help get you started, whether you're after something down a dusty road from the local door-swinging saloon or far from town under the twinkling stars.
West Yellowstone in Montana
With Yellowstone in its name, you know this town has got to be right on the cusp of the park. Less than a mile from the entrance, West Yellowstone packs a punch with its Americana diners, souvenir shops, and Grizzly and Wolf Discovery Center that offers a peek of the wildlife to come in a refuge setting. This is also one of the best places to stay in Yellowstone for access to Old Faithful, since the geyser is on the west side of the park less than an hour away.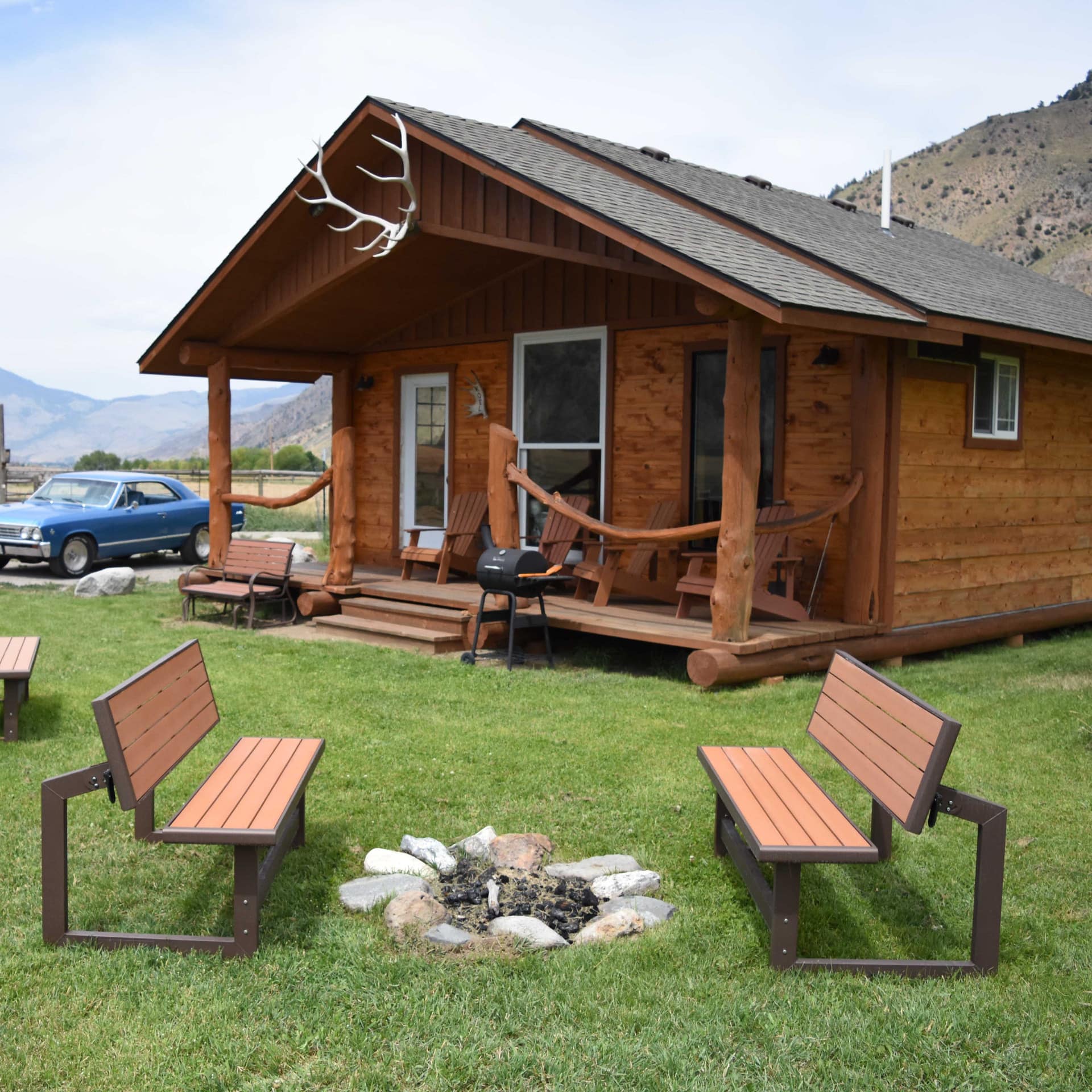 This tiny town at the northern entrance to Yellowstone brims with park history. The arched stone entrance gate from 1903 is here, as well as the Heritage and Research Center that stores more than a million pieces of park history – from books and microfilm to an archeological collection. Places to stay in Gardiner include woodsy cabins and waterfront homes with sweeping views of the Yellowstone River.
If you're looking for the best place to stay in Yellowstone in Wyoming, the eastern entrance towns of Wapiti and Cody are just the answer. They're only about 20 miles apart, but the first is a small community in the Shoshone National Forest with wooden houses and lodges on spacious plots of land, while the second caters to tourists, with a small airport and rental cottages close to steak houses and Western-themed museums.