Booking vacation rentals in Denver, Colorado
From its roots as a 19th-century Gold Rush town to its current status as Colorado's trendsetting capital, Denver has timeless appeal. Today, the city wins over vacationers with upbeat neighborhoods, award-winning attractions, and a gorgeous setting in the Rocky Mountains. Whether you're planning an urban getaway or an outdoor adventure, Denver rentals make it easy to discover the Mile High City.
Popular neighborhoods for Denver, Colorado vacation rentals
Denver is made up of dozens of neighborhoods, each with its own unique flavor. Downtown Denver combines business with pleasure, LoDo is dotted with contemporary galleries housed in historic buildings, Cherry Creek champions a glamorous aesthetic, and RiNo is a bastion for craft breweries. Where you stay will have a big impact on your experience so shop around for a neighborhood that you connect with.
Downtown Denver condo rentals put you front and center in the Colorado capital. You'll have farm-to-table restaurants and independent craft breweries at your doorstep, not to mention sidewalk cafes and bars strung along pedestrianized 16th Street Mall. As well as modern condos you'll find urban loft apartments housed in converted warehouses and factories. Boutique properties embrace the aesthetic with polished concrete, exposed pipes, and industrial chic décor.
LoDo, Denver vacation rentals
LoDo, short for Lower Downtown, is a stronghold for galleries, boutiques, and artisan coffee houses. The neighborhood is known for Victorian architecture, with many historic homes reimagined as Denver rentals. LoDo also offers a good mix of compact condos housed in high-rise buildings. The best treat guests to modern décor and floor-to-ceiling windows with views of the Denver skyline.
Also known as RiNo, the River North Art District is all about colorful street murals, late-night food trucks, and independent craft breweries. Today many of the neighborhood's industrial buildings have been converted into RiNo vacation rentals. Think exposed brick, soaring ceilings, and loft-style living areas. Stroll to local brewhouses or take home a six-pack and enjoy sundowners on your rooftop deck.
Since the Gold Rush boom in 1858, Denver has attracted an eclectic mix of prospectors, entrepreneurs, free spirits, craft beer lovers, and other colorful characters. This open-minded attitude ensures there are vacation rental homes in Denver, CO for every occasion. Whether you want to check into a luxury loft apartment or a 420-friendly pad, you'll find what you're looking for in the Mile High City.
Denver is famous for its liberal-minded locals and you'll find carefree accommodation to match. While smoking indoors is never allowed, the city offers a great selection of 420-friendly vacation rentals featuring open-air living areas that are perfect for enjoying your latest dispensary buys. Self-contained kitchens and outdoor grills are great for beating the munchies, or you can stroll to nearby cafes and restaurants.
Cheap weekly rentals in Denver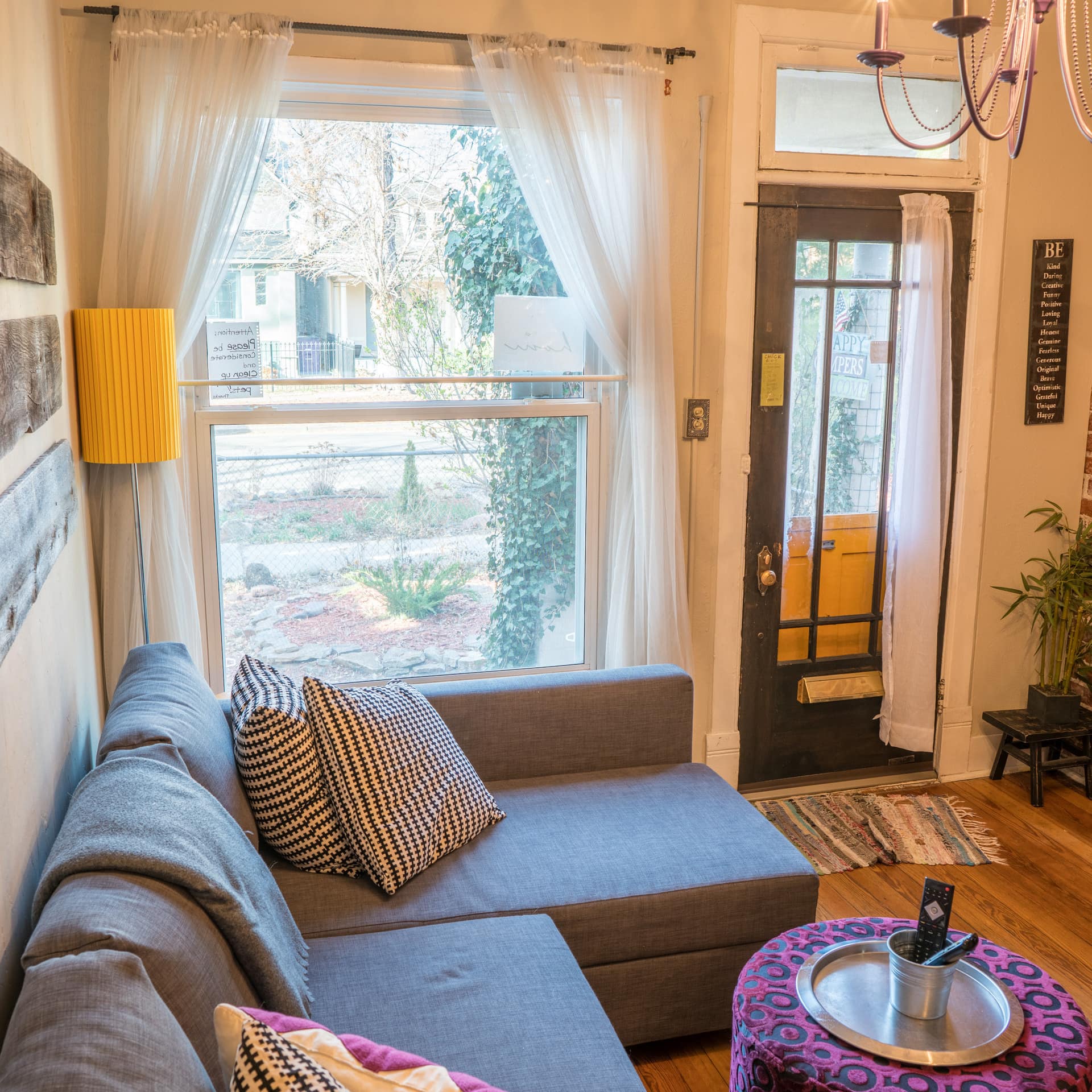 From remodeled row homes in Baker Flats to compact studio apartments in LoDo, cheap weekly vacation rentals in Denver, CO make it easy to discover the capital on a budget. Self-contained kitchens are a great excuse to stock up on supplies at the Denver Central Market and save on eating out. You'll also enjoy extras like laundry facilities, fast WiFi, and free parking.