Booking vacation rentals in Lincoln City, Oregon
Vacation rentals in Lincoln City, Oregon offer a unique chance to discover the Central Coast through a local lens. You'll find a huge selection of beachfront rentals strung along the stretch of sandy coastline, most with superb ocean views. There are properties for every budget, whether you're looking for a compact one-bedroom apartment or a family-sized home.
Roads End, Lincoln City vacation rentals
Perched on the northern tip of Lincoln City, Roads End is a tightknit coastal community with a great selection of vacation rentals. Private patios are ideal for sipping craft beer and watching the sunset. You'll also be a short stroll from Roads End State Recreation Site, where you can cool off in the Pacific Ocean and peer into colorful tidepools.
Lincoln City vacation rentals pet friendly
Oregon is a state of dog lovers and Lincoln City is no exception. You'll find a great selection of pet-friendly vacation rentals to match, with options for every budget. Oceanfront condos promise gorgeous views and affordable price tags, while detached homes with gated yards appeal to vacationers with larger dogs. You'll also find Lincoln City house rentals within walking distance of popular dog parks and beaches.
Beach rentals in Lincoln City, OR
Lincoln City is strung along seven miles of picturesque coastline which means there's no shortage of beachfront real estate. Oceanfront condos win over sunseekers on a budget, while breezy cottages and beach bungalows offer extra space for couples, small families, and groups. You'll also be tempted by luxury Lincoln City, Oregon rentals featuring outdoor hot tubs, open-air firepits, and private beach access.
Lincoln City long-term rentals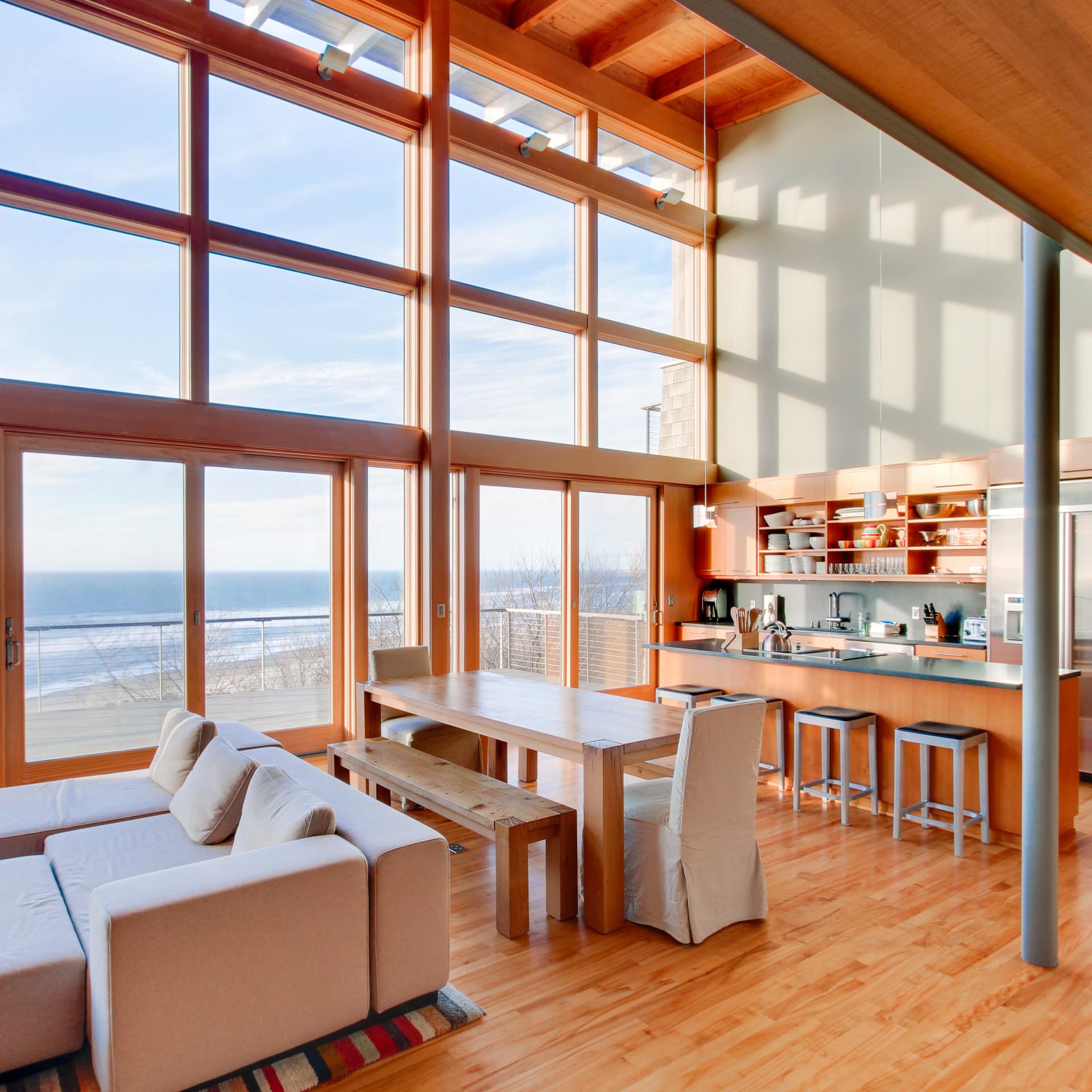 Get comfortable with long-term Lincoln City vacation rentals. Keep your budget in check with an affordable studio or live it up in an architect-designed home. Self-contained properties promise all the creature comforts of home, including spacious living areas and laundry facilities. Kitchens are a great excuse to stock up at local farm stands – local specialties include green peas, sweet corn, sugar beets, plums, cherries, and hazelnuts.
Lincoln City beach house rentals with hot tubs
Nothing says R&R like sinking into a frothing hot tub after a day of hiking, horseback riding, or sea kayaking. Take an invigorating morning dip or strip off after dark and enjoy a soak under the stars. Visiting in spring, fall, or winter? Hot tubs ensure you can enjoy your outdoor deck in rain, shine, or even snow. Many Lincoln City condos also include access to shared hot tubs.
Luxury vacation rentals in Lincoln City, Oregon
Luxury Lincoln City vacation rentals guarantee an unforgettable stay on Oregon's Central Coast. Most properties treat guests to million-dollar ocean views and private beach access. Gourmet kitchens make it a pleasure to prepare family-style meals, while waterfront decks are ideal for sun-drenched brunches and sunset BBQs. You'll also enjoy a slew of extras, including games rooms, in-home theatres, saunas, and other frills.
Lincoln City, Oregon vacation rentals by owner
With Lincoln City vacation rentals by owner, you can swap dime-a-dozen hotels for homes that are spacious, comfortable, and unique. Affordable condos are great for budget beach breaks and often include access to shared swimming pools, hot tubs, games rooms, and BBQ areas. Private rentals also showcase designer properties that wouldn't look out of place in the pages of a lifestyle magazine.