Booking Los Angeles vacation rentals
Other US cities find it hard to compete with star-studded Los Angeles, a city where you can rub shoulders with celebrities, visit world-class cultural attractions, or catch rays on a sun-drenched beach. Armed with a zip code and your own set of keys, self-contained vacation rentals in Los Angeles, CA will have you feeling like an 'Angeleno' in no time.
The best neighborhoods for LA vacation rentals
Los Angeles is a city of neighborhoods, with hundreds to choose from. From the glamorous residents of Bel Air to the hipsters of Highland Park, locals are fiercely proud of their enclaves. Where you stay will have a big impact on your experience so do a little research and find a neighborhood that makes you tick.
One of the most desirable zip codes in the US, Beverly Hills is synonymous with luxury. Rodeo Drive is lined with the crème de la crème of designer boutiques, while Beverly Gardens Park is a fantastic place to stop and smell the roses. With Beverly Hills vacation rentals you can unlock access to some of the most coveted properties in LA, including mid-century modern homes and celebrity-worthy mansions.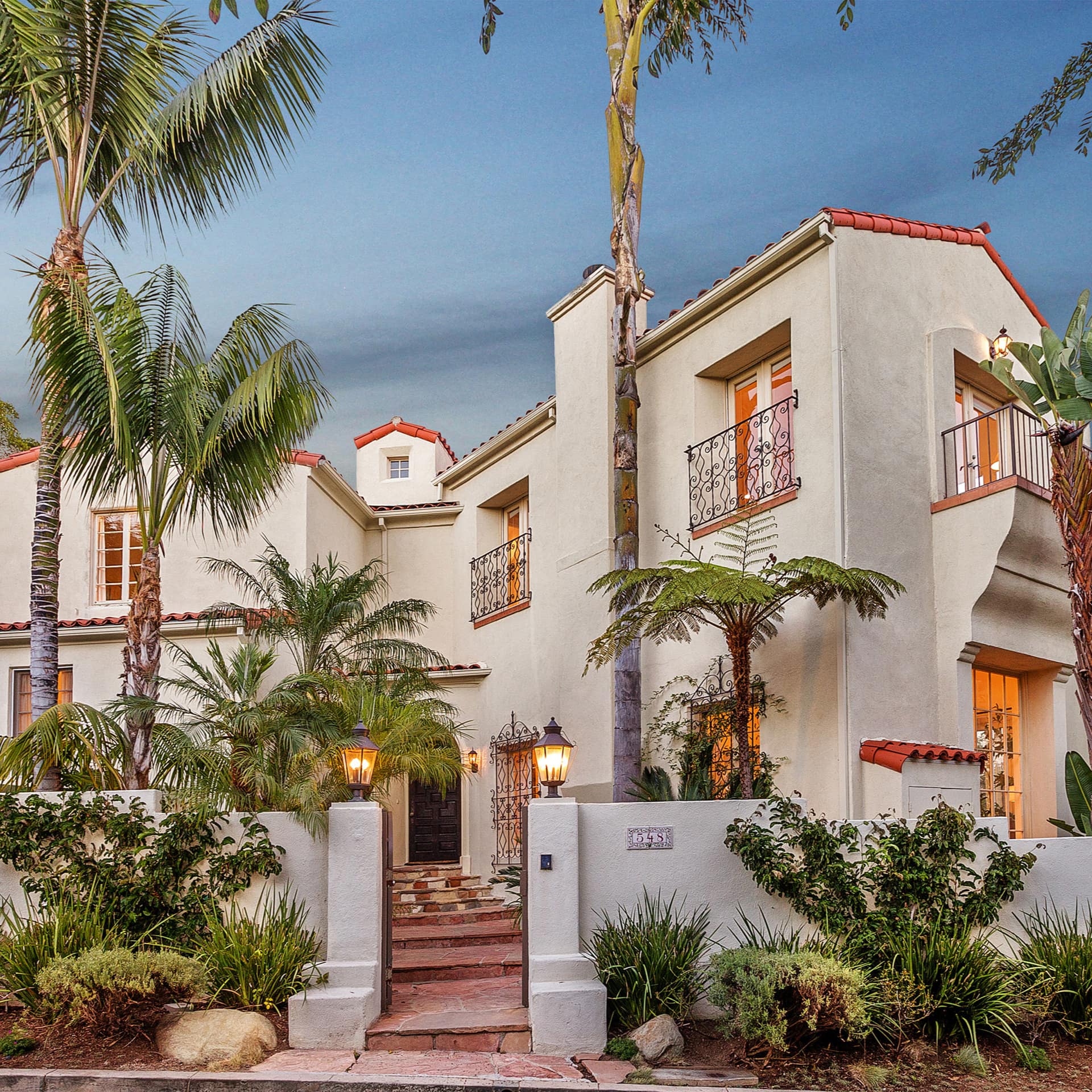 With tree-lined streets and award-winning architecture, Brentwood is an affluent neighborhood that's popular with the city's elite. Vacation house rentals in Los Angeles rentals put you in the heart of the enclave, where you can admire homes by icons like Frank Lloyd Wright and Richard Neutra. Hit up trendy brunch spots and Italian eateries along San Vicente Boulevard or take advantage of your gourmet kitchen.
If monikers like 'Tinseltown' and 'La-La Land' appeal, you'll love vacation rentals in the Hollywood Hills. A stronghold for celebrities, this neighborhood is all about eye-popping mansions and architect-designed homes. While you could spend a small fortune on luxury vacation rentals in Hollywood, CA the neighborhood is also a great place to find budget-friendly California bungalows and Art Deco apartments.
Malibu vacation rentals
A haven for celebrities, Malibu is a vision of golden sand and sparkling water fringed by rugged coastal mountains. If topping up your tan is a priority, you'll love Malibu rentals. Luxury Malibu houses for rent occupy the best waterfront real estate, while compact condos appeal to sunseekers on a budget.
For decades, Los Angeles has attracted a mixed bag of Hollywood stars, aspiring directors, young families, Latino immigrants, sun-bronzed surfers, and other quirky characters. There's a huge selection of accommodation to match, whether you're in the market for luxury mansions and hillside infinity pools or compact apartments and affordable price tags.
Luxury vacation rentals in Los Angeles
LA knows a thing or two about how to live the high life and you can bet this extends to luxury accommodation. From Spanish Revival villas in Beverly Hills to ultra-modern estates in Malibu Beach, mansions are a dime-a-dozen in the Big Orange. Expect all the frills, including bowling alleys, cinema rooms, infinity pools overlooking the city skyline.
Cheap vacation rentals in Los Angeles
La-La Land may be a magnet for the rich and famous but that doesn't mean you won't find cheap vacation rentals in Los Angeles. Keep things simple with apartments in neighborhoods like West Hollywood or score deals in budget-friendly enclaves like Highland Park and Mar Vista. Satellite cities like Chino also represent great value for money. For families and groups, self-contained homes are often cheaper than booking hotel rooms.
In central Los Angeles, colorful neighborhoods like Santa Monica and Venice Beach put you just steps from the sand. The back streets are lined with breezy Californian bungalows and craftsman cottages with front porches that are perfect for people watching. Luxury LA beach houses raise the bar with stunning architecture and sparkling views of the Pacific Ocean.
Vacation home rentals in Los Angeles with pools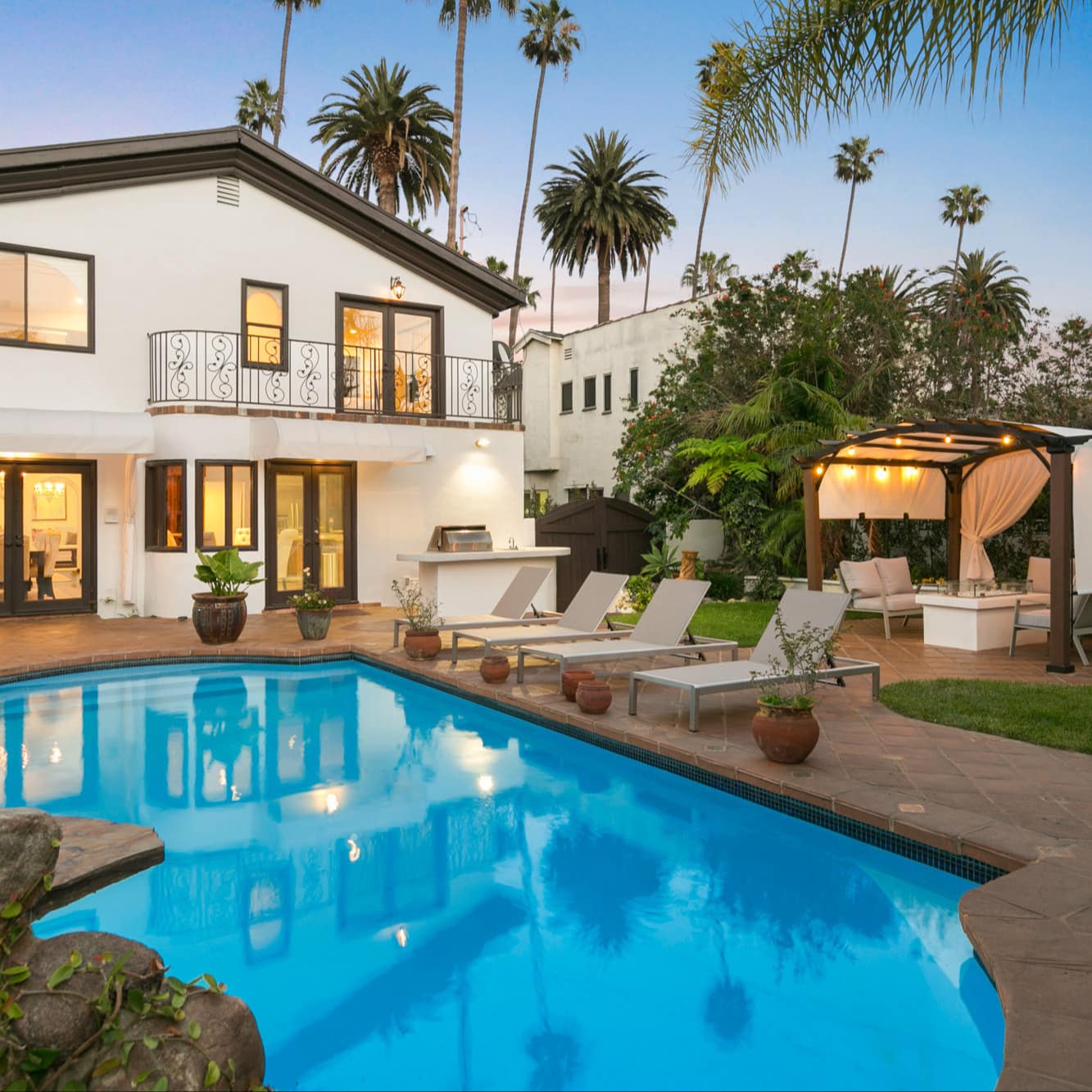 After a day of sightseeing nothing beats a dip in your private pool. Whether it's tucked away in your backyard or commands sweeping views over the Los Angeles skyline will depend on your budget. Pools are also a bonus if you want to soak up the sunshine but aren't keen on the crowds at Venice and Santa Monica.
Weekly apartment rentals in LA
Planning an extended stay in Los Angeles? Weekly apartment rentals in LA offer excellent value for money and can be found everywhere from the downtown core to beachside neighborhoods. Studios are a great option for budget-conscious travelers and combine living, dining and sleeping areas into one neat package. Up your budget and you can secure anything from a spacious apartment to a luxury penthouse.