The best destinations for vacation rentals in Maui, Hawaii
There's something magical about Maui, an island where you can cool off in jewel-hued waters, discover ancient volcanoes, and spot breaching humpbacks from your breakfast table. The Valley Isle offers vacation rentals for every occasion, from secluded cottages on the rugged Keʻanae Peninsula to flashy condos in Kaanapali. The West Coast promises luxury resorts, while venturing off-the-beaten track will take you to gems like Hana and Lanai.
Hana, Maui vacation rentals
Perched on the island's north-eastern tip, Hana is a sleepy town surrounded by lush coastal rainforest. Access is via the legendary Road to Hana, a 52-mile highway featuring hairpin turns, postcard-perfect bridges, and stunning coastal scenery. Hana vacation rentals are suitably serene and include a dreamy mix of beach cottages where you can sip pineapple wine on your breezy verandah or stroll down to the beach for a dip.
Lahaina, Maui vacation rentals
Lahaina, a historic whaling village that's been reimagined as a beach resort, is one of Maui's top vacation rental destinations. Choose from a fantastic selection of beachfront Maui vacation rentals, including stylish condos. You'll love the freedom to stroll down to the beach for fiery sunsets. Many Lahaina vacation rentals overlook the Hawaiian Islands Humpback Whale National Marine Sanctuary, so keep an eye out for spouts, fins, and tails.
Kaanapali Alii rentals unlock access to one of the island's most luxurious condo resorts. The property occupies a prime stretch of oceanfront real estate and is set in a gorgeous tropical garden. Cool off in the oceanfront swimming pools, tee off at the golf course, and indulge at the day spa. Most condos boast at least 1500 square feet of living space, a figure that runs circles around standard hotel rooms.
Kaanapali, Maui vacation rentals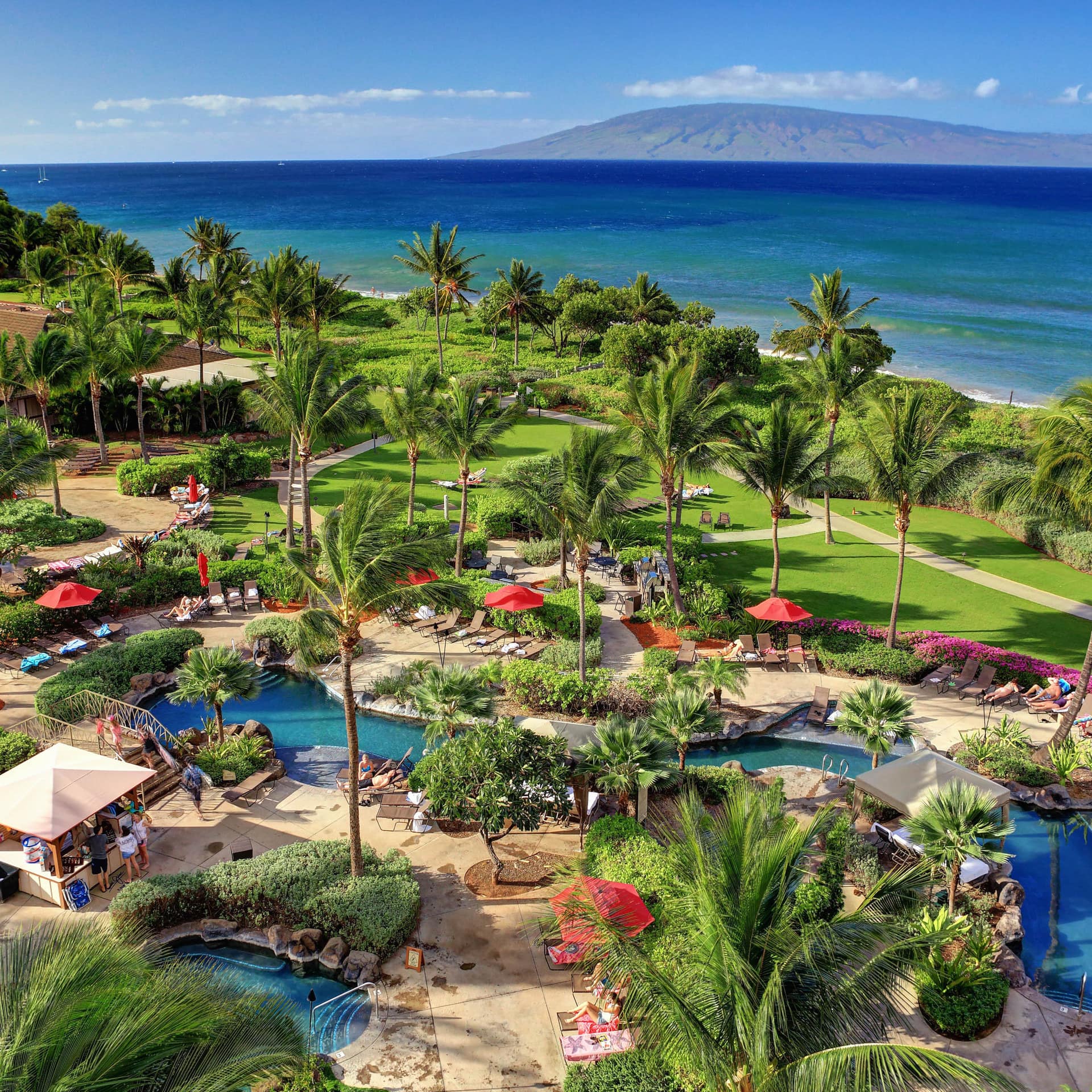 Kaanapali is West Maui's signature destination and lures vacationers with golden beaches, jungle-covered mountains, and luxury resorts. There are Kaanapali vacation rentals for every budget, including Honua Kai rentals in one of Maui's most coveted resorts. You'll love dining at specialty restaurants, unwinding at the Ho'ola Spa, and soaking up the resort atmosphere. Further north, easygoing coastal communities like Kahana and Napili are a great option for cost-conscious travelers.
Kihei, Maui vacation rentals
A favorite with thrifty sunseekers, Kihei offers beautiful beaches and cheap Maui vacation rentals. The town treats vacationers to 276 days of sunshine a year, so why not book a Kihei vacation rentals condo featuring an on-site pool? Sun-worshippers will love ground-floor apartments just steps from the sand. Self-contained properties also offer the option of hitting up the buzzing bar and restaurant scene or taking advantage of your well-equipped kitchen.
Vacation rentals in Wailea, Maui
It's easy to love Wailea, an exclusive beachfront community drenched in sunshine for most of the year. Remodeled condos appeal to sunseekers on a budget, many offering gorgeous ocean views. Private Wailea vacation rentals promise a luxurious stay and feature spacious outdoor living areas, palm-fringed swimming pools, and direct access to the beach. Wailea is also a premier destination for golfers, with three championship courses at your fingertips.
Lanai vacation rentals
A tempting alternative to Maui, Lanai is a vision of sandy beaches and towering Norfolk pines. The island is dotted with homes set in lush tropical gardens – perfect for a back-to-basics beach family vacation or romantic escape. On the island's southern tip, Manele Bay and Hulopo'e Beach are bastions for luxury resorts and private beachfront Maui vacation rentals.
---