Where to book Washington Coast vacation rentals
Stretching from Ocean Shores to Cape Disappointment, the Washington Coast is a vision of sandy beaches, rocky coves, and evergreen forests. It's an enchanting slice of the Pacific Northwest and a fantastic place to reconnect with nature and cherish time with your loved ones. Whether you're planning an island escape or a barefoot beach vacation, you'll find self-contained rentals from north to south.
Boasting some of the best whale-watching in the Pacific Northwest, the San Juan Islands are a bucket-list destination for nature lovers. Book a waterfront Lopez Island vacation rental and you could watch orcas cruising past your deck. Horseshoe-shaped Orcas Island is another popular base, offering 57 square miles of apple orchards, boutique galleries, and storybook cottages. For a lively scene, check into a Friday Harbor vacation rental.
A gateway to Olympic National Park, Port Angeles is a lively city with year-round hiking, fishing, and biking, not to mention fascinating Native American heritage. Whether you're just passing through or planning an extended stay, vacation rentals in Port Angeles, WA, are an ideal base for exploring the Evergreen State. To the east, you'll also find a good range of vacation rentals in Port Townsend and Sequim.
Bellingham is a liberal-minded city that loves a good craft brewery, hipster café, and independent food co-op. Stay in the revitalized downtown core or head to Fairhaven, a historic enclave where you'll find tree-lined streets and renovated cottages. It's best to book early as you'll need to compete with Canadians heading to the malls, microbreweries, and Trader Joe grocery stores. For more urban accommodation in Washington, check out vacation rentals in Tacoma, WA.
A 15-minute detour off the I-5, Camano Island is a sun-soaked summer vacation destination with gorgeous views of Puget Sound and the Olympic Mountains. Spend your days beachcombing for sea shells, exploring Camano Island State Park, or simply relaxing on your private deck. A handful of art galleries give the island a cultural flavor. For more coastal getaway inspiration, browse Oyhut Bay vacation rentals.
Chelan vacation rentals
When you've had your fill of seascapes, head inland to Chelan, a charismatic lakeside town known for colorful farmers market and boutique vineyards. After a day of winery-hopping, retreat to the deck of your Chelan vacation rental for a private tasting session.
Popular with ticket holders heading to the legendary Gorge Amphitheater, Crescent Bar offers a slew of outdoor activities. It's perched on a bend in the Columbia River and lures golfers with a year-round course. Waterfront vacation rentals in Crescent Bar make it easy to spend an afternoon fly-fishing or floating in the sunshine.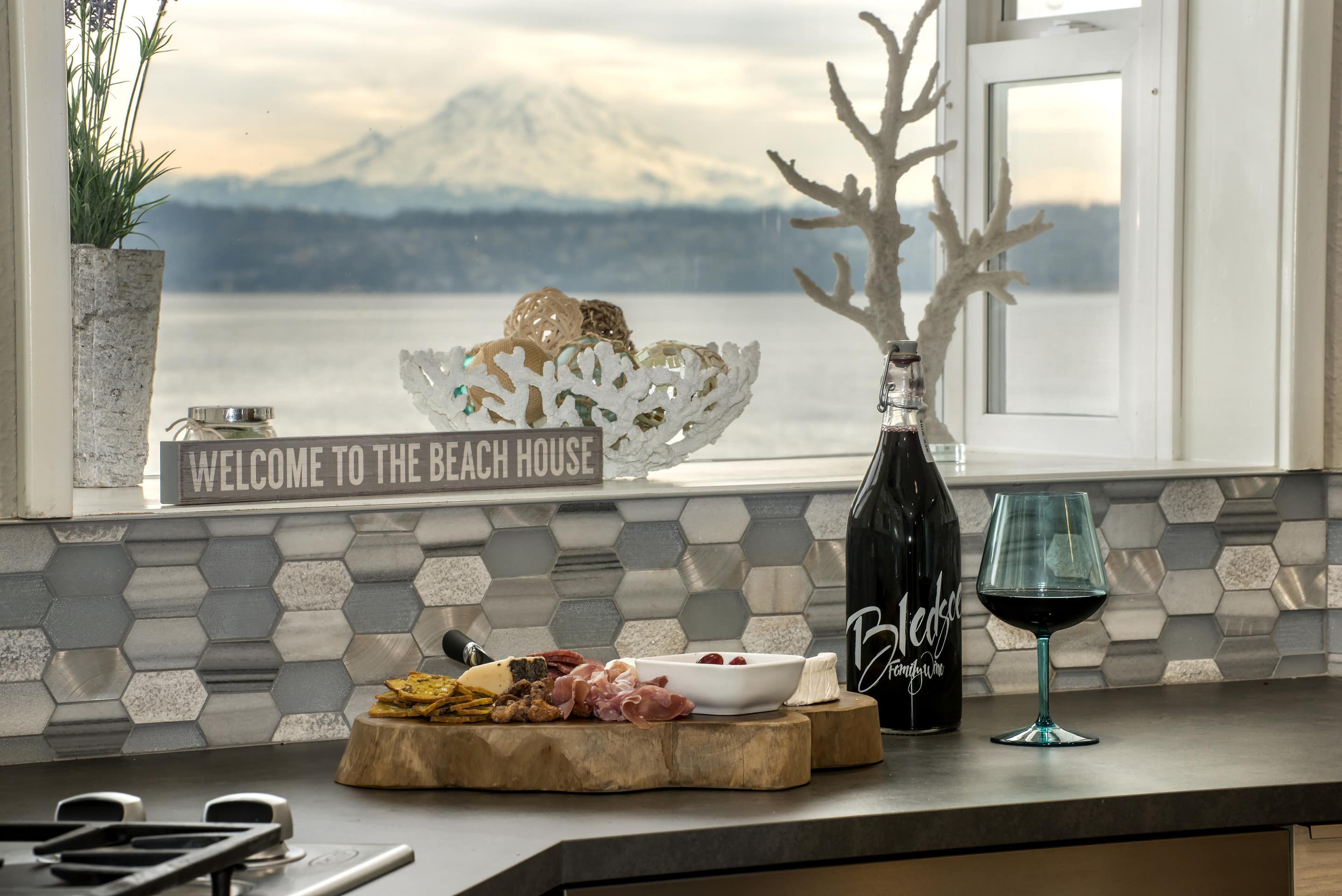 With gems like Whidbey Island to discover, it's hard to resist the allure of Puget Sound. The inlet branches off the Pacific Ocean and boasts some of the best whale watching in North America, not to mention bucketloads of fresh mussels. Vashon Island vacation rentals offer an upbeat vibe, while Bainbridge Island radiates small-town charm. Pet-friendly rentals are easy to find, so why not bring along your dog?
Westport, WA, vacation rentals
Perched on a scenic peninsula, Westport is a laid-back town known for surf and seafood. In season, you can dig into mouth-watering Dungeness crab, try your hand at razor-clamming, and ride breakers at Half Moon Bay in Westhaven State Park. With access to your own kitchen, you'll find it hard to resist stocking up on fresh crab at the pier and whipping up a Pacific Northwest feast.