Your guide to beach homes for rent
If you're after a classic vacation of rest and relaxation, with the sound of the ocean as the backing track and days filled with rays on the itinerary, you might just be after a tried and tested beach home for rent. These are the rental properties that get you up close and personal with the waves and the shores. They come in all shapes and sizes – think big family pads next to lux couple's escapes with private hot tubs. And they pepper all corners of the USA and beyond, so you certainly shouldn't be short of destinations to pick.
Some top features of beach vacation homes
If you're on the lookout for that perfect beach home to rent, it's a good idea to have a feel for what's available from coast to coast and beyond. Below are just a few features that could be a part of your favorite salt-washed escape, ranging from glorious outdoor spaces to luxurious extras for the beach-going jet setters.
Of course, it's the location that tops the bill when it comes to beach homes. Forget being tucked away a few blocks from the sand dunes and deck chairs. These are the places that will have you opening your patio doors in the morning onto views of the crashing Atlantic swells or the glimmering powder of the Florida Gulf Coast. There's really nothing like it.
It's no secret that most people seek out beach vacation homes come the summer months. That means outdoor living is a super-important aspect of life by the shore. Cue vacation rentals with sprawling decks that overlook the undulating dunes of Long Island or the swaying seagrasses of the Carolinas. Get ready for Balinese villas with front-row seats over the surf of Kuta. Prepare for pads that sit only steps from California's famous piers. And that's just a taster.
There's certainly no shortage of luxury when it comes to beach vacation homes. At the high end of the scale, you can discover glitzy mansions with oodles of square footage, room for a fleet of cars, and – of course – shimmering swimming pools that spill down to meet the ocean. There are even places that boast their very own marina – you know, just in case the yacht's coming too.
Popular US destinations to seek out beach homes for rent
The USA clocks up over 12,380 miles of coastline. From east to west it ranges along the Atlantic and the Pacific, with more surf spots, glowing beaches, and dramatic vistas than you can imagine along the way. That all adds up to one seriously fine place to seek out waterfront homes and beach homes to rent. Some favorite hotspots are below.
A surfer's waterfront home in California
The long side of the West Coast has been an ocean-goer's dream since it was first discovered by the pioneers. Just take Los Angeles, where buzzing Venice has waterfront homes along its happening canals and boardwalk – a place to munch hotdogs, roller skate, and try your hand a surfing. Heading north, you could tread the wave-smashed beaches of the Big Sur, or seek out the opulent rooms of Hearst Castle, all while settling in a hearty Golden State lodge atop the cliffs.
Look for family beach vacation homes in Galveston
There are few resort destinations as well primed for family visitors as Galveston. That's not only because of the miles of beachfront that run along the side of the barrier island. It's also because of the enticing Texan charm that comes through on the rattling city trams, the local wineries, and the handsome Antebellum mansions. What's more, beach homes are plentiful, each with their own spectacular view of the Gulf Coast.
Choose beach vacation homes in Florida
No list of the USA's chart-topping beach destinations could possibly be complete without Florida on the menu. In fact, the Sunshine State might just have the widest selection of beach vacation homes of all. They could be vast mansions sandwiched between Atlantic strands and manicured golf courses near Palm Beach, or they might be hidden cabanas along the bayous and creeks of the west coast.
Birders, walkers, and beachcombers after something a little romantic are sure to find plenty to like about the waterfront homes of Chesapeake Bay. A taste of East Coast charm, they can be found opening onto wetlands and drifting rivers. Others nestle in characterful fishing towns where the clam chowder and seafood are simply to die for.
How to find great beach homes for rent near you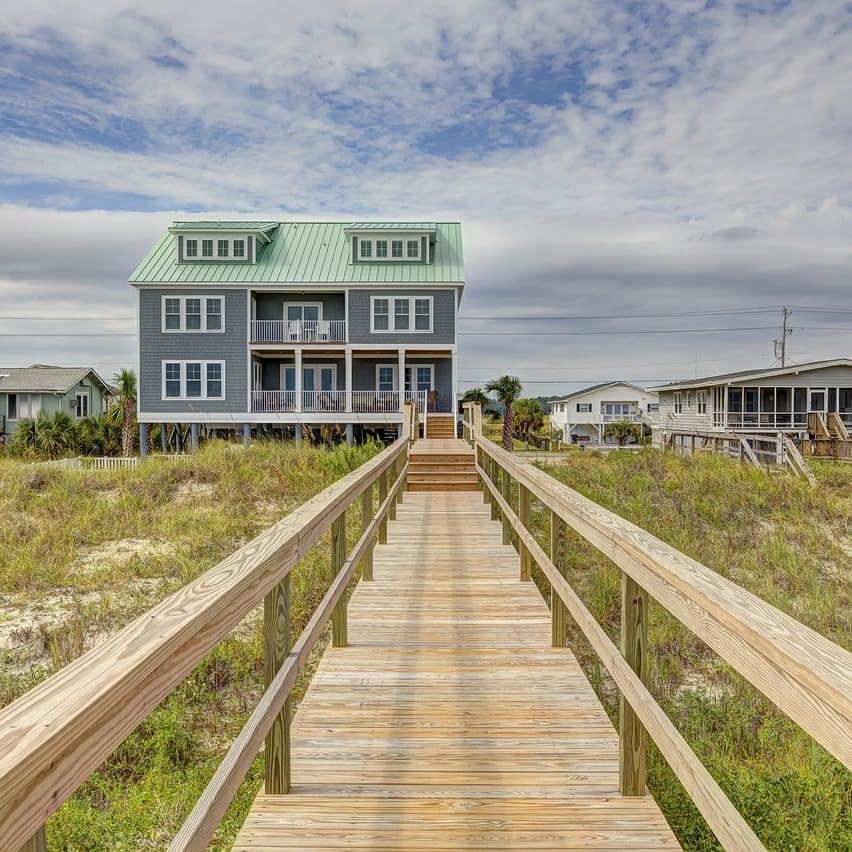 Eager for a taste of the sea but don't want to stray too far? That shouldn't be a problem. There are ways you can zero in on the alluring waterfront homes that are closest to you. Of course, it helps if you're already in the vicinity of the beaches or Great Lakes.
Book waterfront homes for rent online
Going digital with your search for beach homes for rent is probably the best way to pinpoint an oceanside escape that's in your own backyard. Many online listings of waterfront homes come with a handy map tool that lets you see exactly where your potential pad by the sands is waiting. Using that, you can discover how long it is before you're pulling on the board shorts and slapping on the sunscreen.
Be sure to search for beach home vacation rentals in the places you know are closest to you and near the ocean. You might not think that anywhere in the region has enticing getaways by the waves, but there's really such an array to pick from in the United States and beyond that there's plenty of room for surprises.
---
Discover the best things to do with kids in top beach destinations