All about beach house rentals in NJ
Stake your place on the Jersey Shore by choosing beach house rentals in NJ. This guide has destination inspiration and introductions to some of the most happening corners of the Garden State's coast. And it can help you get an idea about what sort of vacation homes to expect along this stretch of the Atlantic seaboard.
Popular places with beach house rentals in NJ
Ocean City, NJ, beach house rentals
You'll have plenty of time to fill your pockets with salt-water taffy and compete for mini golf trophies down in Ocean City, NJ. Beach house rentals here are unsurprisingly aimed largely at family visitors. Cue countless townhouses with Victorian façades and pet-friendly apartments that allow Fido to strut up the boardwalk in tow.
You certainly won't have to jostle for a spot on the shore if you snag a coveted Long Beach Island house rental. There are nearly 20 miles of pristine sand to go around on this scythe-shaped barrier island out in the Atlantic. Between sunbathing and surf sessions, you could scramble up Barnegat Lighthouse for jaw-dropping coastal views or opt to munch frozen yogurt by the whizzing rides of Fantasy Island.
Cape May beach house rentals
Rows of Victorian-styled mansions line up in the historic center of Cape May, giving the salt-washed and breezy town the air of a grand old dame. Quite right – its roots go all the way back to the early 1600s. To be immersed in the heritage, try to pin down a stay in one of the charming rental homes around Jackson Street and Beach Avenue.
Wildwood – a classic jewel of the NJ coast
Folks have been flocking to beach house rentals in NJ's Wildwood for decades. Since the boogie halls swung in the 50s, the boardwalk has been a spot to let loose with a shimmy and twirl. These days, you can add one of the oldest wooden coastal rollercoasters in the US to the mix, along with long stretches of pristine sand on the Atlantic side of Cape May.
If there's one place in the Garden State that takes ocean-side vacationing to all new and dizzying heights, it's surely Atlantic City. The town's been a hubbub of good vibes since the Prohibition era, and it still brims with top-class rental suites with shared swimming pools and spas. These days, the old speakeasies have been displaced by swish casinos and yachting marinas.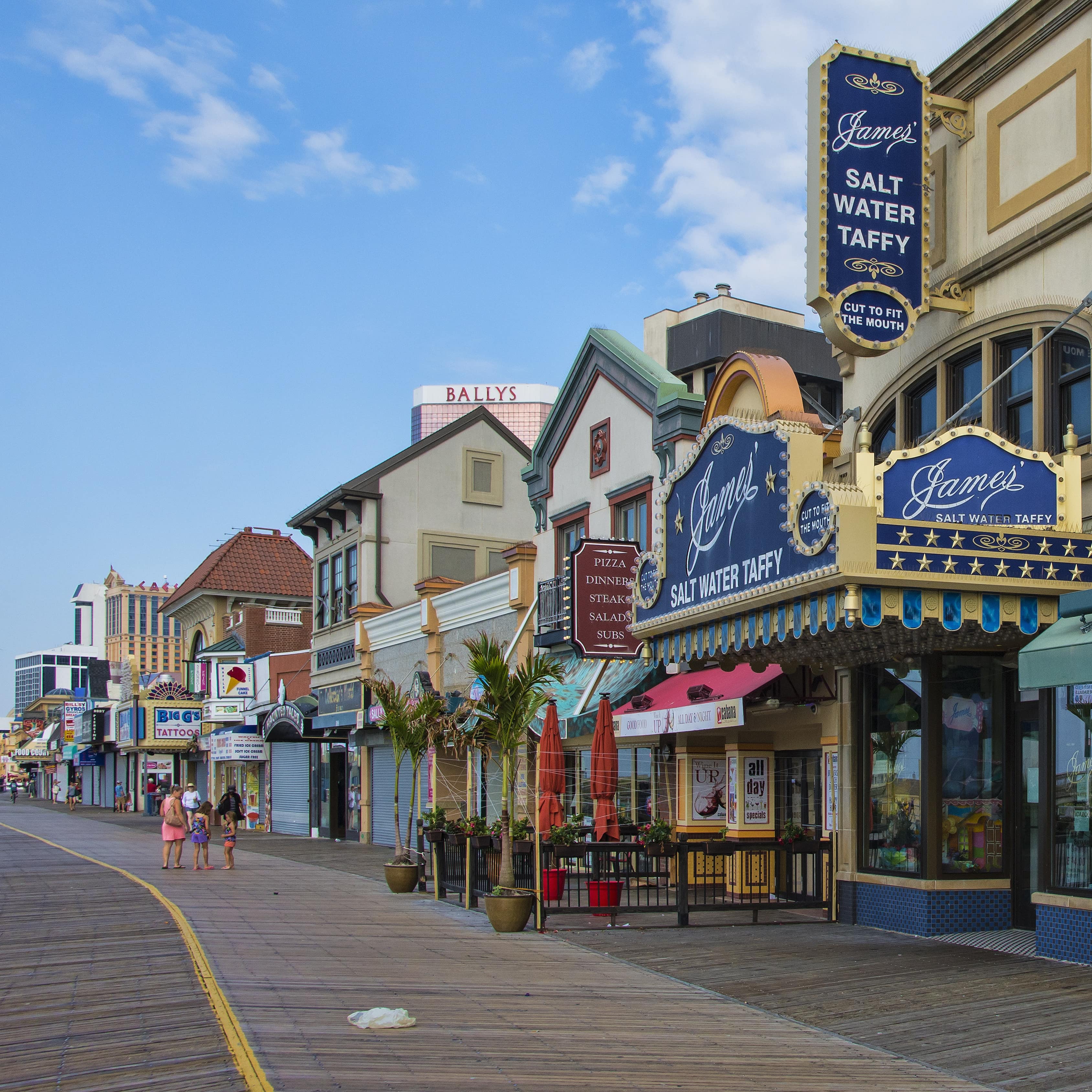 To get those Atlantic City chip stacks towering and leave more money for taffy on the boardwalk, be sure to read on for tips on how to secure bargain NJ beach breaks.
Summer rentals on Jersey Shore should be booked early
When the good times roll with June, July, and August, the cost of beach house rentals in NJ creeps upwards. That's not just because more folk are flocking to Cape May and Wildwood for salt-washed enjoyments. It's also because the best-priced rentals are selling fast. So, if you want a bargain, it almost always pays to get in early.
Fall has its own charms
You might need to pack a wooly sweater for a jaunt to the NJ coast come September and October, but daytime temperatures can still be up there in the in high 60s for much of the season. The great part about leaving it later in the year is what happens to the rates as the sun seekers go home – nightly prices in beachside properties can plummet by almost half.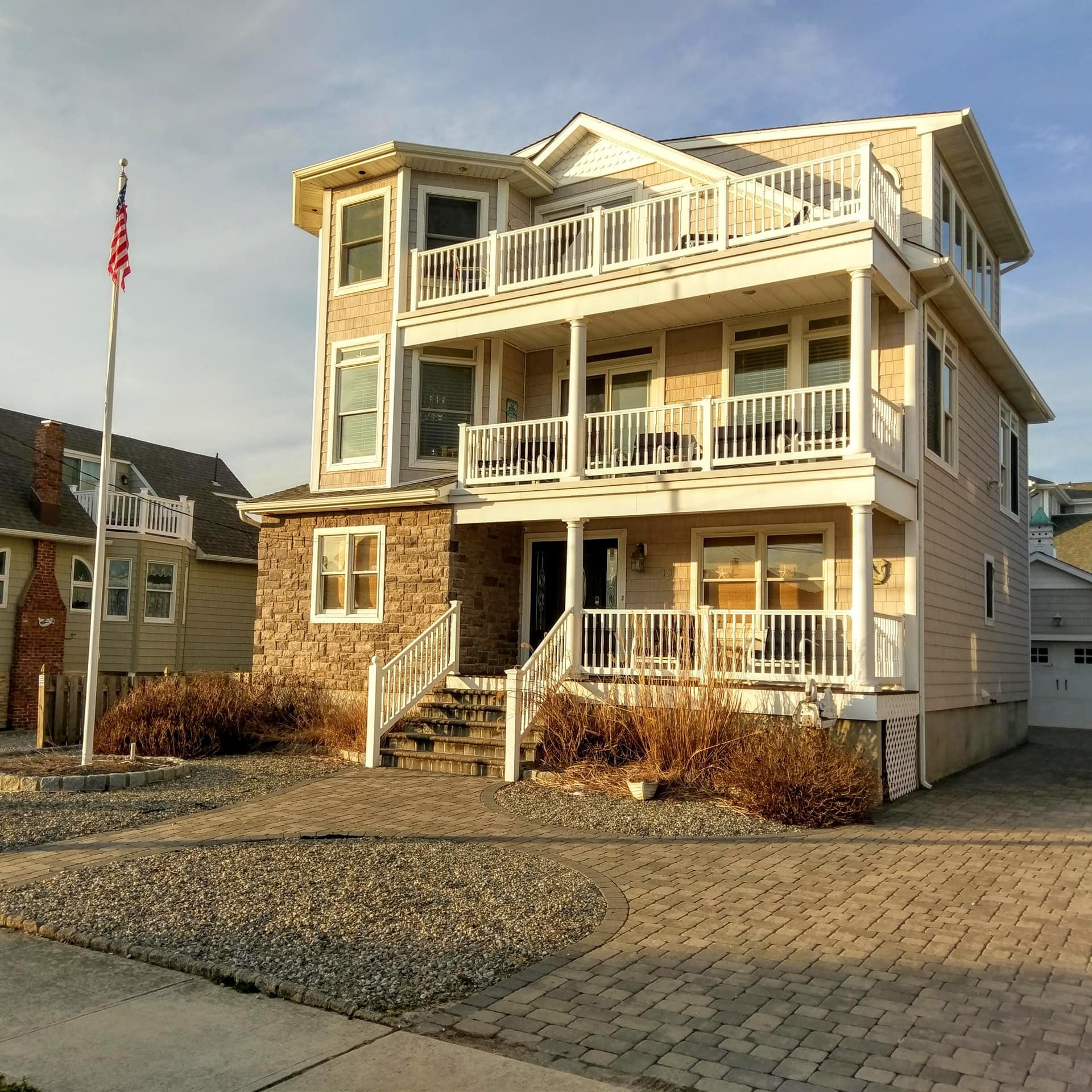 If having soft Atlantic sands and rolling waves just steps from your bedroom still isn't enough to convince you that a beach house in NJ is the way to go, here are a couple more enticing features to look forward to.
Deluxe mansions on the shores of New Jersey
The upscale rentals of New Jersey's coast take living on the ocean and give it an injection of jet-setter class. Don't be surprised to find steaming Jacuzzi baths in the back garden and massive kitchens with the latest appliances. There are mansions that channel Victorian elegance and fuse it with modern efficiency. And there are plenty of pads with pools glimmering in their grounds.
New Jersey beach rentals for big groups
Some of the largest NJ beach houses can easily sleep 20 or even 30 guests. They pack in loads of separate bedrooms and plenty of primary suites with private bathrooms. For summertime visitors, there's also usually oodles of al fresco living space for those BBQ cook outs and sunsets together.