Southern escapes with Myrtle beach house rentals
Myrtle Beach house rentals stretch the whole length of this buzzing and historic resort destination. From the SkyWheel to quiet Cherry Grove and beyond, they offer perfect pads for families and couples looking for a taste of Southern sun and sand.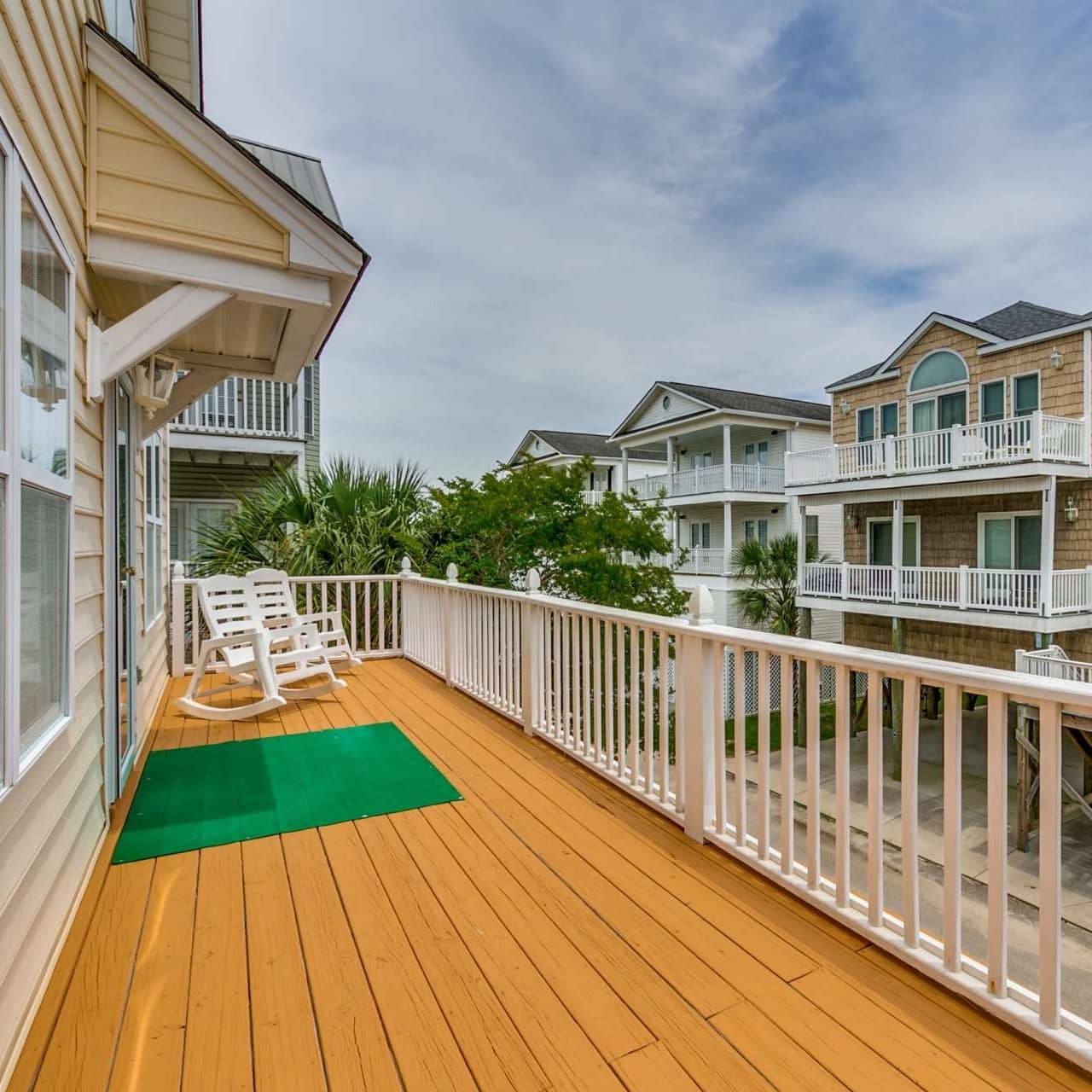 More than 15 miles along the shimmering Grand Strand of Myrtle Beach's gorgeous coastline is where North Myrtle Beach makes its home. A tad less rollicking, it's a place to seek out quieter Myrtle Beach vacation house rentals with a little more Southern charm about them. See what that means by checking out the neighborhoods below.
Fewer high-rise blocks and more daffodil-painted cottages fringe the shores of Cherry Grove Beach, the north-eastern extremity of the Grand Strand. That means it's the prime place to go for rest and relaxation right by less-bustling beaches. The vacation homes reflect that, too, with quaint lounges and salt-washed reading terraces aplenty.
Taco shacks, seafood buffets, and ice-cream parlors inhabit the point where Main Street connects with N Ocean Boulevard. Around them are tall blocks of apartment rentals where families can seek out modern lodgings just yards from the South Carolinian shore.
An area of North Myrtle Beach that comes steeped in African-American history and heritage, Atlantic Beach is a stepping stone between the quieter end of the Grand Strand and the more happening boardwalks to the south. It's brimming with colorful timber homes and whitewashed beach condos, each with deck spaces that spill directly onto the dunes.
Myrtle Beach house rentals in the action
If you're eager to be right in the thick of things, there's surely nowhere more enticing than Myrtle Beach itself. It's the anchor of the Grand Strand run of beaches, comes topped with the neon-glowing SkyWheel, and has more carnivalesque attractions and gaming arcades than you can shake your cotton candy at.
As Ocean Blvd passes beneath the bright lights of the SkyWheel – a must ride – it sprouts a line of the most sought-after beach house rentals in Myrtle Beach. The reason? They are positively hemmed in by exciting attractions. Go one way and you find the sprawling Broadway at the Beach shopping and entertainment complex. Go another and it's Ripley's Believe It or Not! Go another and there are the glowing white sands and Atlantic Ocean.
Condo resorts are in a row along the edge of Withers Heights. These rentals promise to put you just a stone's throw from the SkyWheel, which is a 5-minute drive to the north, but also amid some of the top dining in town – think everything from fast-food pizza take outs to hearty American cheesesteak kitchens.
You can mosey on down to Surfside Beach if you're interested in somewhere a little calmer. A land of yoga studios and fishing piers, of surfing instructors and fun-loving waterparks, it's guaranteed to have something for all. The Myrtle Beach house rentals here are also noticeably cozier, touting antique-filled lounges and lived-in bedrooms.
Amenities in Myrtle Beach house rentals
There's plenty to look forward to when it comes to beach house rentals in Myrtle Beach. After all, these ocean-side stays have been catering to families, revelers, and sun seekers since anyone can remember.
You won't ever have to wave goodbye to the Atlantic if you pick one of the Myrtle Beach vacation house rentals that have front-row seats above the swells. There are so many lining the whole Grand Strand, from Surfside Beach all the way to North Myrtle Beach, that you might not even need to fork out loads to book a pad with a balcony perched over the ocean.
It's common for Myrtle Beach vacation rentals to be a part of a larger complex of condos, apartments, or villas. There are great benefits to that, coming in the form of a whole host of shared facilities – think game rooms for the kids, on-site bars and coffee shops, dedicated water sports outfitters, and communal parking lots for the car.
An enticing pool at your Myrtle beach vacation house
If you're not really an ocean goer, it might be worth holding out for a Myrtle Beach house that has access to its own pool. There are 100s in town, most of which enjoy a shared swimming spot with other houses nearby.