Go exotic with Key West bed and breakfasts
Whisk yourself away to the oasis at the tip of the Florida Keys, where lanky palm trees sway in the trade winds, sunsets color powdery beaches with rust-red hues, and the scents of sizzling mahi-mahi and hand-rolled Cuban cigars twist and turn in the vibrant streets. Key West bed and breakfasts offer some of the most enticing and loveable accommodations around, with a warm welcome and an almost Caribbean vibe.
Like the whole chain of Florida Keys before it, Key West and its bed and breakfasts come with a tropical vibe that's all sloshing rum punches, lazy cocktails by coral-gleaming shores, and the off-beat rhythms of reggaeton. That gives rise to some seriously unique and enticing places to stay…
Checking into some of the bed and breakfasts in Key West, you could easily be forgiven for thinking that you'd hopped across the water to the bouncing lanes of Havana or the samba bars of Montego Bay. That's just the character that the pastel-painted cottages and palm-topped abodes of this island destination exude.
Yep, you read that right. There are some Key West bed and breakfasts that cater to adults who want to let it all hang loose. Clothing-optional policies mean you can really make the most of the balmy rays that beat down on southern Florida, and it's common to have swimming pools in these establishments. Of course, you'll probably still want to pack your best Aloha shirts for when it's time to party down Duval Street.
The soft sands and snorkeling lagoons of Key West are some of the jewels in the crown of South Florida. You can even score a bed and breakfast that will put you just feet from the bath-warm waters. To do that, it's worth thinking about venturing further from the middle of town, out to the shorelines to the northeast and more remote keys in that direction.
A Key West bed and breakfast area guide
To forge the Key West trip that's right for you, it will certainly help to have an idea of what neighborhoods buzz, what areas rock, and what parts of town offer chilled-out tropical vibes. The pointers below should reveal plenty.
Sandwiched between Thomas Street and Fort Street is one of Key West's most immersive little neighborhoods. The influence of the Caribbean is evident on every corner, with cigarillo factories and multi-colored cottages fringing the dusty streets – be sure to watch out for the clucking chickens that roam about the place, too. Expect to find B&Bs with leafy gardens that bloom with moonflowers and orchids.
Duval Street – the beating pulse of the Florida Keys
A rambunctious rumble of daquiri bars and slushy points, BBQ holes in the wall and rowdy sports bars, Duval Street is the heart of Key West's nightlife and dining scene. There are some guest houses within earshot of the bumping jazz joints there, often protected from the hubbub by hedgerows and palm-spouting yards.
Key West bed and breakfasts by the beach
Mosey down to the south side of Key West island you'll be leaving footprints in the soft-sand beachfronts of the C. B. Harvey Rest Beach Park. Stooping palm trees run behind it, turquoise-green lagoons splash against the powder, and a few B&Bs pop up with ocean views along nearby Atlantic Blvd.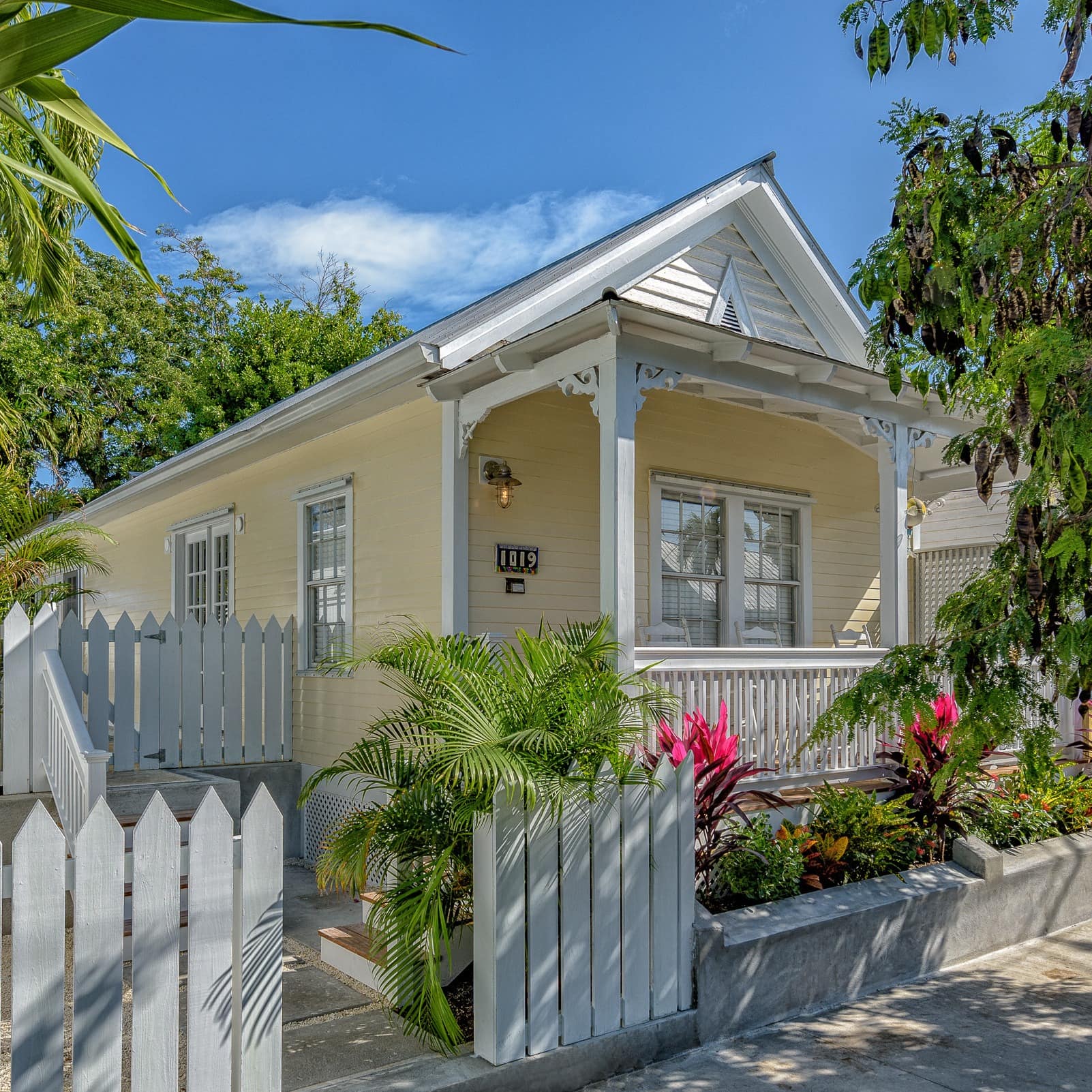 To ensure you've got enough dollars to fund those bottomless mojitos and samba dance lessons, scuba dives and snorkel rentals, the tips below can help. They can see the cost of local bed and breakfasts on the Keys reduced considerably.
Book for when the crowds retreat
Key West is a winter-sun destination extraordinaire. Perched on the southern end of the Sunshine State, it's beach weather here from November to March. However, the snowbirds tend to jet back home around the start of spring, leaving the B&Bs to offer some great deals while the temperatures are still warm, and the days still dry.
Getting your Key West guest house as early as possible
Just a mention of the name Key West is enough to conjure images of glinting coral reefs and sun-baked sands. It's hardly a wonder that these isles attract so many 1000s each year, and even less of a surprise that the local B&Bs pack out to bursting during peak seasons. So, if you want to pinpoint the best bargains of all, booking early is the trick.