Discover popular destinations for Florida houseboat rentals
For a unique getaway in Florida, houseboat vacations are just the thing. Though perhaps best known for its whimsical theme parks and a certain big-eared mouse, the Sunshine State is packed full of unspoiled coastlines, meandering rivers, glistening lakes, and idyllic islands – each one a little different but all ideal for getting off the beaten track. A quick lesson is all you'll need to become captain of your own floating hotel, then you'll be free to blaze a trail to wherever your sense of adventure takes you.
A friendly port city on Florida's Forgotten Coast, Apalachicola serves up all the ingredients needed for a memorable houseboat vacation. There are the boats themselves, of course – a tempting selection of floating vacation homes sitting pretty on the Apalachicola River. Up next comes the town's many delights, those on the menu including everything from a picturesque historic district and plentiful outdoor adventures to fun festivals and an eclectic downtown packed with stylish boutiques, one-of-a-kind galleries, and unique eats.
Discover history and heritage in Fort Myers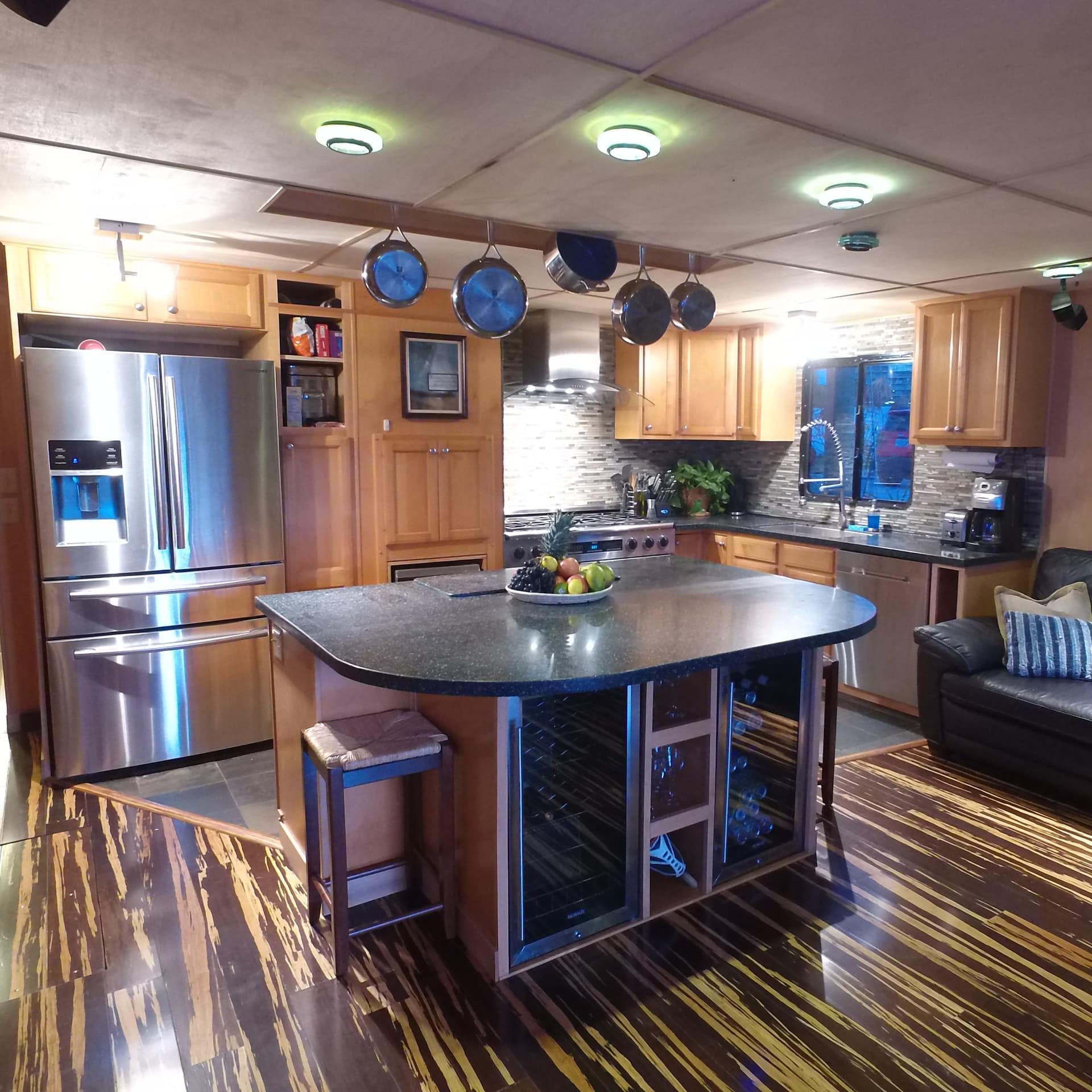 A top pick on the pristine Gulf Coast, Fort Myers has long since been a popular destination for houseboat vacations. You might cruise the Caloosahatchee River or perhaps relax in one of the boats docked in the marinas of San Carlos Bay. Either way, you'll find your rental boat offers a memorable base for exploring southwest Florida. Top of the list for many vacationers are visits to the winter estates of Henry Ford and Thomas Edison – both found standing proudly in Fort Myers' bustling downtown.
Soak up the Latin magic in Miami
The self-proclaimed Magic City is a veritable hotbed of white-sand beaches, happening nightlife, and amazing Art Deco architecture. And with countless houseboats lining the city's Atlantic coast, there's every reason to enjoy a taste of the Latin lifestyle for yourself. Houseboat rentals in Miami are typically quite upmarket affairs – think plush yacht-style numbers with rooftop decks and bubbling hot tubs, and, if you really want to splash out, there are even boats that come complete with their own private butler.
A taste of the exotic in the Florida Keys
A veritable palm-fringed paradise, the Florida Keys offer an idyllic base for houseboat vacations. Drop anchor near Key Largo to see exactly why the first of the Keys has earned itself the title as the dive capital of the world. Or chart a course for Key West, the country's westernmost vacation destination, to join in the fun at the nightly sunset celebrations in Old Town's Mallory Square. And if you're up for exploring further afield, the right boat rental could see you making it all the way to the Bahamas around 50 miles to the east.
A houseboat vacation on Florida's oldest highway, that of St. Johns River, is just the thing for nature lovers. Setting sail from Deland's Holly Bluff Marina, you need only head south to discover Blue Spring State Park, a lush green space that doubles as one of the state's largest winter refuges for manatees. Steer north instead to discover the delights of Lake George, Florida's largest freshwater lake offering an unmissable opportunity to jump ship and explore the sand pine flatlands and wetland prairies of the Ocala National Forest.
For shorter breaks, Suwannee River houseboat rentals are the perfect option, especially for anglers who have the choice of both freshwater and saltwater fishing right from the deck. To the south, you'll find Fanning Springs State Park – arguably one of the best places to enjoy the 70-degree water. If you've been lucky enough to score a summer rental on your favorite houseboat and happen to have a few kids in tow, keep cruising toward Branford where Bob's River Place boasts rope swings, floating rafts, and water slides – not to mention a reputation as being one of Florida's hidden gems.