Find your favorite Kentucky houseboat rentals
Kentucky is perhaps best known for its countless bourbon distilleries, juicy fried chicken, and baseball pedigree, not to mention 'The Most Exciting Two Minutes in Sports', courtesy of the world-famous Kentucky Derby. But the Bluegrass State boasts a quieter, more relaxed side. It's a side that's dotted with tranquil lakes, secluded coves, and meandering rivers—and one that's almost always best experienced on a houseboat vacation. You needn't worry if you're something of a landlubber, either, as houseboat rentals in Kentucky tend to come complete with a handy steering lesson beforehand—leaving you free to ride the waves in both comfort and confidence.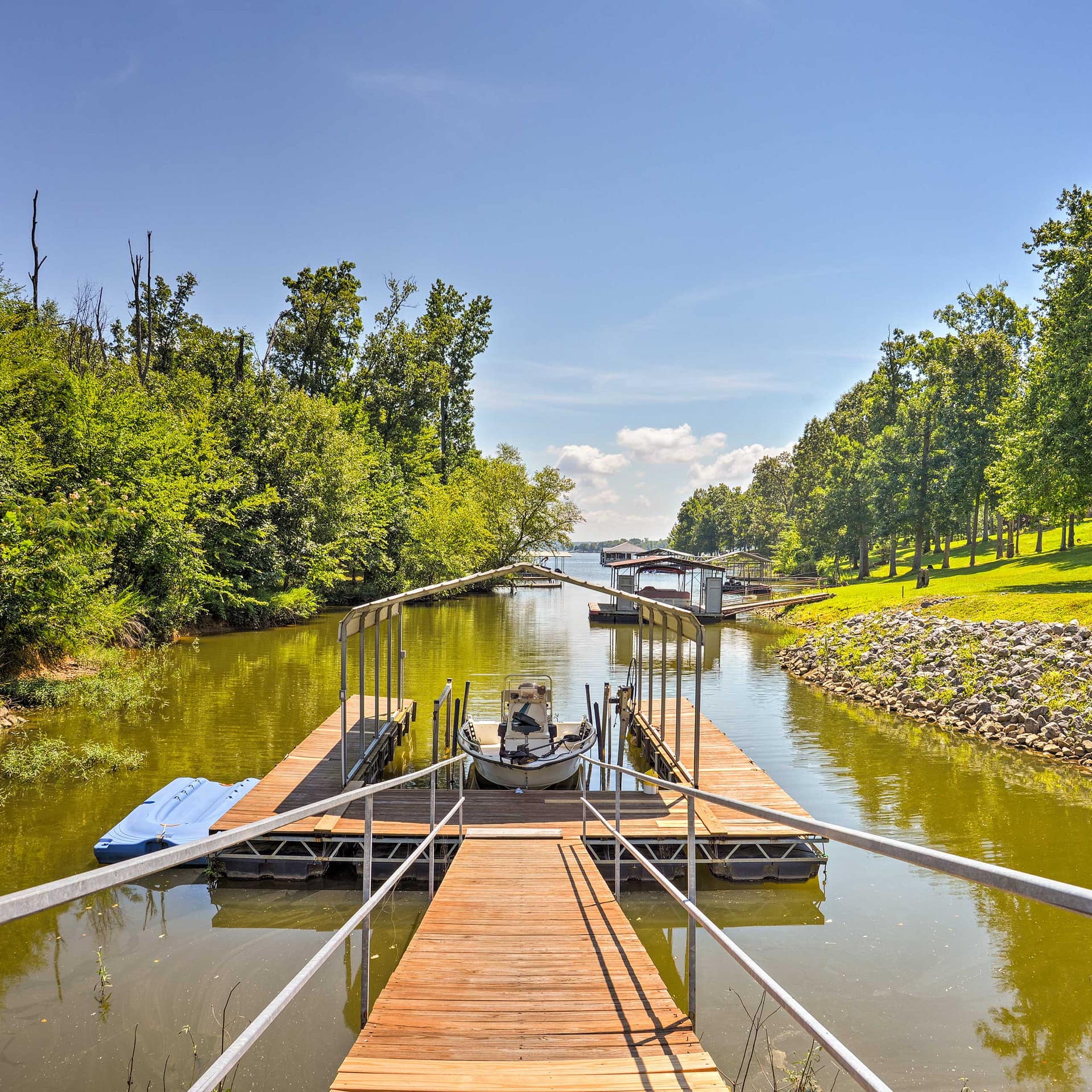 Ask a Kentuckian about the best place to find houseboat rentals in the state, and there's a good chance they'll point you in the direction of Kentucky Lake. Houseboat rentals on the largest lake east of the Mississippi River are your ticket to some of the best sport fishing in the southeast, as well as a side order of exciting water sports. An assortment of floating vacation homes can be found near the Kentucky Dam Marina. Houseboat rentals there are often filled to bursting with homely comforts like full kitchens, spacious living areas, and satellite TV.
Separated from Kentucky Lake only by the aptly named Land Between the Lakes National Recreation Area is Lake Barkley, yet another popular spot for houseboat rentals in Kentucky's west. It's a fair bit smaller than its iconic neighbor across the way but still packs a punch thanks to must-see attractions like Venture River Water Park and the Clement Mineral Museum. Several resorts along the lake's shores offer small houseboat rentals throughout the year, though, as you might imagine, summer rentals for Lake Barkley houseboats tend to get snapped up quickly.
Houseboats are a common sight in Kentucky's Southern Shorelines Region, but perhaps never more so than on the sprawling Lake Cumberland. A veritable fleet of floating vacation rentals awaits, with many featuring exciting amenities like gas grills, water slides, and hot tubs. And when you've chosen your favorite, all manner of adventure awaits on the water. Weekly rentals serve up plenty of time to explore, with many vacationers opting for a gentle cruise along the Cumberland River and into the rugged Daniel Boone National Forest.
If you have just a few days to play captain on the not-so-high seas, a weekend houseboat rental at Carr Creek Lake may well prove the perfect solution. This shimmering lake is the focal point of the 29-acre Carr Creek Lake State Park, a family-friendly spot where amenities include an amphitheater, picnic tables, and walking trails. Boat docks around the lake make it easy to enjoy all that the area has to offer, though a sunny day may well see you wanting to stay on board and soak up your surroundings from your own secluded spot on the water.
For the best of both worlds, you can combine a houseboat vacation with a trip to the big city by renting a houseboat in Louisville. Many of the houseboats to rent in Kentucky's largest city are dock-only boats, a set-up that allows you to experience on-the-water living while never being too far away from a host of attractions and amenities. And if you're just passing through the so-called Derby City as you cruise along the Ohio River, the central RiverPark Place offers docking facilities and optional access to an amenity area with 2 swimming pools, a fire pit, a volleyball court, and oodles of green spaces.