Lake Powell houseboat rentals
Springing to life in the early 1960s, following the completion of the Glen Canyon Dam, Lake Powell sits on the border of Utah and Arizona.
Attracting millions of visitors each year, this sprawling reservoir is perhaps best known for its difficult-to-beat conditions for water sports of all varieties, while the brilliant red cliffs surrounding its glassy surface boast plenty of appeal for nature lovers and adventure seekers, too.
While there are many places to stay in and around Lake Powell and the Glen Canyon National Recreation Area, few options prove as memorable as a houseboat.
These on-the-water vacation home rentals serve up a laid-back base for getaways with family and friends, not to mention a host of homestyle comforts and easy access to a spectacular lineup of natural attractions.
Not much of a seafarer? A basic boating lesson and driver's license are all you'll need to get started.
Discover vacation rentals on Lake Powell >
What amenities do Lake Powell houseboats include?
That depends on the size of houseboat you choose, though even the more economical, smaller houseboat rentals come with a comfy stateroom and kitchen facilities.
Most include a gas grill and waterslide, too. You might choose to go larger, and a little more upmarket, by renting a luxury houseboat on Lake Powell.
These impressive 75-footers feature most of the amenities of home—along with the option to add fun extras like hot tubs and personal watercraft to your rental.
Best time to take Lake Powell houseboat vacations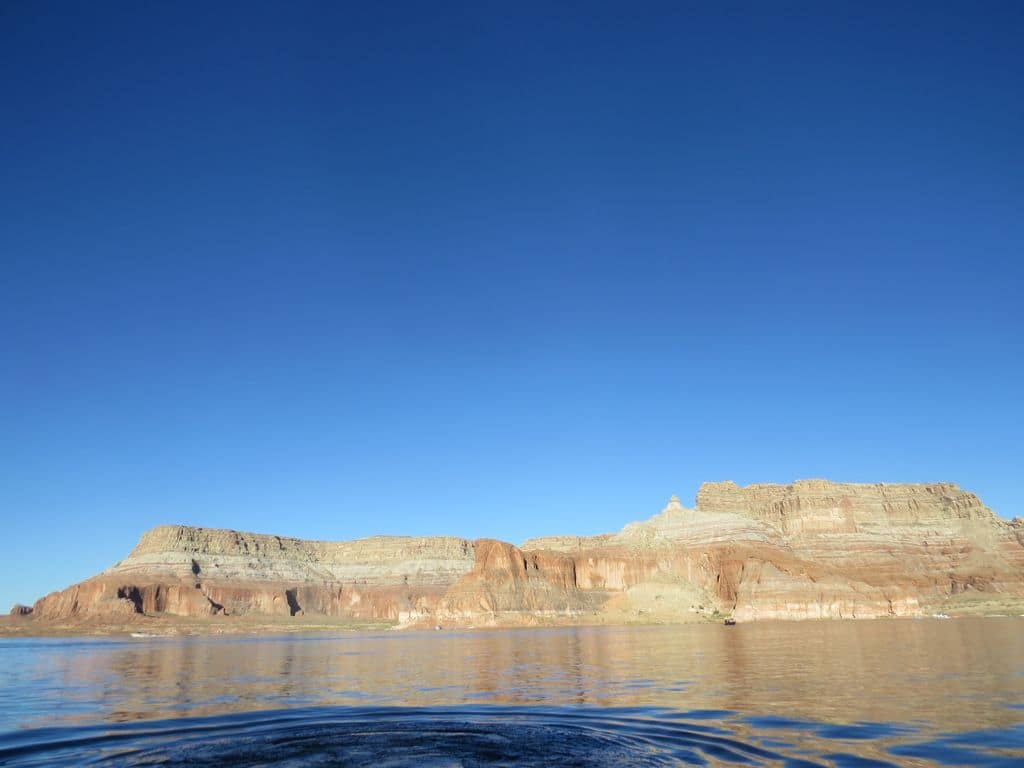 While vacations at Lake Powell are something of a year-round affair, summer rentals are an ever-popular choice, so remember to book early to score your favorite boat — then get ready to enjoy long, sunny days, breathtaking sunsets, and an exciting parade of water sports.
The cost of Lake Powell houseboat rentals is often lower in spring and fall, and these seasons are also perfect if you prefer things just a little cooler. Winter brings with it a quiet solitude that's adored by couples and anglers alike.
Where to find houseboat rentals on Lake Powell
While several marinas serve Lake Powell, houseboat rentals are only offered at the full-service Wahweap, Bullfrog, and Antelope Point marinas, with others providing services like fuel, groceries, and boat slips.
All the marinas that offer houseboat rentals also have a selection of personal watercraft, fishing boats, and kayaks, which can be added to your rental agreement and towed behind your houseboat.
Whether you're hanging out on or off the water, Lake Powell houseboat vacations are your ticket to a generous helping of R&R.
Whether you take things slow, seek out the adventure of a lifetime, discover amazing Arizona, or explore unspoiled Utah, it's all up to you.
Water fun in a Lake Powell houseboat
Life on the water at Lake Powell promises all the relaxation you can handle, whether that comes courtesy of swimming at Lone Rock Beach or catching trout below the Glen Canyon Dam.
Meanwhile, stand-up paddleboarding and kayaking can be a memorable way to explore Lake Powell's labyrinth of side canyons — not to mention the perfect opportunity to get off the grid and enjoy a bit of "me time."
For those with adventure on the menu, activities like tubing and water skiing are readily available in the warmer months.
Attractions in Glen Canyon National Recreation Area
A houseboat rental is undeniably the best way to explore Lake Powell's almost 2,000 miles of shoreline, though the surrounding desert and cliff-rich terrain of the Glen Canyon National Recreation Area serve up plenty of reasons to head onshore for a while.
With a Navajo Nation permit, you'll be able to hike to bucket list-topping sights like Rainbow Bridge and Antelope Canyon—the former being the world's tallest natural bridge, and the latter being orthern Arizona's most photographed slot canyon.
A jaunt to Page, on the other hand, puts the short trails to Glen Canyon Dam Overlook and the Hanging Gardens within easy reach.