Stunning spots to enjoy cabin rentals in Michigan
Michigan offers endless opportunities to enjoy the best scenery that nature has to offer. It isn't known as the Great Lakes State for nothing—not only does it border 4 of the Great Lakes, it also contains upwards of 11,000 inland lakes. Add that to the fact that it's home to more than 100 state parks and recreation areas, and it's easy to see why Michigan is a nature lover's dream destination. Whether you're looking for a lakeside getaway or a hillside escape, you've got plenty of Michigan cabin rentals to choose from for your next outdoorsy vacation.
Cabin rentals in Michigan state parks
More than 28 million visitors come to enjoy the scenery and outdoor recreation in Michigan's nature parks, which altogether encompass more than 300,000 acres across the state. Thanks to the efforts of the Michigan State Park Commission, which was established in 1919, these natural treasures continue to be ideal destinations for Michiganders and out-of-state visitors alike to enjoy pastimes like fishing, rock-hunting, and winter hiking. Thanks to a broad selection of cabin rentals in and around Michigan state parks, you'll easily find a great base for a rejuvenating vacation, whether you're looking for a secluded spot in the woods or somewhere quiet but close enough to a big city.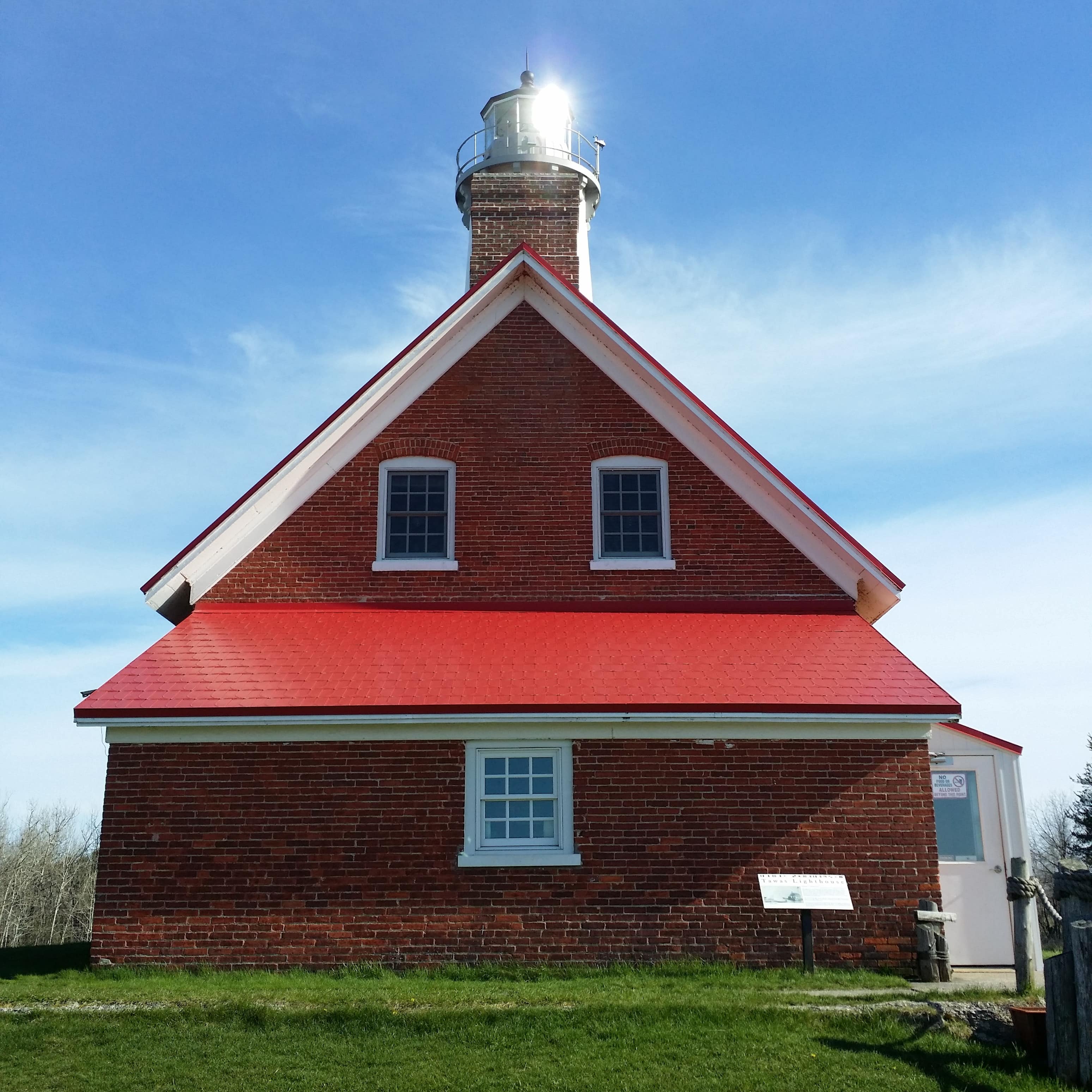 Set on Lake Huron near the city of East Tawas, the 183-acre Tawas Point State Park is a haven for avid bird-watchers. Established in 1961, it's been called the Cape Cod of the Midwest and sees a diverse array of migratory birds in the spring and fall. Summer rentals here are great home bases for attending the Tawas Point Celebration Days festival, exploring the Victorian-style lighthouse called Tawas Point Light, and swimming in Tawas Bay's shallow waters. Many vacation rentals near the park have decks where you can watch the sun rising over Lake Huron. Amenities like Smart HDTVs and fast Wi-Fi are also pretty standard.
Hours of outdoor fun can be expected all throughout the year at Charles Mears State Park in west-central Michigan. Situated within the quaint town of Pentwater on the shores of Lake Michigan, the park's sugar-sand beach and clear waters draw swimmers, boaters, and sunbathers during the warm-weather months. Come fall, you can traverse the hiking trails to the long sand dune called Mount Baldy, or Old Baldy, for panoramic views of the lake and the countryside. In winter, you can go ice-fishing in Pentwater Lake. Some cabin and cottage rentals on Lake Huron are ideal for large groups, offering amenities like multiple bedrooms, spacious living areas, and stretches of private beach.
Pristine forests, entrancing waterfalls, and charming coastal towns and villages—these are just some of the things that make Michigan's Upper Peninsula one of the top vacation destinations in the Midwest. The region has inspired great American literary minds, including Ernest Hemingway and Henry Wadsworth Longfellow, and sights like the majestic Tahquamenon Falls and blazing sunsets over Lake Superior just might have you waxing poetic, too. Only a tiny percent of the state's whole population lives here, so if you're looking for a truly secluded getaway, a Michigan cabin rental in the Upper Peninsula might hit the sweet spot.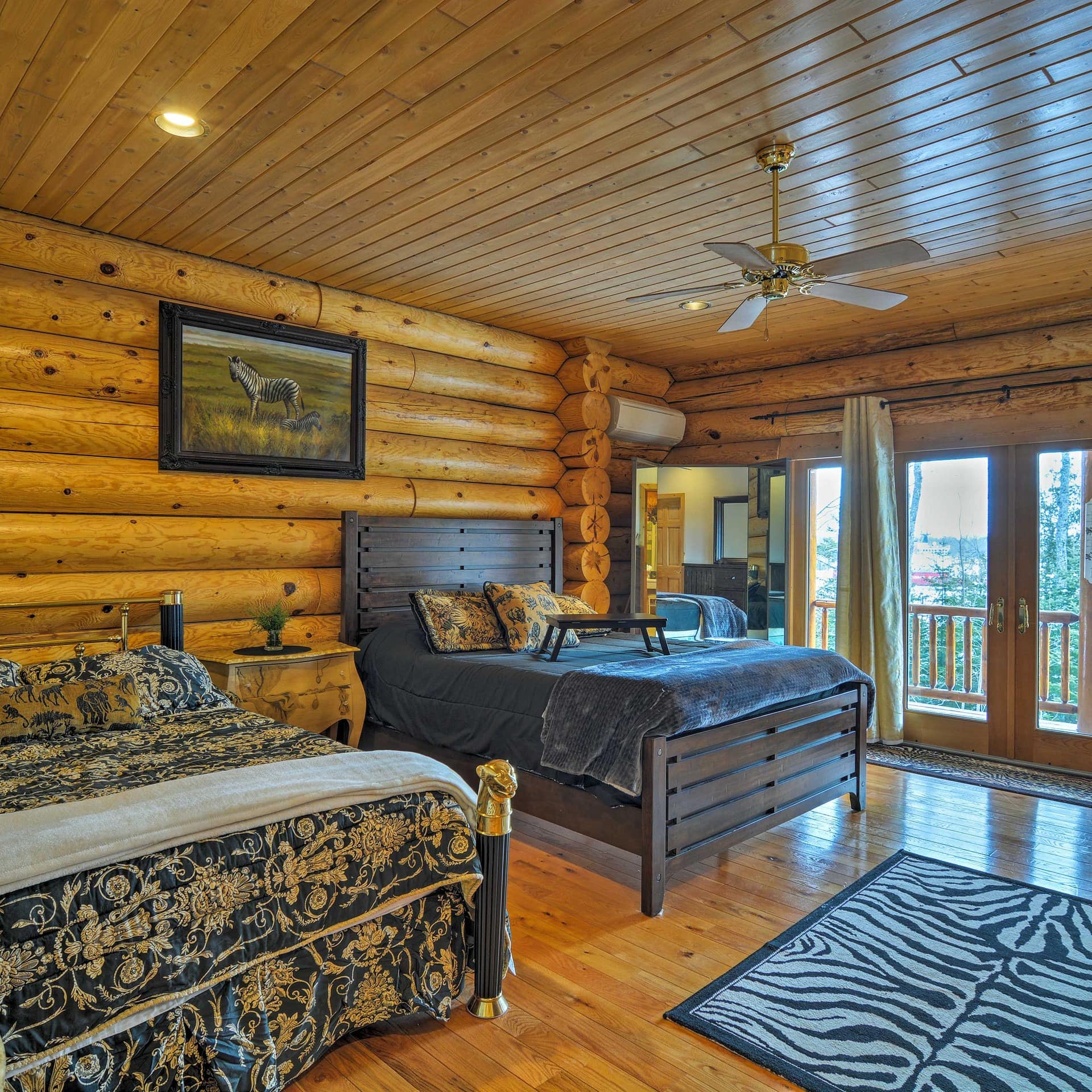 Nature and history share the center stage in the Eastern Upper Peninsula. This is where you'll find the state's oldest city, Sault Ste. Marie, as well as museums documenting the region's rich history in towns such as St. Ignace and Whitefish Point. Nature enthusiasts can explore Drummond Island's various ecosystems and spend hours kayaking the waterways of Les Cheneaux Islands for glimpses of the local wildlife. After a day of adventure, head back to your cabin rental and unwind with a game of ping pong in the rec room or play a few tunes on the piano in the living room.
Jutting into Lake Superior, the Keweenaw Peninsula is the northernmost portion of Michigan's Upper Peninsula. It's referred to as "Copper Country" because this was where the first copper boom in the US occurred. If ghost towns are your thing, you'll enjoy staying here because of all the towns that were abandoned when the copper mines began closing down. In winter, you can go sledding at Nara Nature Park, snowbike the scenic trails in Houghton, and try ice-fishing in Keweenaw Bay. Come home to a waterfront cabin and warm yourself by the wood-burning stove, then fall asleep to the sound of Lake Superior's waves crashing gently on the beach.