Find a cozy mountain retreat with Vermont cabin rentals
The land of the green mountains is just as famous for white snow, amber maple syrup, and the fiery reds and mellow yellows of fall. Vermont is a beautiful state that presents the perfect getaway destination for outdoor lovers, antique hunters, birders, or anyone looking to escape the city and get back in touch with nature. Whatever season you experience Vermont, you'll be charmed by its small towns, wowed by its wooded mountains, and blown away by its natural beauty, all of which is best enjoyed from the comfort of a cozy Vermont cabin rental.
Fall for Vermont from the comfort of your own cabin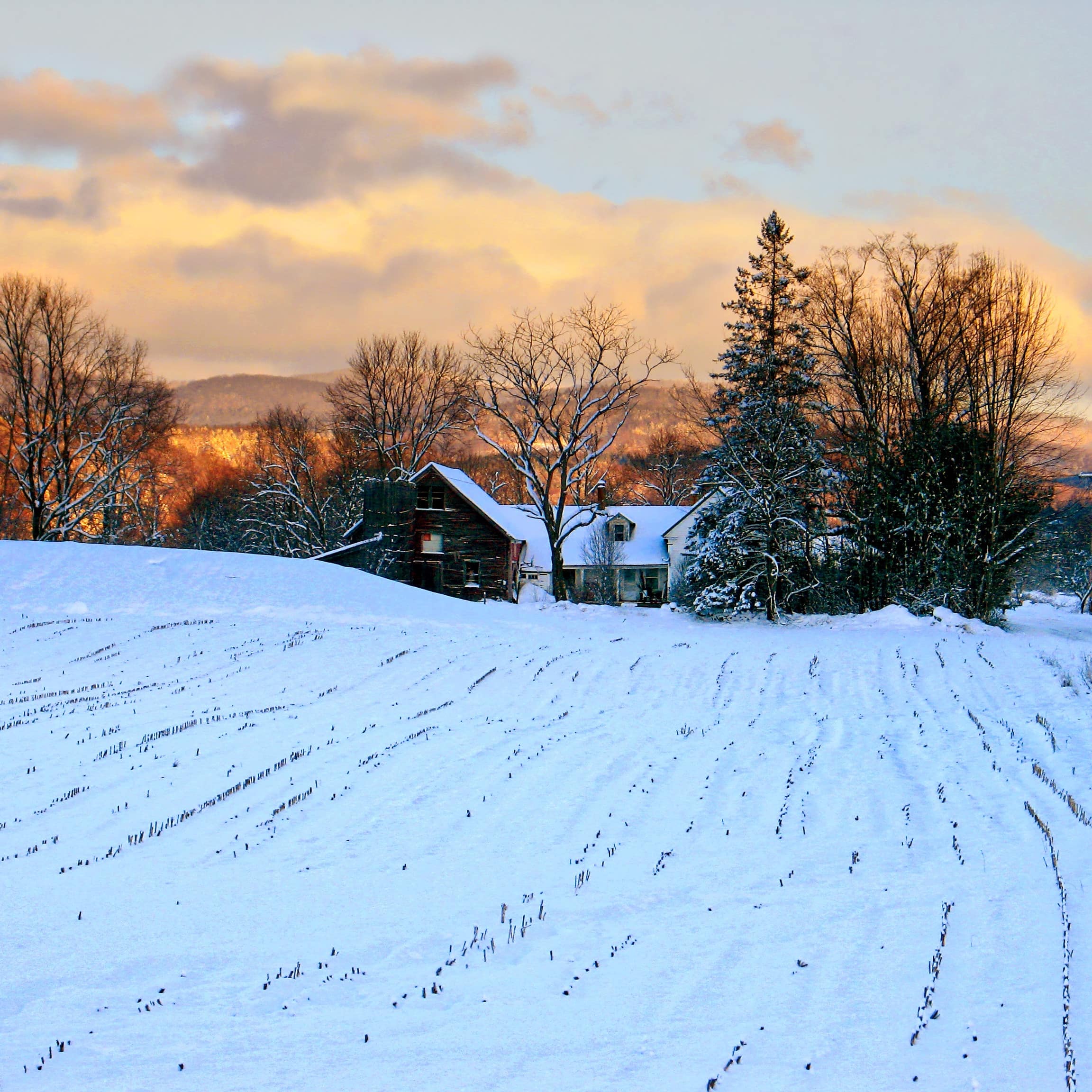 Vermont is the perfect all-season, all-weather cabin rental destination. Stunningly beautiful when swaddled in bright white snow in winter, the state is just as breathtaking in fall when the foliage runs riot, and spring and summer when the warmer temperatures draw outdoor lovers of all stripes to its mountains, lakes, and valleys. Hikers will find plenty to keep them busy in Vermont, with the award-winning Kingdom Trails network, the Catamount Trails, and mountains of Mad River Glen, Killington, and Stowe. Even if you're not one for physical activity, there's still a great bounty of activities to keep you busy. Vermont's small towns play host to many treasures, including great antiquing opportunities, the densest collection of craft breweries in the country, and a booming food and restaurant scene that favors local farm-to-table flavors.
Rustic, romantic, cozy, and luxurious cabins in Vermont
Cabins in Vermont come in all shapes and sizes, whether you're traveling with the whole family, looking for something rustic and romantic, or even hoping to get away from it all on a solo retreat. With so many to choose from, there's bound to be something to suit every budget, from luxurious mountainside retreats with wintertime skiing right outside the door, private hot tubs, theater rooms, and modern kitchens, to rustic-yet-chic studio-style cabins perfect for 1 or 2 guests. Vermont is popular with families whatever the weather, but in the summer you might want to consider a lakeside cabin with waterfront access to keep the kids busy and entertained. Meanwhile, winter visitors may want to prioritize a cabin rental that's located somewhere close to the slopes .
Lake Champlain is easily one of the most popular spots in Vermont. You'll find plenty of cozy vacation home rentals to choose from in this area, and it's a great spot for those visiting with family and small children. Come in the summer, and you'll spend most of your time on the water. Go boating, swimming, kayaking, or tubing before toweling off and exploring any of the excellent hiking trails nearby, or heading into the nearby towns for a bit of retail therapy. There's also plenty of history to get to know in the area, with visits to the Crown Point Historic Site and Fort Ticonderoga being particular highlights.
Ski in, ski out in lovely Ludlow
Once a mill town, Ludlow is now a popular place to come with skis, and Okemo Mountain provides the perfect backdrop to a winter vacation. You'll find a great range of Vermont cabins close to Ludlow and the mountain, some small and cozy and built just for 2, while others are spacious enough to play host to the whole family or crew. And while Ludlow is most famous for its skiing, you can also visit in the summer, when the area is a haven of hiking trails and outdoor adventure opportunities, with beautiful waterfalls and rivers around just about every turn in the path.
Get to know historic Woodstock
Historic Woodstock has one of the most picturesque town squares in the state, with several historic buildings dating back to the late 1800s surrounding what's known locally as the "green." For even more history, you can head north of the town to Billings Farm and Museum—which still acts as a functioning dairy centered around a charming 19th-century farmhouse—where you'll find exhibits and activities detailing life on a working farm in the 19th century. For those keen to explore the great outdoors, you won't be far from Killington Peak—which offers some of the area's best skiing in the winter and hiking in the summer—and Marsh-Billings-Rockefeller National State Park, where you'll find easy-to-follow trails and a famous mansion that's open to visitors.