Best places for rental cabins with hot tubs in the USA
Of course vacations are fun, but they can be tiring too—especially if you're hiking, skiing, rafting or even just doing a whole lot of shopping! That's why cabin rentals with hot tubs are perfect options for a stay, whether short or long. State parks in Georgia, Tennessee, Pennsylvania, upstate New York, Colorado, and Oregon offer a plethora of fun options, many with additional amenities such as fireplaces, game rooms, and full gourmet kitchens. Traveling with a large group is rarely a problem in this scenario, as many cabin rentals come with pull-out sofas and bunk beds.
Cabins with hot tubs in Georgia
With the CNN headquarters, World of Coca Cola and one of the world's highest-rated aquariums, Atlanta is a major visitor magnet. However, Georgia has so much more to offer than its cities. With thousands of acres of national forest, a windswept and historic coastline, and charming towns that epitomize southern living, there's plenty to enjoy about a vacation here. Nature lovers will revel in the northern mountain region with its miles of trails, stunning views, and alluring small towns. You'll find every sort of hot tub cabin rental here; luxurious spreads featuring great rooms, fireplaces, and modern furniture; or rustic wooden cabins tucked into the trees.
Cabins with hot tubs in Tennessee
Renting a cabin with a hot tub is a great choice if you're looking to vacation in Gatlinburg, Tennessee. The Smoky Mountains offer unlimited opportunity for activities—you can hike, climb, go white water rafting and tubing, and even try ziplining through the forests. When you're ready for a taste of city life again, head to Gatlinburg, the resort town with everything from moonshine shops to haunted houses to entertain couples and large groups alike. After all that exploring, returning to soak in your cabin's hot tub might be among the best parts of your vacation.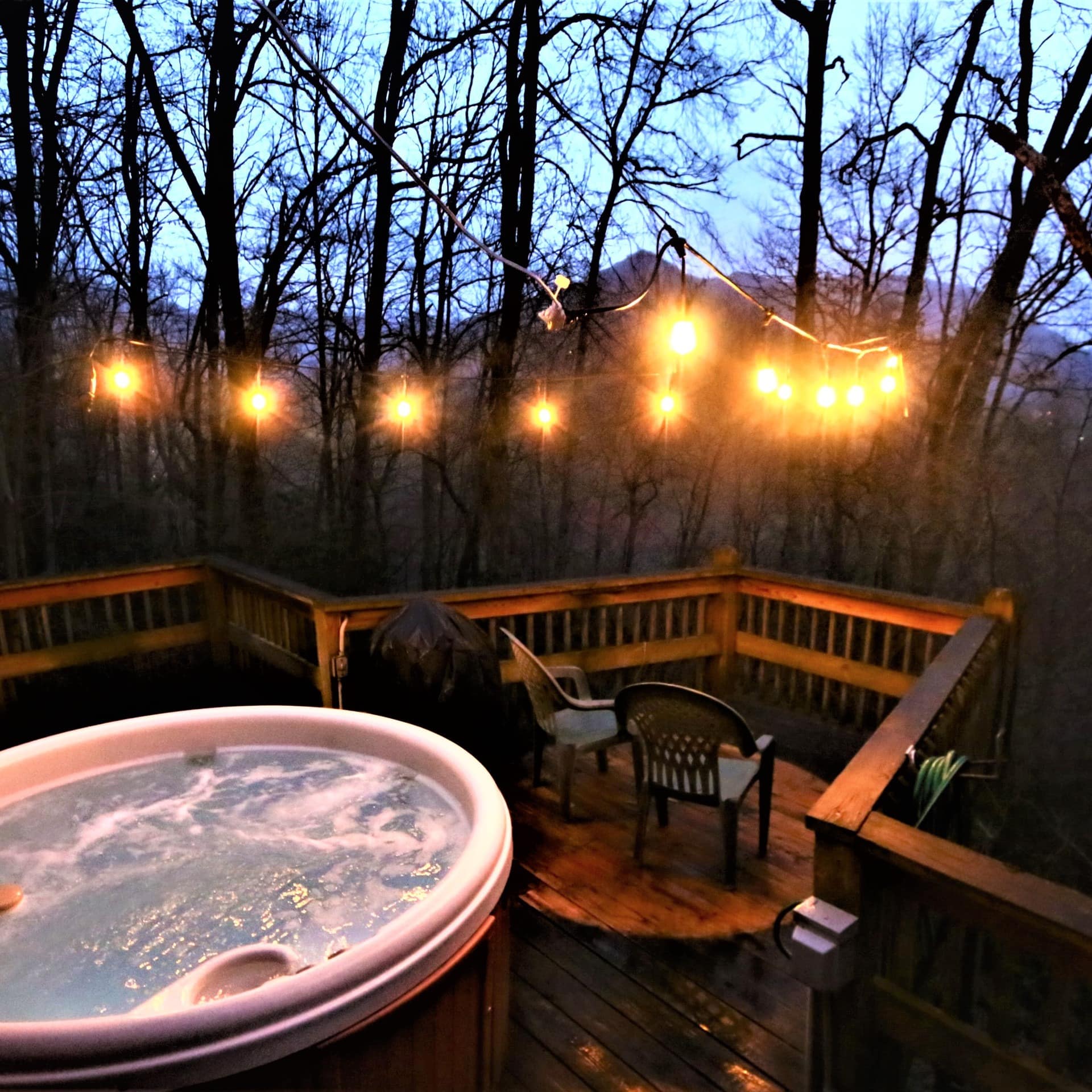 With miles of trails, wooded slopes, waterfalls, and winding rivers with gentle beaches, the Poconos is an ideal spot to get away from city life in Pennsylvania. To really unwind, rent yourself a cabin with a hot tub and feel the cares of work slip away. There are 150 lakes to explore in the summer and plenty of skiing in the winter, so there's fun to be had year round. Your cabin might sit on the shores of a lake, and some boast their own docks, decks overlooking water views, and fire pits. Many are pet-friendly as well.
Cabins with hot tubs in upstate New York
Nothing says escaping the madding crowd quite like sinking into the bubbles of your outdoor hot tub in your cabin rental and staring up at the stars above. Scattered throughout the wooded hills and lakesides of upstate New York, cabins with hot tubs here come with all sorts of additional amenities to make your vacation extra-special, such as private pools and beaches, boat docks and barbecue grills, and expansive views of lakes, the Hudson River, or the Catskills. Many sit on large acreages, giving you peace and privacy. Whether you spend your day hiking, boating, or sampling gourmet offerings from local eateries, end the day relaxing in your hot tub back at your cabin rental.
Cabins with hot tubs in Colorado
Soaring views of the Rocky Mountains and being minutes away from outstanding ski slopes are just a couple of the benefits of booking a cabin with a hot tub in Colorado. It's also a great way to spend time with family and friends in a relaxed atmosphere. The word "cabin" may elicit images of a small rustic, log house in the woodland—and you'll find some of those here, with cozy interiors perfect for a romantic vacation. But cabins in Colorado can also mean an opulent 5-bedroom spread with features such as game rooms, fire pits, and stone fireplaces.
Cabins with hot tubs in Oregon
Whether you're a nature lover or active traveler, Oregon has something for you. You'll find miles of dramatic Pacific coastline with colonies of sea lions and unusual water spouts. It has numerous forests full of hiking trails, as well as the iconic Mount Hood and the picturesque Columbia River Gorge. It's nice to stay awhile and see it all, and for that, booking a cabin rental with a hot tub might be an ideal option—especially when that hot tub sits outdoors, giving you breathtaking mountain views.