Best picks for remote cabin getaways in the mountains
Sometimes the best way to take a break from everyday life is to actually put yourself somewhere far and away from all the noise and stress. When you book a remote cabin in the mountains, you can enjoy picturesque views and clean, crisp mountain air, rejuvenating your mind and body. Whether you're looking for a snowy mountain landscape or dense forests overlooking fertile valleys, secluded cabin rentals around the US can help enrich your next vacation experience.
Vacation rentals near the mountains of New York
The first image that comes to mind when New York is mentioned is the hustle and bustle of big-city life, but that doesn't have to be the case when you visit the secluded cabins upstate. Snow-covered adventures in the Adirondacks and cabin rentals with crackling fireplaces in the Catskills will show you that there's more to New York than the concrete jungle—it can also be a peaceful retreat to nature, perfect for a winter vacation in the mountains.
Secluded cabins await in the mountains near Long Lake
At Long Lake, you can stay in the comfort of your remote cabin with the fireplace to keep you warm. After making a hot drink from the fully-stocked kitchen, pull back the curtains for a gorgeous view of the glistening, snowy landscape of the Adirondack Mountains. You can book cabin rentals with acres of private land to ensure you won't be bothered as you enjoy an evening meal on the porch in the fading light of a beautiful, winter sunset.
Woodstock cabin rentals for the best winter activities
Woodstock gives you a taste of small town living near the Catskills, where frosty mountain peaks and fields of fresh snow are ideal for skiing, snowboarding, and other winter activities. If you're looking for a bigger thrill, fire up a snowmobile and make your way through the rolling hillsides through snow-covered woods. When it's time to wind down, head back to your private cabin rental and whip up a meal on the patio grill to reclaim the energy you spent during the day.
Secluded cabins for mountainside relaxation in Colorado
With boundless plains of summer campgrounds for hiking, camping, biking, and more, Colorado provides ideal vacation destinations for travelers seeking remote cabin getaways. The mountains offer biking trails and river rafting, but you can also soak in hot springs to soothe sore muscles after a day of heart-pumping activities. The secluded cabin rentals you'll find here range from luxurious lodging to cozy, rustic properties, all of which are sure to provide a great getaway adventure in the mountains.
Pagosa Springs cabin rentals with gorgeous living space
Sun-soaked dining rooms and up-to-date kitchen equipment can be found in the cabin rentals in Pagosa Springs. You'll also find comfy living rooms with rocking chairs, airy lofts with queen beds, and private hot tubs on decks with elegant patio furniture. Surrounded by the San Juan mountains and expansive national forests, this town is best known for its mineral-rich natural hot springs, which draw wellness-seeking visitors all throughout the year.
Estes Park vacation rentals nestled in natural surroundings
Situated in the heart of the Rocky Mountains, the town of Estes Park boasts secluded cabins with majestic views spanning every direction. Private vacation rentals here allow you to enjoy lakeside fishing in a tranquil forest setting, even treating you occasionally to local wildlife sightings from the comfort of your wraparound deck or living room. Spend sunny afternoons exploring the hiking trails of the national park—where wildlife encounters aren't uncommon—and make your way to the lofty peaks to take in the picture-perfect landscape.
North Carolina vacation rentals with mountain views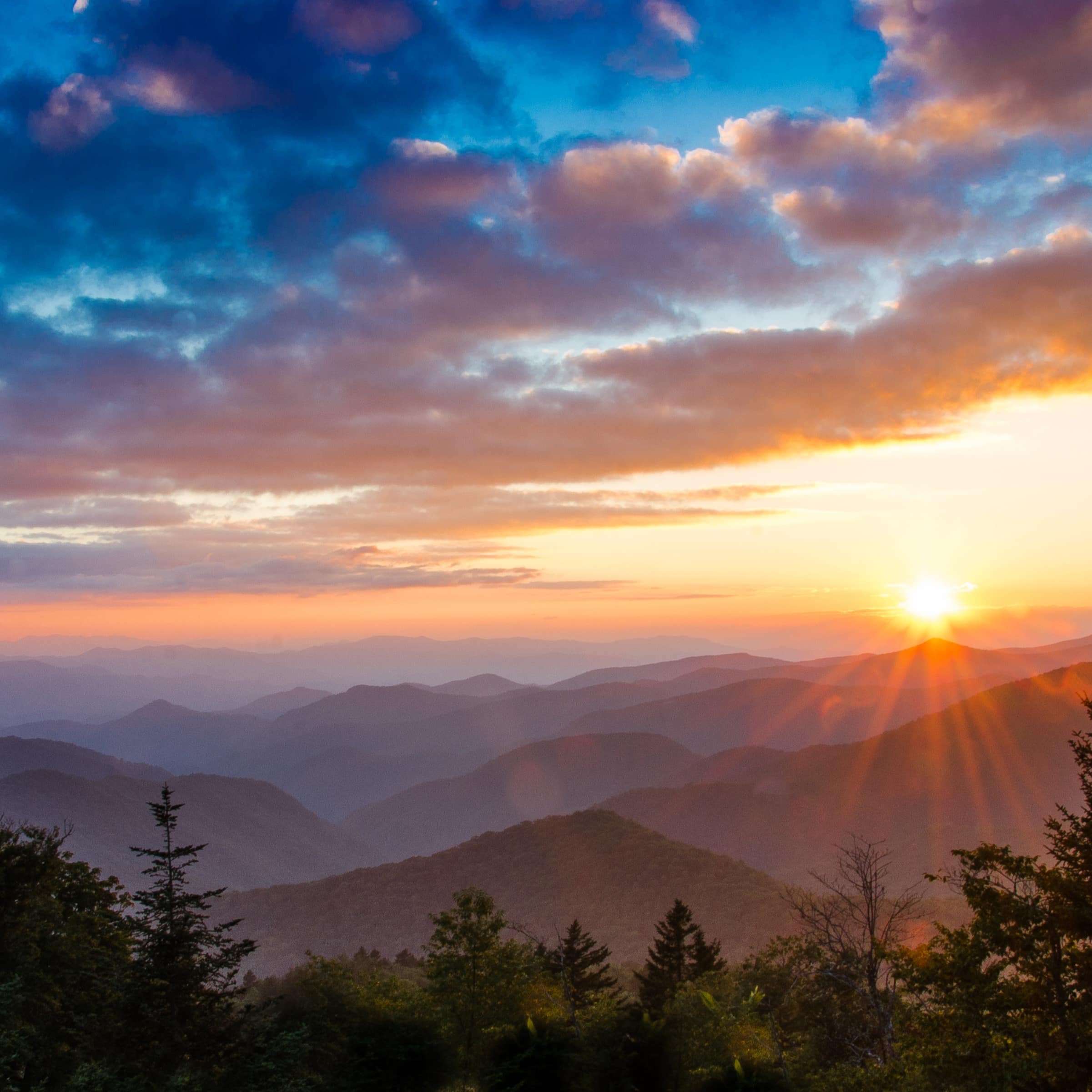 The Blue Ridge Mountains number about 39 peaks in North Carolina, allowing for breathtaking panoramic views from multiple vantage points. Remote cabins in the mountains allow visitors to enjoy the stunning landscape features of the surrounding area, including waterfalls and winding rivers. With small, romantic cabin rentals that are perfect for 2, as well as larger vacation homes that cater to groups and families, there's no shortage of vacation rental choices for memorable stays in North Carolina's beautiful mountain landscape.
Secluded cabins with easy downtown access in Asheville
Cabin rentals in Asheville allow you to enjoy the privacy of a secluded space while simultaneously providing easy access to the downtown area as well as the scenic drives on the Blue Ridge Parkway. With the wonderful mountain views from your vacation home, it's hard to believe that there's a bustling city nearby. Asheville is characterized by historic architecture, farm-to-table dining trends, and a vibrant arts scene. You can browse museums, go shopping, and grab a bite before retreating to the solitude of your cabin.
Breathtaking views from remote cabins in Boone
Boone has remote cabins that are more than likely to please people looking for a private vacation destination. From generations-old restored cabins to modern, fully kitted vacation rentals, this mountain town certainly doesn't lack for memorable places to stay. Secluded cabins with wrap-around decks give you scenic views in every direction—ideal for sunset and sunrise viewing. The nearby Grandfather Mountain, one of the highest peaks in the Blue Ridge Mountains, is an icon of North Carolina's landscape, where perennially photogenic views of the surrounding area can be enjoyed without obstruction.