Stunning spots for small cabin rentals in the US
Small cabins give people a sense of serenity and comfort that can't be matched by other types of vacation home rentals, especially when surrounded by beautiful landscapes with majestic flora and fauna. It doesn't matter whether you're dreaming of cozy, snowed-in nights or lakeside summer adventures, or if you're looking to stay near sandy beaches in South Carolina or at high altitudes in Montana. Small cabins can provide the basic comforts you'd need for your ideal vacation, all within a compact, charming space.
Vacation homes for relaxation in Barton City, Michigan
Home to breathtaking landscapes, unique attractions, and a multitude of festive events, Michigan's open roads invite you to explore the natural surroundings and urban escapes the state has to offer. Small cabins dot the state, located close to the cities or somewhere deep in the woods for peace and solitude. Barton City, for instance, offers cozy retreats surrounded by greenery. Charcoal grills and cute furnishings on the patio make for a great dinner setup. When the sun sets, take advantage of the lack of light pollution and sit by the fire pit to count the stars in the night sky.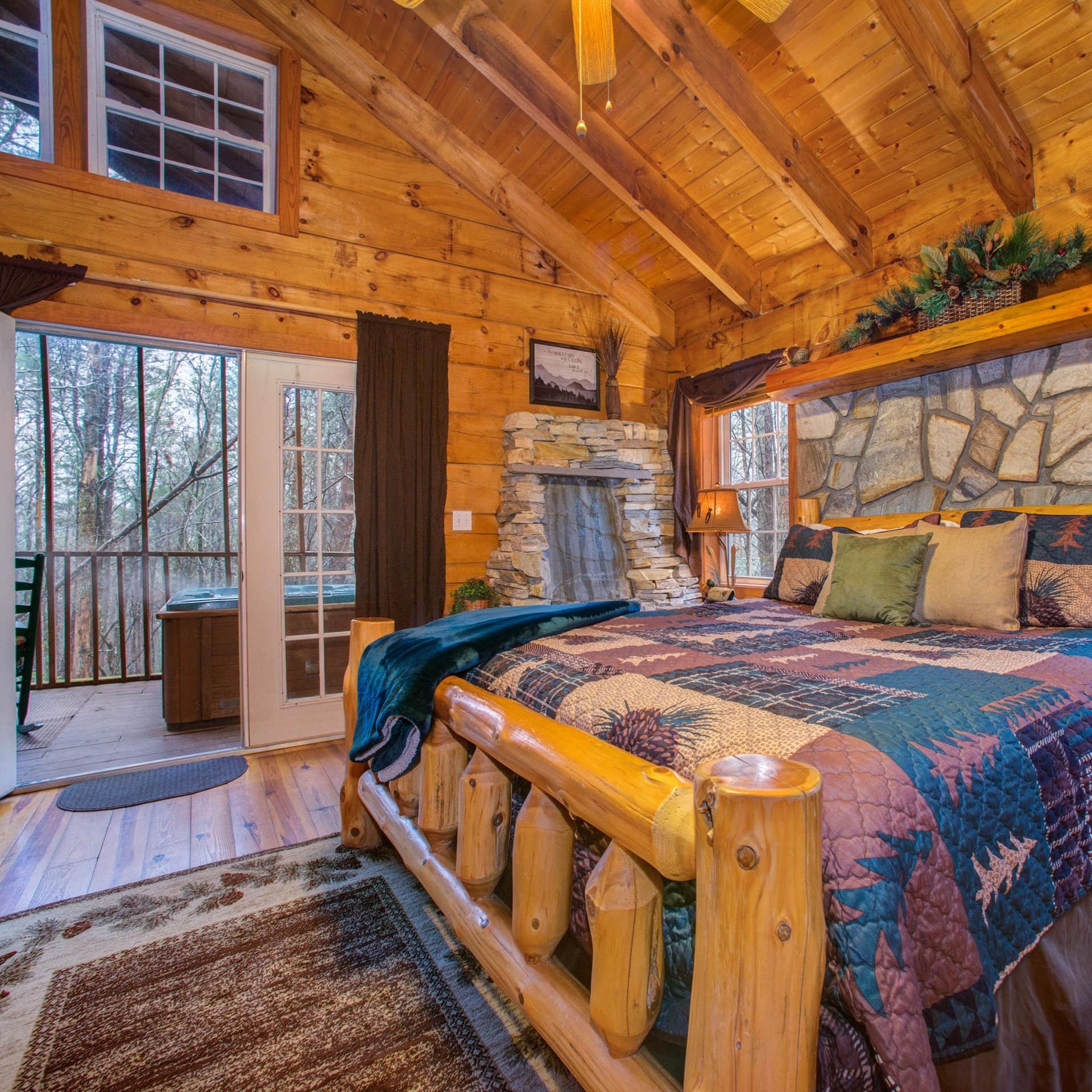 Kentucky may be known for horse farms and thoroughbred racetracks, but that's merely scratching the surface of what lies in store for visitors. Small log cabins in Lexington will place you close to the historic horse racing facility of Keeneland. There's a healthy amount of rental properties both in the downtown area and in remote farms, and you'll find quite a few properties that were old horse sheds converted into modern cottages and vacation rentals. These have elegant living quarters and updated amenities. Scenic views can be seen from wraparound porches in the farmlands, while downtown rentals allow easy access to walking parks, restaurants, and horse racing tracks.
Scenic landscapes from small cabins in Bozeman, Montana
Tiny cabins for rent in Montana allow you to experience the great outdoors the moment you step foot outside—think magical winter landscapes and ancient natural wonders in the national parks. Near Bozeman, rustic cabins with sweeping farmland views offer quiet surroundings without being too far from downtown. Kick back and relax with a view of the Bridger Mountains and the Gallatin Range as you enjoy a hot drink on your rental cabin's front porch, or head into town for a day trip. Quaint shops and a multitude of dining options await at Main Street, where the nightlife keeps the area buzzing after dark.
Small log cabins in Charleston, South Carolina
See all that Charleston has to offer when you rent a tiny house cabin with sweeping views of the Atlantic. Beachside properties are popular vacation rental picks, and you'll find plenty of them conveniently within walking distance of the flavors, sights, and sounds of the city. Floor-to-ceiling windows bathe the interiors of these small cabins with natural light, showcasing the sleek furnishings and lovely living areas. Kiawah Island, Sullivan's Island, and Folly Beach are some sandy destinations you can look into if you're thinking of taking a dip in some saltwater. Otherwise, you can enjoy the ocean views from the comfort of your cabin rental's hot tub.
The unique terrain of Edgecomb perfectly represents the landscape of Maine, where you can climb a mountain and still see sparkling ocean waters nearby. The rustic exterior of the vacation homes here mask the updated decor and and modern amenities that guarantee a comfortable stay. You can find small cabins in waterfront locations all throughout mid-coast Maine, but few will have as much variety in attractions as Edgecomb. Keen to learn about history in the area? You might appreciate a tour of a Victorian castle or the Fort Edgecomb State Historic Site. Active types can traverse a hiking trail toward the Damariscotta River, then hop in a kayak and paddle away.
Small log cabins full of charm in Homer, Alaska
Surrounded by wilderness and ocean, you can go fishing, kayaking, hiking, and more when you book a tiny house cabin in Homer, a small city on Kachemak Bay. Such cabins here look especially compact in contrast to the vast fields and open waters, but it's what's inside that counts. Loft bedrooms and brick fireplaces are appealing features, while the outdoor fire pits and bayside scenery serve to enhance the already-stellar sunset views. Make sure you visit Homer Spit, a long strip of land where you can dine at various restaurants, purchase locally crafted items, and watch boats docking at the harbor.