Oceanfront vs. Beachfront Condos: What's the Difference?
What's the difference between beachfront condos and oceanfront condos? A lot of people actually think that they're the same, and it's reinforced by the fact that some vacation rental owners can be vague in describing their properties. But because your holiday may depend a great deal on whether you've got exactly the kind of accommodation you need, you may want to know the difference between a beachfront condo and an oceanfront condo. Being aware of what this difference is can help you choose the right kind of vacation home rental for your next seaside holiday.
Beachfront condos for rent are right on the beach—the sand will be under your feet when you take a few steps out of your door. These condo units are typically on the ground floor or first floor, and they sometimes have a patio that directly faces the beach. If the condo unit is on an upper floor, it may have a terrace with a stairway that you can use to get on the beach. With a beachfront condo, you can play on the sand any time you want and can easily walk back.
The pros of renting a beachfront condo
Easy access to the beach is a great thing if all you want from your holiday is to relax under the sun. From your beachfront condo, you only need to step outside to hit the water or run on the sand. You also probably won't need to rent a beach chair and umbrella because you may have your own right on your patio.
While easy beach access is indeed a great thing, you may have to give up a bit of your privacy if you have a lot of neighbors or if people who don't live in your condo building can use the beach. And if you happen to have livelier groups staying in neighboring condos, you may not always have the peace and quiet you need—though the condo staff or owners will usually make sure that noise levels don't get out of hand so everyone can have a great vacation.
Finding a condo along the Gulf Coast shouldn't be a problem. Stretching from the Texas-Mexico border to the tip of Florida, the Gulf's sandy beaches guarantee warm waters and year-round mild climates, making it the perfect destination for any time of year. Spot dolphins off the coast of Orange Beach in Alabama, also home to the world's biggest artificial fishing reef, or mix surfing and wreck diving with some pirate history along the Florida Panhandle. For family-friendly fun, Treasure Island in Florida provides beaches, nightlife, and nearby theme parks to please everyone.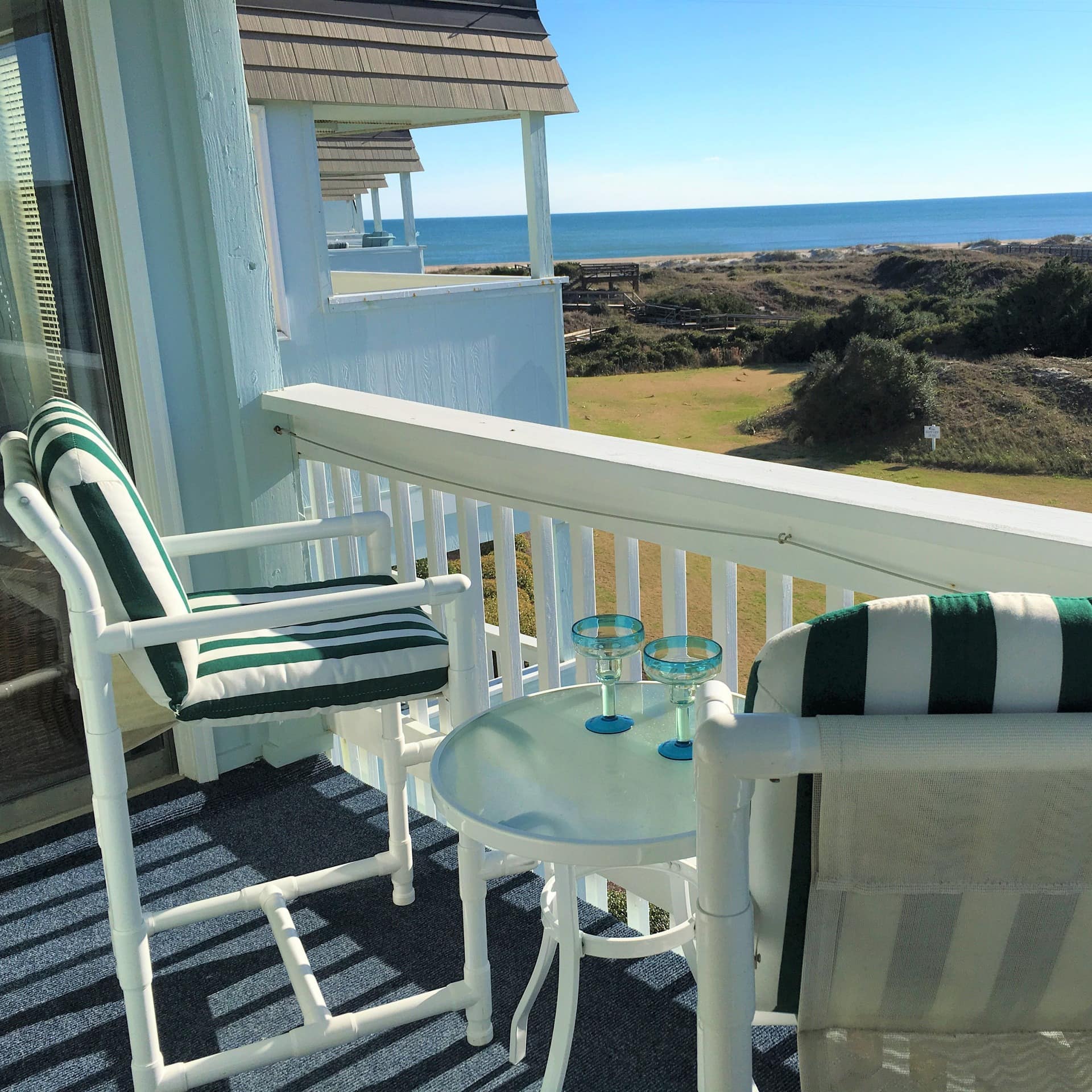 The one thing that sets oceanfront condo rentals apart from beachfront condos is that they don't necessarily have direct access to the beach. The condo building may stand on a cliffside and have balconies offering sweeping views of the ocean. It may be right on the coastline, but the coastline may be rocky instead of beachy. Or it may be right on the beach but without having direct beach access straight from the door of your condo unit. It's also possible that the building might be a few blocks away from the beach, despite boasting gorgeous sea views from the window or balcony.
The pros of oceanfront condos
An oceanfront condo rental is certainly something to enjoy, especially if it has views of the sea from almost anywhere you stand within the unit. The view can set the mood for your holiday. And if you want to get away from the hectic concerns of daily life, an oceanfront condo in a secluded area may be ideal. Even if the condo building is on the beach, you can be far removed from the noise of the people frolicking on the sand.
If you want to make the most of your beach holiday by spending as much of your time on the sand and in the water as possible, renting an oceanfront condo may not be as convenient as getting a place right on the beach. And if the condo building is in a secluded area, this might suit some travelers but not others. You may have to walk far or even drive to get to a store or a restaurant if the building doesn't have one on-site.
Finding an oceanfront condo in Fort Lauderdale, Florida is a breeze. With 23 miles of promenade-lined beachfronts, there are plenty of apartments and condos with ocean views to choose from, and to suit all budgets. The city also boasts world-class restaurants, craft breweries, nightlife, and shopping. For a more sedate experience, try Outer Banks, North Carolina, with its dramatic coastline, sand dunes and uncrowded beaches, as well as seafood restaurants and historical attractions. For family fun, Myrtle Beach, South Carolina offers 60-miles of beaches, as well as celebrity-designed golf courses, and an old-fashioned Family Kingdom amusement park
As mentioned earlier, vacation rental owners can be quite vague in describing whether their property is an oceanfront or a beachfront condo. It's up to you to determine if the vacation home you're thinking of renting is really what you need. Whether it's a beachfront or an oceanfront condo rental may not matter to you as long as it's by the sea. But if it does, you can check with the property owner or their representative before you make the booking.
Discover things to do with kids in top beachfront condo destinations