Fun in the Emerald Coast with Destin condo rentals
Set along the sparkling waters of the Emerald Coast, Destin is one of the most popular destinations on the Florida Panhandle, with plenty of beachside Destin condo rentals offering great views. Recreational fishing enthusiasts will be pleased to know that Destin is not only the home of the most sought-after fish in the world, it's also known as the "World's Luckiest Fishing Village" for the great catches. But Destin isn't just a beach paradise, there's lots of other fun activities to be had, whether it's golfing at one of the scenic golf courses or enjoying the thrills at an adventure park.
Destin beachfront condo rentals welcome sun lovers all year round
It's always a good time to book a beachside vacation condo rental in Destin. With its subtropical climate bringing in warm weather and comfortable breezes, Destin has moderate weather all year long. You can lounge on the patio or poolside at a spacious 3-bedroom condo on Crystal Beach before heading off to enjoy the sugary white sand and the clear blue-green waves of the Gulf of Mexico. Rent a boat and journey out into the gulf for some fishing or scuba diving. For a laidback alternative, try Henderson Beach State Park, which also gives you access to nature trails and picnic areas. You'll get a different beach vibe at Miramar Beach, where you can explore the funky neighborhood shops and restaurants or look for bargains at the Silver Sands Premium Outlets. When the day ends, you can take a breather and marvel at the beautiful Gulf sunsets from your deck or hot tub at a family-friendly beachfront condo rental.
Feel like a champion at a Destin vacation home with golf course access
If you've always wanted to try your hand at teeing up, there's no better place to take a few shots than at one of Destin's many golf courses. You don't need to be a pro to enjoy the first-class courses, many of which were designed by well-known professional golfers and award-winning architects. You'll find a huge selection of the best condos in Destin close to major courses like the 18-hole Kelly Golf Club along Choctawhatchee Bay with miles of scenic waterfront and gorgeous landscaping. Or you can head over to the Emerald Bay Golf Club, a championship 18-hole course by Emerald Bay with lots of water features and tropical garden views. From stylish luxury condo rentals with amenities like clubhouse access and private golfing lessons to cheap vacation condo rentals with great balcony views of the Gulf of Mexico and cheerful interiors, you'll find the right place to stay for the ultimate golfing experience.
Book a Destin condo rental for non-stop family fun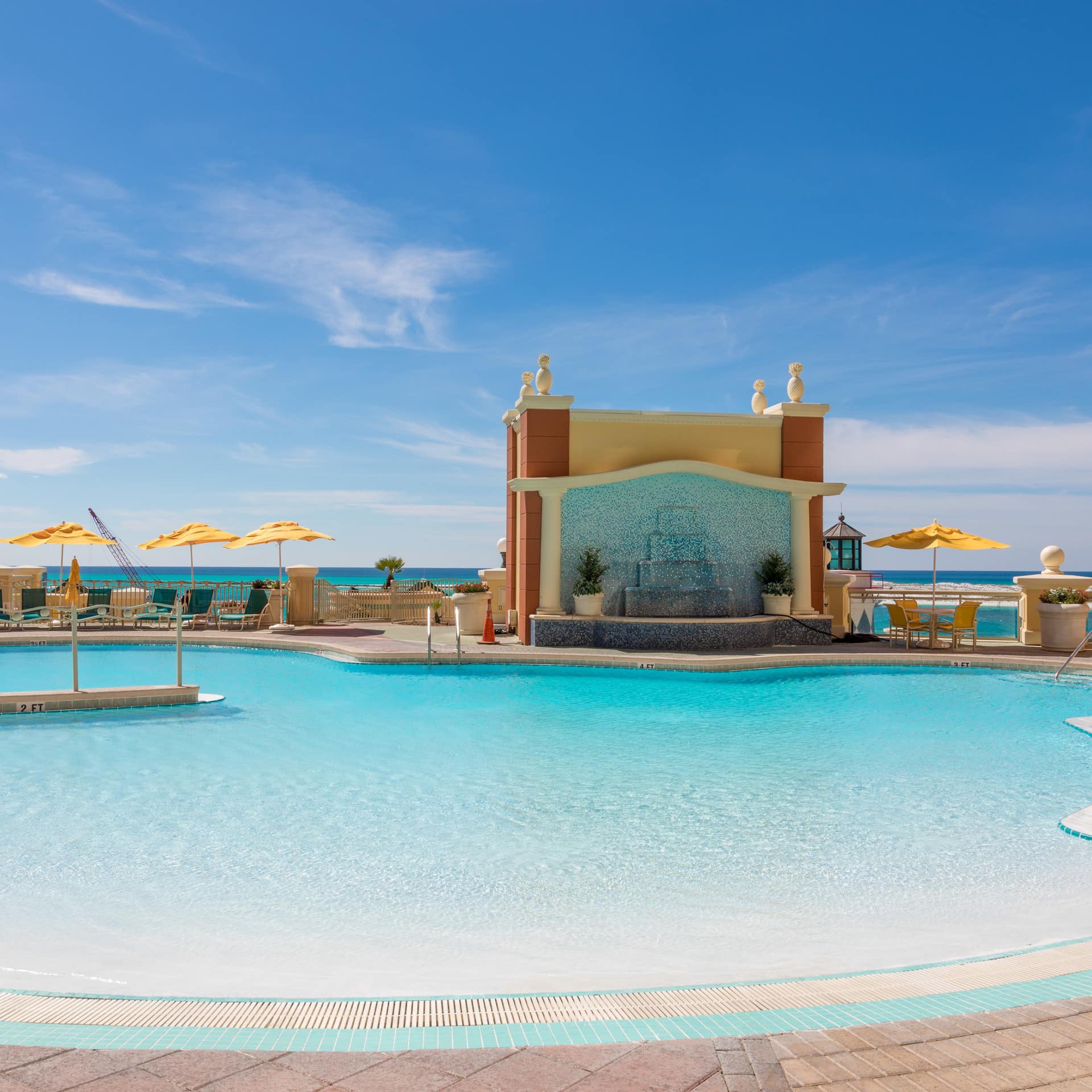 Thinking about bringing along the entire family and maybe even a pet or two on your vacation? No matter how who's coming along, you'll be glad to know that not only are there are plenty of vacation condos in Destin to choose from, including roomy vacation condo rentals in Destin with bunk beds and fully stocked kitchens. What's even better is that many of these condos for rent in Destin are close to great family-friendly entertainment and attractions, like the popular Gulfarium Marine Adventure Park. One of the most visited attractions in Destin and a sure-fire hit with kids, the park has daily live marine shows, exhibits, and animal encounters. For bigger thrills, you can take the family to Big Kahuna's Water and Adventure Park, which has over 40 attractions, from slides and rides to mini-golf and a racetrack. Cap off the day with an evening barbecue on the patio of your vacation home rental and enjoy the serene nighttime views of the Gulf Coast.