Top reasons to rent Orange Beach condos for your next vacation
Whether you're pumped for water sports, keen for beach activities, a big fan of nature trails and state parks, or just looking for a really great pool to lie down next to, Orange Beach has something for everyone. Even when the sun goes down the Wharf—a thriving local hotspot—drips with vibrant entertainment, delicious food and dining options, thrilling rides, and terrific shopping. From short-but-sweet stays to heady month-long sojourns, Orange Beach condos provide the perfect base to discover all that coastal Alabama has to offer.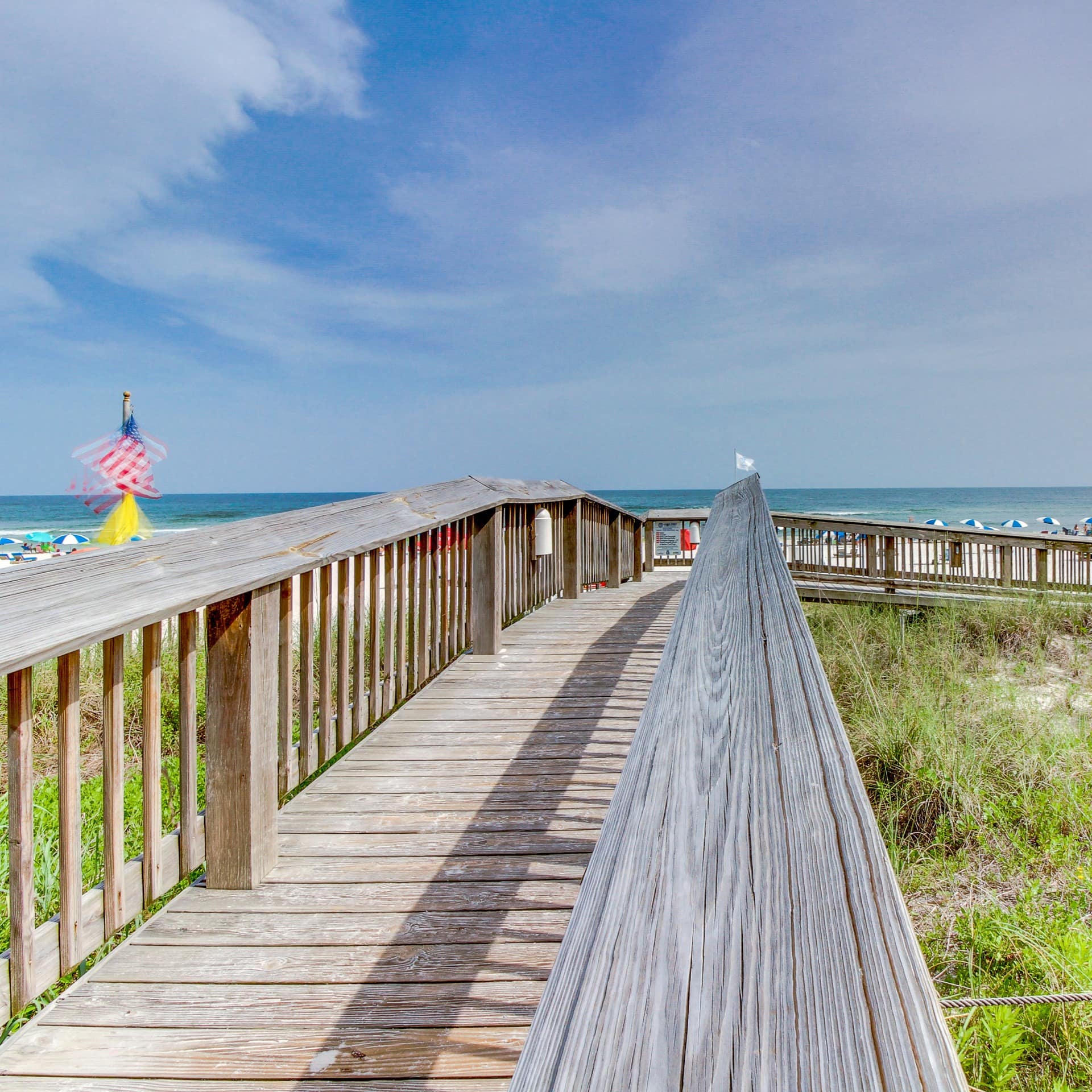 From the warm sugar-white sands of the Gulf to the turquoise waters of the Intracoastal Waterway and the serene shores of three freshwater lakes, it's no surprise that when visitors come to Orange Beach they flock to the waterfronts. And who wouldn't want a holiday rental with a view? Especially when there are so many Orange Beach condos to choose from. Book a vacation home with unobstructed Gulf views along Perdido Beach Blvd, or make yourself at home with access to a private dock in Cotton Bayou. And you simply can't go wrong if waking up to sunrises is on your vacation to-do list. So settle in for a vacation that offers tantalizing blue-green waters that are never more than a few minutes walk from your base.
Endless entertainment on the Wharf
The bustling Wharf and its surrounds boast some of the most popular Orange Beach condo rentals for visitors who love to be close to the action. The area practically hums with activity all year round—though summers are particularly lively. The zipline and mini golf courses, movie theater, and arcade games are sure to impress both the young and the young at heart. As will the spectacular light show that's best viewed from your vacation rental's private balcony or from the Ferris Wheel, which just happens to be one of the tallest along the Gulf coast. Couples getaway? Get romantic and make sure to book a property with a hot tub so you can take a relaxing break from all the entertainment. Once you're back in action you'll find that there's no shortage of great dining options to choose from around the Wharf. Or, if you're more interested in kicking things up a notch, you can dance the night away at one of the many live shows hosted at the Wharf Amphitheatre.
Pools abound in Orange Beach's condo rentals
If stunning pools are an absolute must then never fear, Orange Beach condo rentals have more than got you covered for your upcoming holiday. Secure a vacation home with access to a kid's splash pool or a sprawling lazy river-style watering hole to keep the little ones entertained while you enjoy some much-needed downtime. Some of the sophisticated vacation rentals in Orange Beach East also come with saunas, rooftop tennis courts, and direct beach access. So soak up some sun in an idyllic setting with the added bonus of no crowds and a delicious drink to sip on.
Into the wild in Orange Beach
There's something a little bit different about Orange Beach and it has a lot to do with the amazing amount of natural wonders to explore. If you're a keen walker and hiker then the Hugh S. Branyon Backcountry Nature Trail and the Alabama Coast Birding Trail are sure to be your first ports of call—well, maybe after a quick visit to the stunning marina. But the beautiful Gulf State Park is worth more than one visit. Stretching 2 miles along the beachfront and encompassing 25 miles of amazing parklands, the public recreation area is well known for its sun-kissed sand, invigorating walks, lush green vegetation, and long, wide pier—which continues to be a local favorite for fishing. Book an Orange Beach condo rental in Cotton Bayou for easy access to the Cotton Bayou Trail, a beautiful hiking path surrounded by forest that leads to plenty of the park's other nooks and walkways.