The best spots to rent lake apartments in the US
Many people's thoughts turn to waterside getaways when the weather begins to warm, but the fact is, any time of year can be a great time for lake apartment vacation. Start your winter days with ice fishing or snowshoeing, and end them sipping tea by the fire or watching the snow fall while you're in your apartment's hot tub. Spring and fall bring some of nature's most vibrant colors—and sometimes off-season bargains. And the beauty of apartment rentals is that they often go hand-in-hand with extra amenities—such as tennis, pools, and gyms—that you won't find in a stand-alone home.
Lake apartment rentals in the South
With its temperate climate and renowned charm, the South is an ideal spot for a lakefront rental any time of year. Offering a rich history, a huge range of attractions, and its famous Southern cuisine, you'll never be at a loss for something to do. Whether you fancy trying out new water sports, barbecuing as the sun goes down, or taking a nap in a hammock under a shady tree, a Southern lake apartment has you covered. From cozy apartments for 2 to posh digs for groups of family and friends, the South has plenty of lake apartments to choose from.
Lake Chatuge, Georgia, vacation apartments
As the first stopping point for many hikers tackling the Appalachian Trail, this picturesque lake community is a haven for outdoorsy types. The area offers everything from simple units with mountain views to waterfront retreats with gym and pool access. Choose a weekly rental next to the marina and cast your line for Georgia's official state fish, the largemouth bass. Use your vacation apartment as a base for exploring the Lake Chatuge's many coves, or take things to dry land and hike the nearby Blue Ridge Mountains. Work off all that Southern barbecue with a day of mountain biking at Jackrabbit Mountain, or try horseback riding at one of the local stables. When night falls, return to your condo to watch the sun set over the serene lake.
Lake Lure, North Carolina, apartment rentals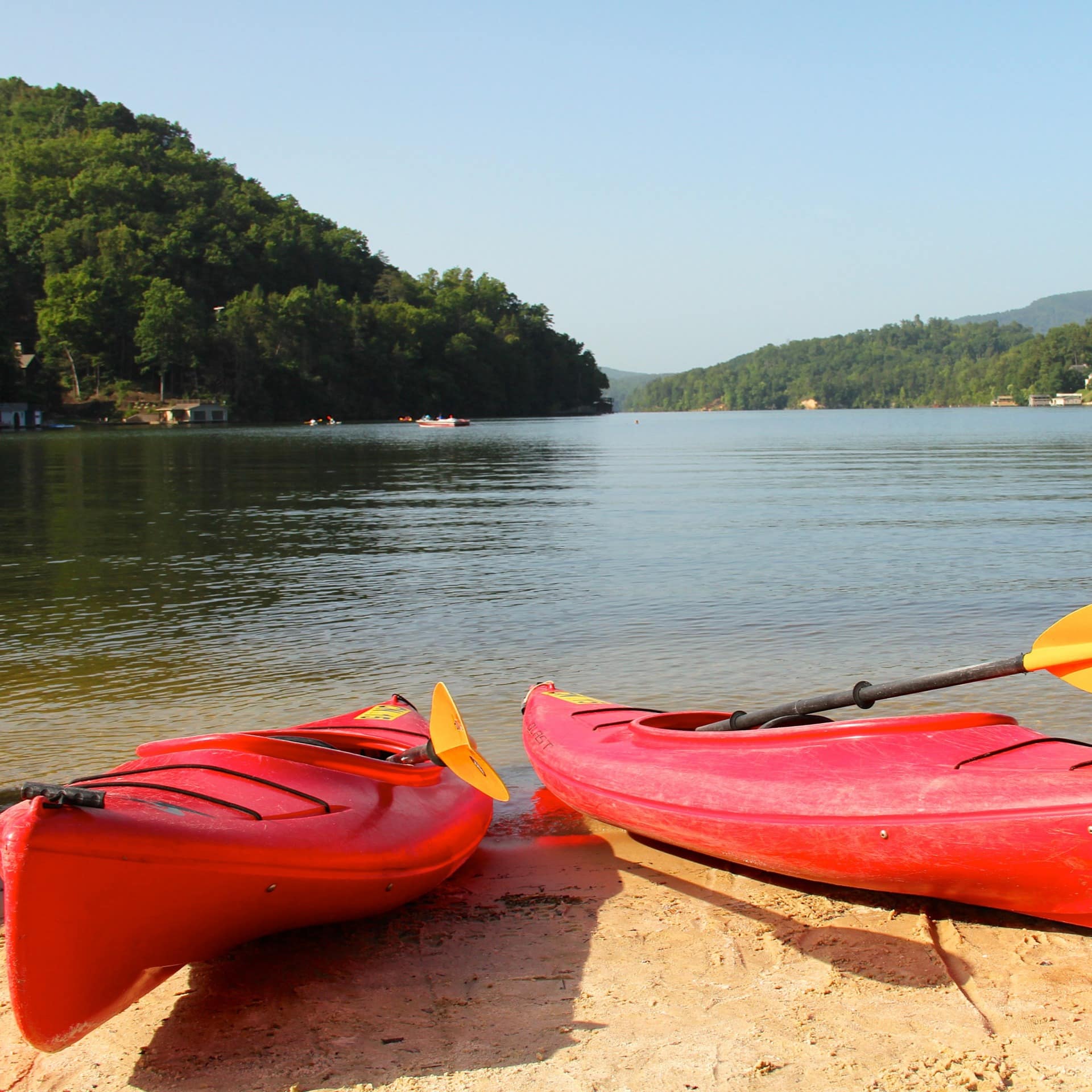 The filming site of the beloved 80s film "Dirty Dancing," this delightful area is known for its mouth-watering southern cooking, semi-annual arts festivals, and numerous wineries. Fans of the movie will want to be sure to secure an apartment for September, when the area's annual Dirty Dancing Festival takes place. Other times of year, visit nearby attractions such as the famous Lake Lure Flowering Bridge, or try rock climbing at Chimney Rock State Park. Return relaxed and happy to your summer rental with an outdoor kitchen and sunset views, and this trip will go down in the books as the best lake vacation ever.
Best lake vacations in Lake Martin, Alabama
With over 750 miles of shoreline, Lake Martin is the perfect setting for a lake vacation apartment rental. A wide range of summer rentals await you—from romantic apartments for 2 to modern units with a full range of amenities. From here, take a day trip to Montgomery to visit the Fitz, the only museum dedicated to F. Scott and Zelda Fitzgerald, or stay closer to home and paddle a canoe over to feed the goats on Goat Island. Whether you're on the water or off, there are apartments of all sizes and styles in this scenic spot.
Lake apartment rentals up North
The Northern US is home to a number of prime lake vacation destinations, so it's no surprise that a wide variety of vacation rentals are available—from units with private beach access to rustic apartments in the mountains. Here you'll find history, culture, and gorgeous natural landscapes—and the perfect vacation apartment, no matter your needs.
Vacation rentals in Lake Champlain, Vermont
Choose a lakefront rental as your base camp for biking the renowned Burlington Bike Trail, which affords magnificent views of the lake, the city, and the Adirondack Mountains. Stop by the buzzing, pedestrian-only Church Street Marketplace to see the street performers, historic architecture, and quaint shops. History buffs will want to visit the 18th-century Fort Ticonderoga, then return home for s'mores and scary stories of Champy, Lake Champlain's fabled lake monster, around the fire pit at your cozy apartment rental.
Lake Coeur d'Alene, Idaho, lake vacations
Offering everything from simple getaway apartments to luxury units with private boat slips, Lake Coeur d'Alene is sure to charm anyone in your group. Bringing the kids? Choose a unit with playground access. Traveling as a couple? Then a luxury lakefront apartment with a jetted soaking tub, a stone fireplace, and a deck with lake views might be right for you. Make some furry friends at an alpaca ranch, take a hike at Tubbs Hill, or tiptoe through the tulips at the University of Idaho Arboretum & Botanical Garden, then return to your vacation rental in time for sunset cocktails on the deck.
Weekly rentals in Flathead Lake, Montana
Choose a rustic apartment complete with antlers mounted on the wall and a fieldstone fireplace to get into the spirit of this outdoorsman's paradise. One of the cleanest lakes in the world, Flathead Lake hosts the "Mack Days" trout fishing contest, but anglers can also try their luck casting for bass, sturgeon, and even salmon. Take advantage of the chef's kitchen in your luxury rental to pack a lunch for your fishing trip, and end your day grilling your catch at the barbecue on your deck.