Top spots for lake house rentals in New York
Though its known around the globe for its eponymous city, New York state has much to offer outside the Big Apple. The Empire State is justly renowned for its natural beauty, with stunning mountains, tranquil rivers, and picturesque lakes, perfect for vacation rentals. With Chautauqua in the west, Lake George in the east, and the Finger Lakes in between, New York boasts an abundance of scenic spots. From cozy cabins to luxury homes, there's no shortage of lake house rentals from which to enjoy the breathtaking landscape.
In the far western part of New York State lies Chautauqua Lake, long a popular destination for recreation and culture. Visitors have flocked to the site since the 1874 founding of the Chautauqua Institute, a famous location for education and the arts. The lake also hosts Midway State Park, an amusement park dating to 1898. In addition to these notable spots,Chautauqua is a fantastic location for boating and fishing, particularly around Long Point State Park. There are also lots of boats offering sightseeing and dinner cruises, plus a bevy of restaurants. Whatever your pleasure, there's a lake house rental sure to please, from cozy cabins to luxe condos.
Located in central New York state, Cayuga Lake is part of the group of glacial lakes known as the Finger Lakes. A top destination for boating and fishing, the lake is also home to a number of excellent parks. Montezuma National Wildlife Refuge, at the north end of the lake, is great site for bird watching, while Taughannock Park is famous for its namesake waterfall. As the Finger Lakes host the largest wine-growing region in the state, there's plenty of top-tier wineries to be found throughout the area. Want to go back to school? The charming campuses of Ithaca College and Cornell University, with its fantastic botanical gardens, sit on the southern shores. With plenty to do on the water, be sure to book a vacation rental with a dock to anchor your boat or tie up your kayak.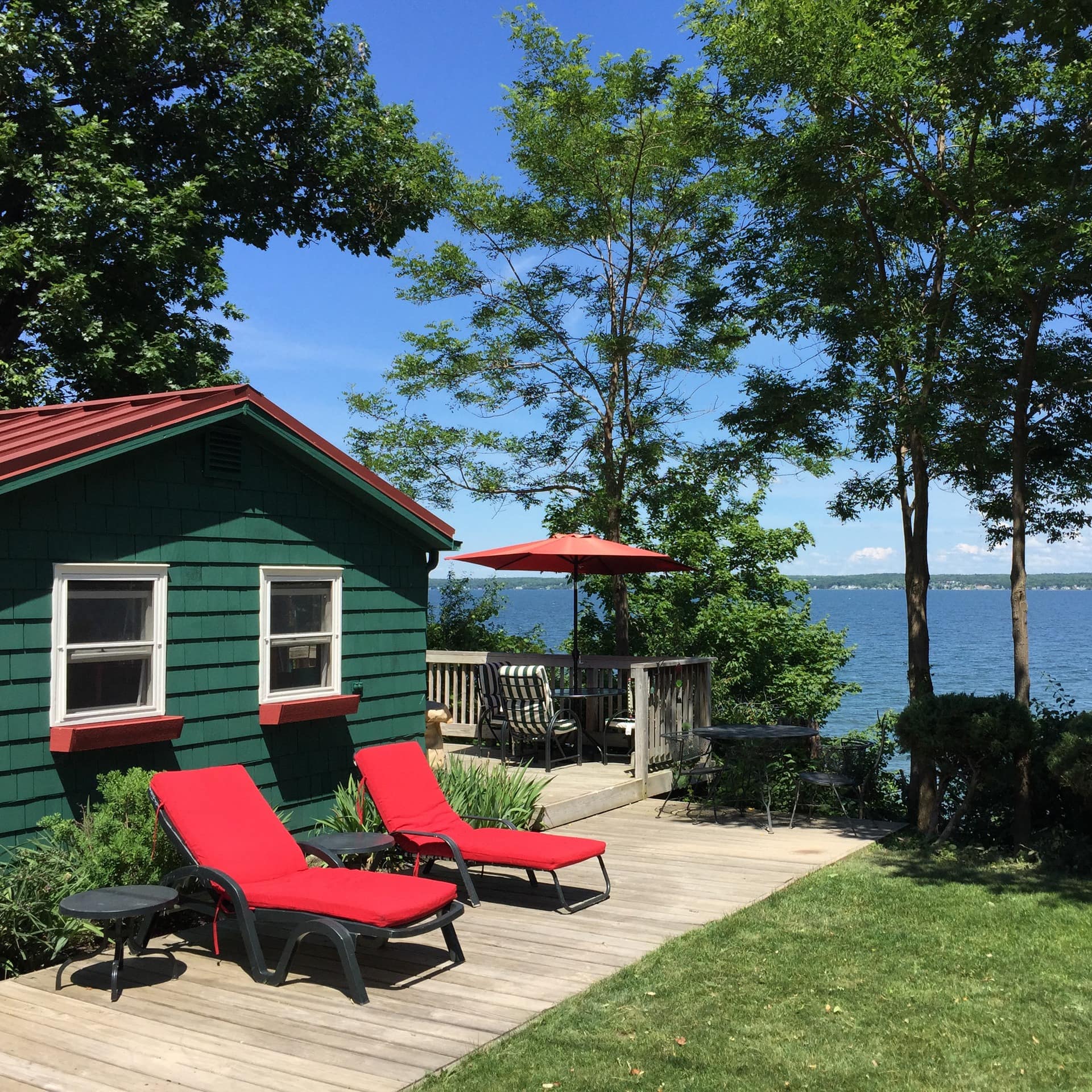 The largest of New York's Finger Lakes, Seneca Lake is, like its neighboring lakes, a go-to spot for fishing and boating in the region, as well as home to a world-class wine trail. The lake is surrounded by top destinations for spectacular scenery, such as the waterfalls and gorges of Watkins Glen State Park, and the Finger Lakes National Forest, known for its miles of hiking trails. Watkins Glen International, the famous auto racing track, is just south of the lake. If you're lucky, you may also get to experience the famed Seneca Guns, an unexplained atmospheric phenomenon of cannon-like booms. With plenty to see on foot, book a lake house rental with a hot tub for unwinding after a long day.
Though not considered part of the group, Oneida Lake is sometimes referred to as the thumb of the Finger Lakes. A fantastic spot for warm weather activities like fishing and boating, the lake is also great to visit in winter. Regularly freezing solid in the colder months, ice fishing and snowmobiling are popular pastimes. The area around the lake is home to a variety of family-friendly destinations. The International Boxing Hall of Fame, Fort Rickey Discovery Zoo, and Sylvan Beach Amusement Park, built in the 1870's, are all a short drive away. If you're planning a winter visit, choose a lake house rental with a fireplace for the whole family to gather around.
Straddling the border between New York, Vermont, and Quebec is Lake Champlain. Once the site of significant conflicts in the American Revolution and the War of 1812, the lake is a much more tranquil destination these days. Set among the Adirondack Mountains, the lake boasts stunning vistas, miles of hiking trails, and exquisite birding, in addition to its placid waters for boating and fishing. The sightseeing is top drawer as well. Whether you want to see the myriad colors of fall foliage, eye-catching lighthouses, or historic sites like Fort Ticonderoga, Lake Champlain has you covered. Just be sure to book a vacation rental with a terrace to get the best views of gorgeous scenery and breathtaking sunsets.
Lying on the border of New York and Vermont, Lake George is called the Queen of American Lakes. With boats cruising the waters during the warmer months, visitors can take in dramatic views of the Adirondack Mountains, or ski down them in winter at Gore Mountain ski resort. The Lake George area, boasting the Great Escape amusement park and Fort William Henry, a calendar full of events and festivals, not to mention a plethora of great restaurants and breweries, is a year-round destination. Whether you visit in summer or winter, book a house rental with a pool for your own private aquatic fun.