Best places to enjoy vacations with lake house rentals and boats
From sea to shining sea, the U.S. is known for its diverse landscapes, wildlife, outdoor activities, and, of course, its pristine lakes and reservoirs. From lush forests to towering sandstone formations, there's no shortage of awe-inspiring scenery to admire from your lake house rental.
You can immerse yourself in nature's breathtaking surroundings while fishing for record-breaking trout, go for a swim in the clear waters, or for land-dwellers, hike and bike on one of the numerous scenic trails.
With so many lakefront rentals to choose from, it has never been more easy to plan the perfect vacation.
Top Lake House Rentals With Boats
Lake house rentals with boats on Fontana Lake, North Carolina
Nestled in verdant Nantahala National Forest in the Great Smoky Mountain range is Fontana Lake, a reservoir formed by a dam on the Little Tennessee River in North Carolina, making it a prime spot for a boat excursion among luscious scenery.
Book a private lakefront home with a spacious deck, mountain views, access to a plethora of trails, and a floating dock with canoes for your perusal. Ride the pontoon boat from your lake house rental and spend the day fishing for trout or even go to one of the secluded trailheads from the water.
The nearby quaint town, Bryson City, welcomes you to explore and try out the ice cream parlors, gift shops, and local history exhibits at the Swain County Heritage Museum. From your Fontana Lake houseboat rental, you can enjoy full privacy, plus expansive lake and mountain views, while ending the day admiring the starry skies with a cup of hot cocoa.
Discover lake house rentals with boats on Fontana Lake >
Vacation homes with boats in Flathead Lake, Montana
Known to be the largest freshwater lake west of the Mississippi River, beautiful Flathead Lake stretches for 30 miles amid the snow-peaked mountains of Glacier National Park.
Choose a secluded lakeside cabin featuring a spacious kitchen, a hot tub, and a private boathouse with kayaks. Rent a lake house for the family and enjoy over 700 miles of forested hiking trails, or fish for some trout to make a wonderful dinner.
You can also take the boat from your cabin rental and mosey on the water toward Wild Horse Island, where there are countless wildlife species, including the namesake wild horses.
A trip to the artsy town of Bigfork may charm you with its galleries, restaurants, and performances at Bigfork Summer Playhouse.
Discover vacation homes with boats in Flathead Lake >
Lake houses for rent with boats in Lake Chelan, Washington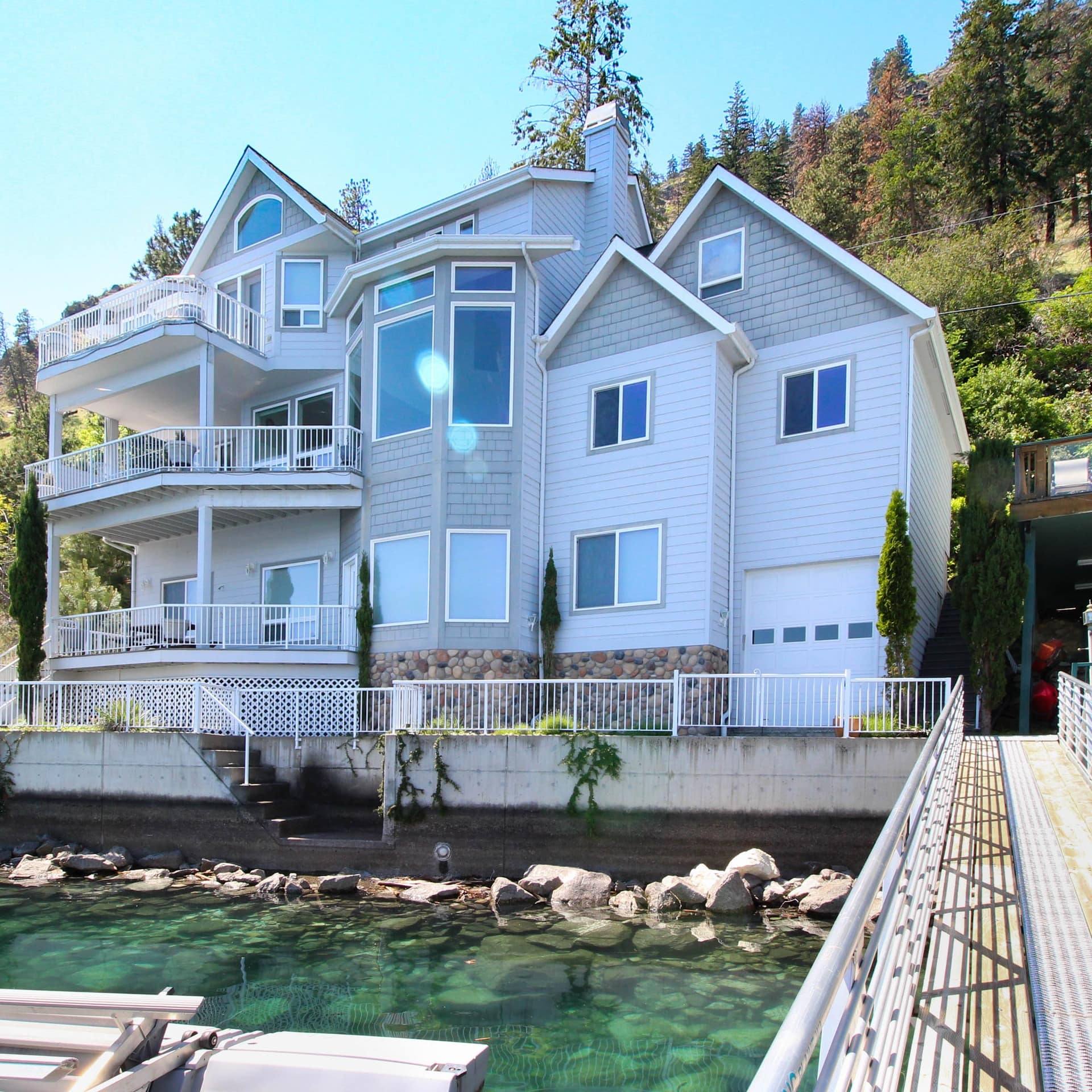 Spanning over 50 miles, Lake Chelan is a scenic gateway between the picturesque Cascade Mountains and the fine, sprawling vineyards of Lake Chelan Wine Valley.
Choose a modern condo with an updated kitchen, access to a pool, and a living room with lots of natural light, where you can enjoy the lake views from the private balcony. For wine enthusiasts, you may rejoice knowing that you can drink it all in a beautiful setting from your lake house rental by booking a wine tour and tasting.
Of course, for the more active participant, there's no shortage of outdoor fun on a boat, whether it's water skiing, paragliding, or wakeboarding–or something chill like taking a dip in the pristine waters from a private dock of a holiday home. For those who aren't afraid of heights, a trip by seaplane offers the most breathtaking views of the lake from high above.
For a relaxing time in the town of Chelan, a stroll on the Riverwalk Loop and a trip to the spa in town can rejuvenate your spirits, while a glass of wine awaits you back at your vacation home.
Discover lake houses for rent with boats in Lake Chelan >
Vacation homes for rent in Lake Lanier, Georgia
Boasting 680 miles of shoreline, Lake Lanier is a top-notch spot for amphibious fun, whether it's relaxing on one of the dozens of beaches, hitting the bike trails, or even zip-lining through the trees.
Stay in a charming lakeside cottage rental with a game room, a fully stocked kitchen, and a tiki bar to entertain your friends. Take the boat out from the lake house rental for a day of fishing or swimming, and watch the dazzling sunset as the stars come out.
Families looking for thrilling excitement may find it in Margaritaville at Lanier Islands, the country singer Jimmy Buffet-inspired entertainment complex featuring a water park and restaurants.
Those seeking a little retail therapy can find shops and boutiques, or you can shop till you drop at the buzzing Lakeshore Mall.
Discover vacation homes for rent in Lake Lanier >
Lake house rentals with boats in Lake Powell, Utah
Straddling the border between Utah and Arizona on the Colorado River, Lake Powell displays rugged natural beauty with its surrounding red sandstone canyons and extraordinary views, such as the grand wonders, Rainbow Bridge National Monument and Cathedral Canyon.
A luxury vacation home by the lake may provide a swanky kitchen with a breakfast bar, a grand living room to lounge in, or a furnished patio with million dollar views.
Take in the scenery from the back deck of your lake house rental, or even cruise through the waters to satisfy your adventurous spirit with fishing, waterskiing, or wakeboarding.
Finish the day appreciating a spectacular sunset as you enjoy dinner in a spacious dining room at your vacation rental.
Discover lake house rentals with boats in Lake Powell >
Find the best family vacations in top lake house destinations