Be wowed by private island rentals
There are some types of vacation rental that simply take the breath away. Retro RVs and glamping pods are among them. Mansions with 20 bedrooms and resort-sized swimming pools are, too. But there's a special place reserved for private island rentals, which rarely fail to get folk channeling their inner Robinson Crusoe.
The pointers below can help you discover some chart-topping destinations for private island rentals. There are palm-topped islands in Central America. There are mangrove-ringed rocks in the Sunshine State. And there are off-beat escapes further north as well.
Belize is a chart-topper
The point where Belize meets the Caribbean Sea is a stunning place to vacation. But there's a way you can move even further into the coastal wonders of this Central American jewel – by holding out for private island rentals. Belize actually lays claim to unbelievably opulent mansions and villas, which seem to rise with their infinity pools and plush sunning cabanas almost magically from the mighty Belize Barrier Reef.
The Bahamas have chic private island rentals
Private island vacation rentals in the Bahamas are just about as glitzy as it's possible to get. You won't find too many options around the popular haunts of Nassau and New Providence. Much better for seclusion are the remote cays of Cat Island and the dog-leg isle of Eleuthera, a place famed around the planet for its see-through waters and pink-tinted sands.
Your private island vacation rental on the Florida Keys
Ah, the Florida Keys. You'll need to set aside plenty of hammock time for trips to these tropical specks on the map of the Sunshine State. They are just about as far south as it's possible to go before hopping over to the Caribbean, which means you're all but guaranteed balmy days. When it comes to private isles, you can look for the hidden keys that are shrouded in mangrove and home to little jetties where you can pull up on pontoons or kayaks to start your adventure.
A private island of a different kind in New York
It's not all pearly sands and blue seas on the islands, you know. There are other sorts of islands to rent that you can find in gushing riverways or popping up in alpine lakes. New York State has a good selection of them, especially if you focus your accommodation search on the handsome Thousand Islands of the St. Lawrence River, where grand Gothic-style castles mingle with charming country lodges.
What vacations suit private island rentals?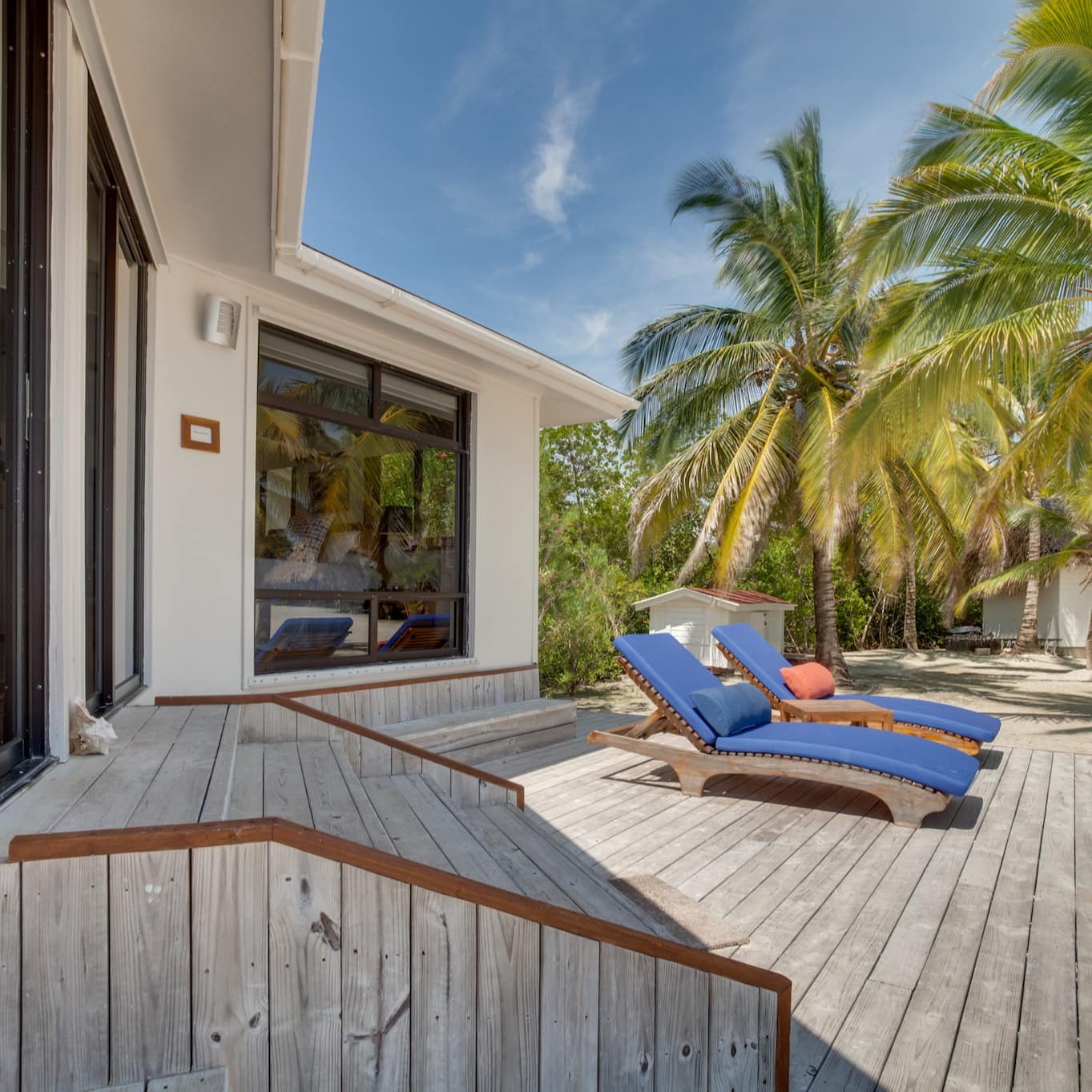 Vacationers of all shapes and sizes are sure to love a private island vacation rental. It's a private island vacation rental, after all. That said, there are a few types of trip that are likely to really hit home in these sandy escapes…
Some might say there's simply no better way to seal the deal than by discovering that Shangri-La in the ocean, a place to call your own and be totally alone together. You'll share some seriously special moments with your other half on a private island vacation, whether that's a sunset show with cocktails in hand or a morning walk along deserted sands.
Dive into crystal-clear Caribbean shore waters to search for lionfish between brain corals. Don the scuba gear and encounter great whale sharks along the shores of Philippine islets. Whiz on jet skis along palm-fringed beaches in Belize. It's all on the menu for those who choose private island rentals, especially in the most opulent quarters that have tour outfitters and concierges at hand.
Events and get-togethers
You could whisk away the whole family and groups of friends to make your wedding extra special – just imagine exchanging marriage vows under swaying palm trees. Perhaps you might consider a private island for that next corporate trip with work colleagues. Or, maybe you're planning a reunion with long-lost pals. Private island rentals are perfect for all the above, because they offer a dedicated space, without the distractions of other guests or travelers.
Scoring cheap private island vacation rentals
With all the opulence and escapism that come with private island rentals, you could be forgiven for thinking they'd cost and arm and a leg. The truth is that you might just be pleasantly surprised at the rates in many, and there are other ways to keep the budget intact…
Book as early as you possibly can
Private island rentals are always in high demand. That's hardly a shock, considering the once-in-a-lifetime sort of trip they offer. Because you're going to be fighting for the top deals with so many other would-be castaways, it's wise to start planning your adventure early, before all the wallet-friendly stays have sold out.
There's certainly no shortage of uber-luxurious private island rentals across the Bahamas, the Caribbean, and Florida. However, you'll need to ask yourself if they really offer the best value for money. You might find that surf shacks on rocky promontories in the Philippines or glistening cays in the Maldives come with the same vibe but at a reduced cost.