Amazing places to find cool treehouses
If there's any type of accommodation that can turn that vacay into something truly unforgettable, it's surely cool treehouses. These weird and wonderful stays are found all over the United States and beyond. From coast to coast, they go from quirky cabins lofted in high Appalachian oaks to shingle-clad huts clutching the tops of Californian Redwoods. Imagination captured? Read on for some exciting destinations where the woodland rentals are simply to die for.
Where North Carolina meets the Appalachian chain is a wonderful corner of the country – why else would so many head on over to whiz around the bends of the Blue Ridge Parkway and hike the endless trails of the Pisgah National Forest? To really feel immersed in all that, there's arguably nothing better than one of the local treehouses. They pop up between the white oak groves of Weaverville and Woodfin. And they can be found fringing the famous scenic byways south of the city center of Asheville.
Kentucky has some options
Break out of Cincinnati to the south-east and you'll soon enter the rising ridges of the iconic Appalachian Mountains. In Kentucky, they are home to the Daniel Boone National Forest, with its color-changing woodlands, the gushing Cumberland Falls, and the carved rock bluffs of Red River. Between those and the meanders of the Ohio River, some cool treehouse rentals offer a true escape to nature, with lofted rope bridges and handcrafted bunk beds nestled deep in pockets of red oak. You might need to pack your own sleeping bags and camping stoves for such remote getaways.
Tennessee's coolest treehouses
The home of the Great Smoky Mountains is a top spot to seek out cool tree houses. You'll need to resist the temptation to pull over in the rocking line-dancing bars and Dolly-themed amusement parks of Pigeon Forge along the way, but then it's all misty valleys filled with chalk maples and pale hickories. The rentals here channel a traditionally Appalachian charm, too. That means decks with swinging chairs and crackling log fires to return to after a long hike.
When it comes to combining the ocean and the woods, there are few states as accomplished as Washington. Cue the range of trendy treehouses that cluster around the Puget Sound in the shadow of the Olympic Mountains. You might not be able to make them out so well, on account of those natural shingle walls and tree-sprouting roof gables. Once you have found them, however, you can look forward to a stay that's totally immersed in nature, with glaciers above and whale-inhabited waters below.
California isn't all surf-washed beaches and hip towns, you know. Venture away from the Pacific and you'll soon be in the realm of the Sierra Nevada and the great redwoods. Between them, it's possible to get uber-swish rentals that spread out between pine trunks, sprawling over wide decks with al fresco Jacuzzis and views of ancient caldera lakes. For real adventurers, there are also remote treehouses deep in the fir-clad ridges of the Coast Ranges, clutching slopes near gushing rivers surrounded by mighty sequoia trees.
Georgia hides cool treehouses in its Blue Ridge mountains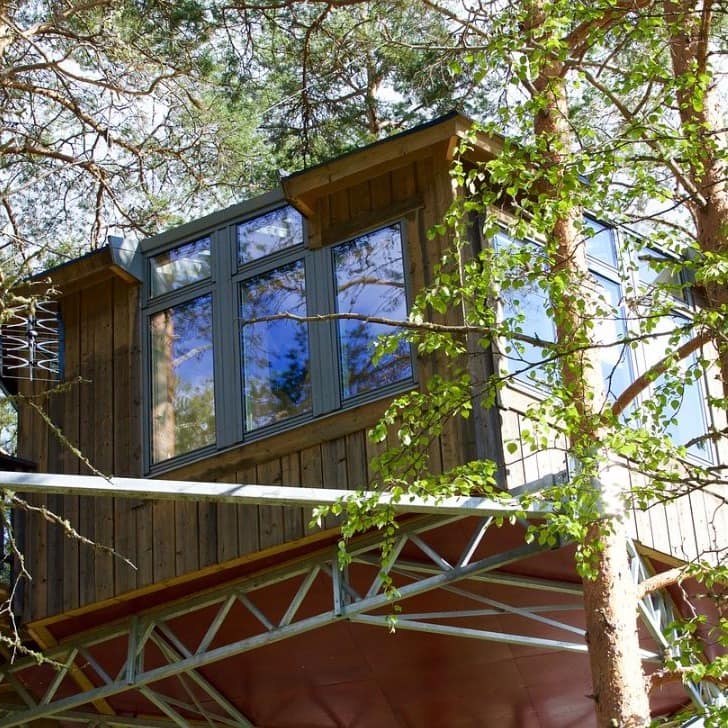 Lose yourself in a land of humming hummingbirds and scurrying bobcats by venturing to the northern corner of the Peach State and the sylvan hills of the Chattahoochee-Oconee National Forest. Amid woodlands thick with oak-hickory and hemlock, you'll find age-old highland towns that rock to bluegrass ditties and sizzle with smoky BBQ grills. And when it's time to retire? Some seriously cool treehouses await the forest aficionado, some even with deluxe interiors and steaming hot tubs on their decks.