Be taken by treehouse camping
There's something undeniably awesome about sleeping in a treehouse camping pod or woodland glamping pod on your vacation. Total immersion in nature, the sights, the sounds, and the smells of the forest are what you can expect, not to mention unforgettable accommodation options, from deluxe cabins to lonely pioneer shacks.
A few amazing places where you can do treehouse camping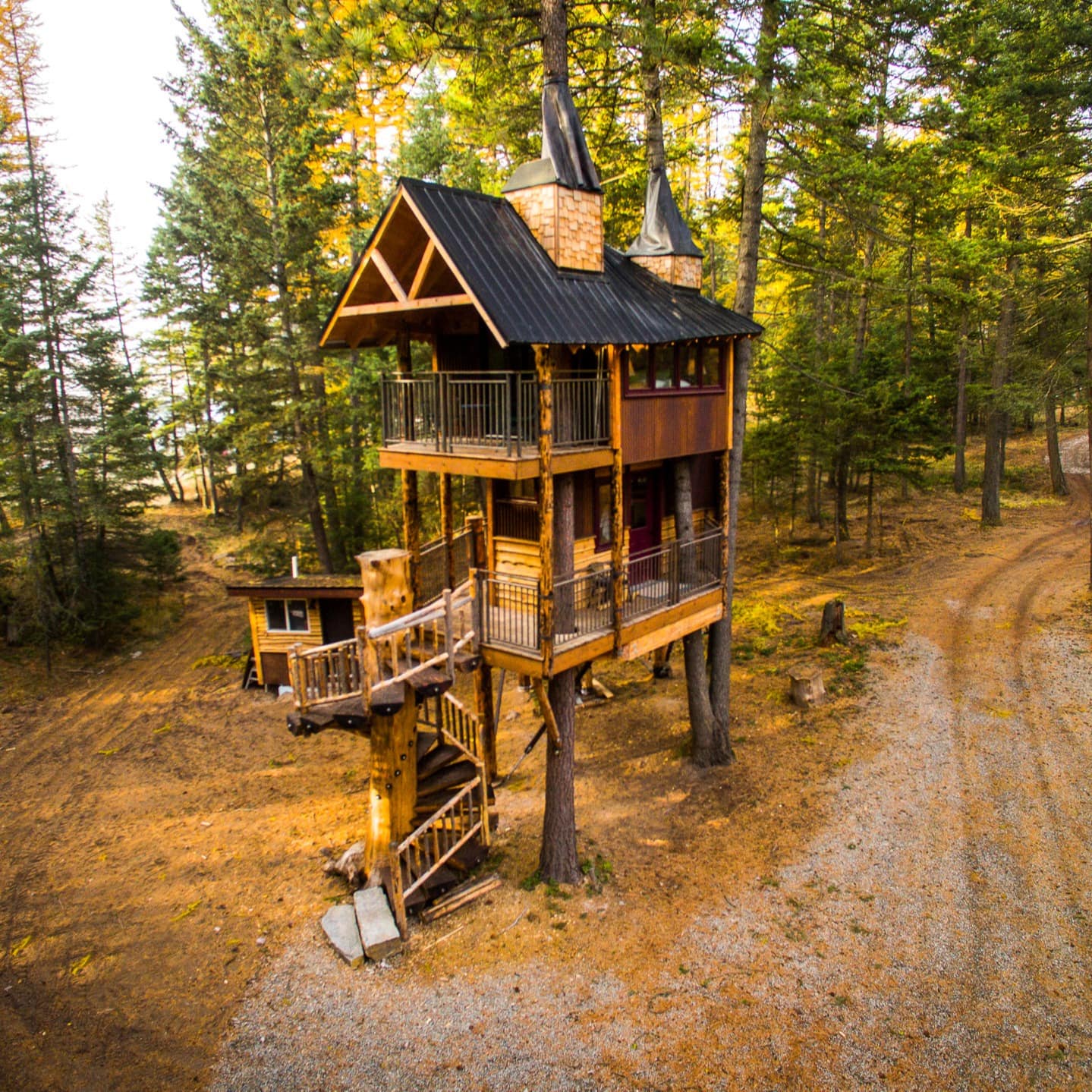 There's certainly no shortage of inspiring and alluring destinations where this unique sort of vacay rental is on the cards. Whether you opt for treehouse camping in Oregon and its remote sequoia groves or choose Appalachia's misty valleys, you're sure to have a real adventure.
Treehouse glamping in Texas
Down in the Lone Star State you'll leave behind the dense wooded hills of Appalachia and enter a land of dusty canyons and babbling creeks. This is the province of the cypress tree, which is just perfect for crafting unique treehouse camping stays in – strong, sturdy, with gnarled branches poking out on all sides. Look for your rental in popular vacationing hubs like New Braunfels and around quirky Austin.
Adventures in the woods with treehouse camping in Oregon
The Beaver State is covered by great swatches of protected national forest and soaring peaks in the Coast Ranges. So, it's hardly a surprise that treehouse camping in Oregon is such a big thing. Get ready for handcrafted cabins lofted high in hulking redwoods, and remote huts in burly pines near the trails that lead to Mount Hood.
Tennessee for tree-shrouded camping options
There are not only little shacks stuck into the white oaks and maple groves of Tennessee's Smokies. In these hazy mountains, and between the state's bluegrass-twanging towns, you can also happen upon all manor of treehouse glamping – think tentalows huddled under pines and wooden pods just off the iconic Appalachian Trail.
California for camping in trees
Think California, think sun-splashed beaches and bays filled with bikini bodies. But that's just one chapter in the tale of the Golden State, which also ranges up to Mount Shasta, the spear-like woods of Lake Tahoe, jaw-dropping Yosemite, and Redwoods National Park. The upshot? Many of the treehouse camping options here are remote and off-radar, offering a true return to nature.
Georgia's cozy treehouse glamping
On the northern fringes of Georgia, the Peach State pokes into the famous Blue Ridge Mountains. There, the landscapes are dressed in a blanket of maple, beech, and hemlock, and the towns touch on world-famous scenic byways. You can also get some handsome treehouse glamping, which will often pack in a range of luxuries – think hot tubs and grill-ready decks.
Booking tips for going treehouse camping
Below are a few handy hints that can help if you're looking to get your treehouse camping break all booked up and arranged soon. They vary from pointers on the seasons to tips on how to score a great bargain.
It's always a good idea to have the seasons in mind when you come to plan that treehouse camping jaunt. The weather can really transform what sort of trip you have, while some stays will be better suited to braving the elements of certain months. Take treehouse camping in Oregon as an example. If you head there in between June and August, you'll get open hiking trails and wildflower-filled forests on the doorstep. If you come in winter, the whole area could be snowed under.
Book early – treehouse camping sells fast
Treehouse camping might not be as in high-demand as beachfront villas on Miami's South Beach, but there are far fewer of these types of accommodations. That means you'd be wise to secure your home in the forest well in advance of traveling, before the most amazing spots and the best deals all get booked up.
It's true that one of the great joys of treehouse camping in Oregon, California, and Appalachia is the seclusion in the great outdoors that's offered. However, it's important you factor that into your plans. Some treehouse camping sites aren't that easy to access, while others might not have all the creature comforts. Don't worry, though, there are usually alternative treehouse glamping pods closer to big towns – the likes of Asheville, Blue Ridge, and New Braunfels come to mind.