Escape and explore – glamping in Montana
So-called Big Sky Country is surely up there with the country's greatest wildernesses. Spanning the ice-capped tips of the northern Rockies, spilling into the snowy reaches of Canada, cut through by babbling alpine streams and riverways, and – of course – even blessed with the simmering geysers of Yellowstone, this is prime hunting ground for intrepid travelers. Glamping in Montana promises up-close-and-personal trips to the backcountry, along with intriguing stays of all shapes, sizes, and styles.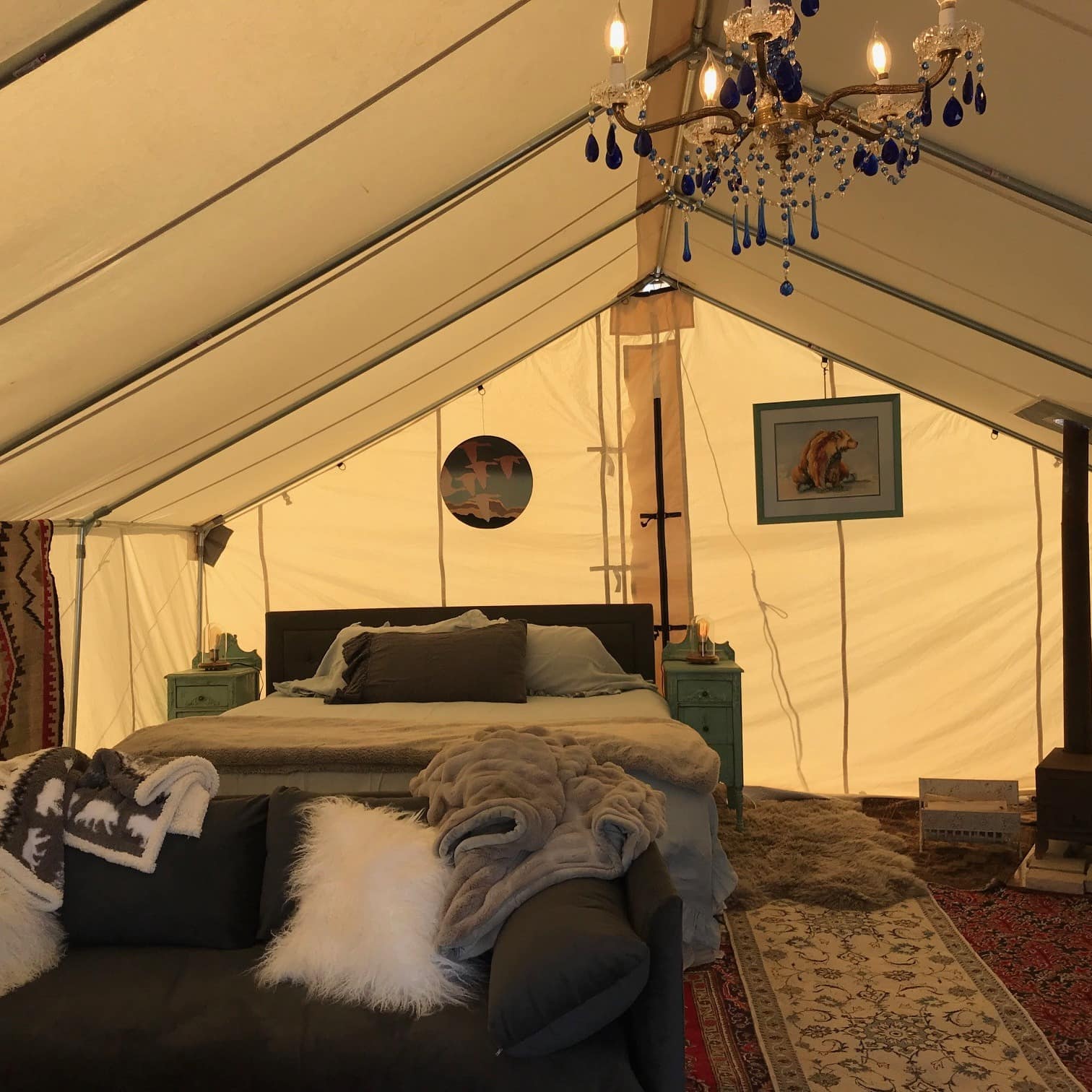 Glamping in Montana is an interesting business. With the roundhouse tents of nomadic tribespeople and crooked cabins made from rough timbers alike on the menu, it's fair to say you never really know what's around the corner.
When a glamper talks about a tent, they aren't talking about your usual tent. Head-height and sprawling, double-flapped doors, and space enough for a king-sized bed with layer upon layer of blanket and upholstery – there's oodles to make these canvases something special. You can even get some plush tents with their own log-fired stove to warm things up.
Yurts and gers from the east
A ger or a yurt draws its inspiration from the eastern steppes of Central Asia. There, they've been used as hardy nomad dwellings since anyone can remember, with tough animal-skin coverings and hardy timber skeletons to set them up against the highland elements. In Montana, they're usually made from more mainstream and eco-friendly materials, but have all the extra space and coziness of their Mongolian namesakes.
Rustic log homes in Montana
Recalling the days when John Muir and the pioneers were crossing the great frontier, a cabin or glamping pod is your chance to feel like a boundary-breaking explorer on the Pacific Northwest trails. Bonuses with these include static roofs and walls, along with decks with seating areas and BBQ grills out front.
This certainly isn't a small state. Its endless tracts of rolling farm fields meet grand mountains with a glacial top. There are roaring rivers that mingle with bubbling geothermal lakes. And that's not even touching the dense sweeps of pine and fir forest. A guide below can help you pick where to go glamping in Montana.
You can transport yourself back in time by seeking out glamping in Montana that spills down to meet the edge of the Blackfoot River. A land untouched, it's all about being at one with nature here – you could even spot elks, grizzlies, and bighorn sheep from the comfort of your own tent bed. What's more, white-water rafting jaunts and fly-fishing are on the menu for those feeling a tad more adventurous.
Between the settlements of Whitefish and East Glacier Park Village is a vast swathe of the Rocky Mountains that's set to take the breath away – literally, in some cases. Spreading over the Canada border, it's home to bucket-list adventure drives like the Going-to-the-Sun Road and dramatic hiking paths like the Highline Trail along the Continental Divide itself. Glamping is a great way to really feel immersed in the glistening ice fields and pine forests that abound.
The first ever national park in America might be mostly over the state border in Wyoming, but you can seek out Montana glamping stays that will put you just on its northern fringes. Gateway towns like Gardiner and West Yellowstone could have the best options. From those, you can delve straight into the wilderness. The vast Lamar Valley and its bison and wolves are right there, along with the steaming terraces of Mammoth Hot Springs.
Squeezing through the gorges and canyons of the Sapphire Mountains and Lolo National Forest, Rock Creek is another place to settle in a glamping pod or cabin by one of Montana's iconic waterways. It's a haven for fly-fishers, with trout of all kind whizzing through its currents. And on top of that are eco ranch visits and horse-riding sessions to get busy with.
Try to keep glamping in Montana to a budget
You shouldn't have to fork out for your ticket to the vast Montana outdoors. Not only is glamping in Montana considered a cheap alternative to some of the chalets, lodges, and ranches out there, but you can also reduce the cost even further by following the booking tips below.
Always prepare early for summertime
Montana really comes into its own when the snows melt to reveal the striking outline of glacial mountains, the sky-blue alpine lakes, and the wildflower meadows and green forests of Yellowstone. That happens between May and August, the most popular visitor season of all. Book early if you want to see the state in bloom though, because the best bargains will often get snapped up fast.
Not all glamping in Montana comes with the same price tag. You'll often find that the most elaborate options are dearer. They include Mongolian yurts and standalone camping pods with their own wood fires. On the bargain end of the spectrum are permanent tents, though they still tout that glamorous feel and plenty of space.