Be amazed by over-water villas
If you're looking for a vacation rental that's sure to make your pals at home jealous as jealous can be, an over-water villa could be just what's needed. In this guide, we outline precisely what you get in these bucket-list rentals, and offer a little destination inspiration along the way.
If you're not entirely sure what you'd be getting into on the over-water villas front, read on for a few pointers on what these types of accommodations are, exactly, and a glimpse at some of the features they often offer.
An over-water villa does exactly what its name implies. This is a villa rental, only perched right on top of sloshing H2O. That could mean a surf shack lofted over the cobalt Bali Sea in Indonesia, or a traditional Mexicana cabana on stilts by the shimmering Caribbean coral gardens. The point is, you'll be sleeping just feet from see-through lagoons and snorkeling spots. Who needs a pool anyway?
Most over-water villas around the globe will have a touch of luxury about them. Sliding windows that open onto big deck spaces, glass floors so you can watch the fish darting back and forth through the corals, designer furniture, and a dash of the local style – it all adds up to make a truly memorable type of vacation rental.
It's normal for over-water villas to be part of a larger resort. There are plus sides and downsides to that. The pros include added levels of service. Maid service, room service, on-demand massages, and on-site water-sports outfitters could all be part of the mix. On the other hand, you might find over-water villas in complexes are a little less secluded and away from it all.
Enticing places around the globe for over-water villas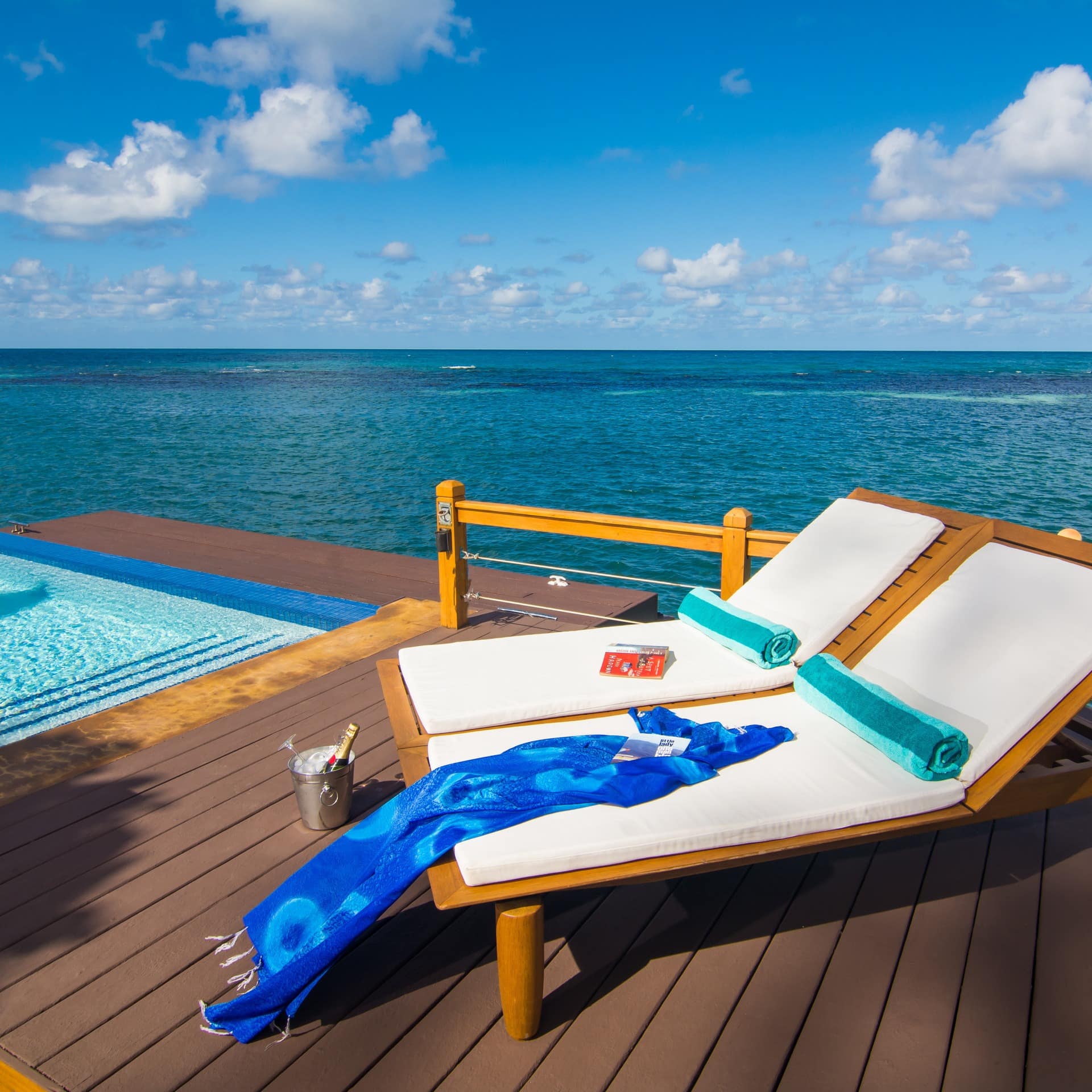 Dazzling coastal lagoons, sloshing ocean waves, pristine coral reefs, and turquoise inlets laden with multicolored fish are all perfect settings for over-water villas. You'll find them as the backdrop in amazing destinations all over the globe, from the long-lost isles of French Polynesia to the surfing mecca of Bali.
Over-water villas in Bora Bora
It's rare that people don't gasp in awe when they first lay eyes on Bora Bora. That's just how it is in this volcano-topped Shangri-La out on the midst of the Pacific Ocean. Glinting white-sand beaches mingle with untouched jungle on shore, but you're likely to be closer to the teeming reefs that ring the island, where over-water villas put you atop crystal-clear lagoons.
Get your over-water villa in the Caribbean
There's no reason you can't get your hit of Bora Bora on the Caribbean side of the Americas. Jet down to islands like Jamaica and you'll find resorts with deluxe homes poking up over the aquamarine blue of the sea. Alternatively, places like Belize can offer homes on their very own private island, which means you'll have secluded beaches and pockets of mangrove to call yours for a week of two.
Get great over-water villas in Bali
Bali's over-water villas channel the vibes of their native island. Topped with overhanging gabled roofs and ringed by dark-timber decks, they're often inspired by the mysterious Hindu temple architecture that abounds on the so-called Isle of the Gods. Villas on stilts over the Bali Sea aren't as common as villas with ocean waters channeled around them, allowing guests to jump straight from their bedroom into bath-warm currents.
Romantic over-water villas in the Maldives
The over-water villas of the Maldives have long been a favorite among the honeymoon crowd. It's easy to see why. Loads of them sit on their own private islands or atolls, with just a few other wood-built homes perched atop the pearly blues of the Indian Ocean nearby and stretches of sugar-soft sands to wander right on the doorstep.
Mexico's enchanting over-water villas
South of pumping Cancun and away from the jungle-shrouded temples of Chichen Itza, the sparkling Riviera Maya has become a real hot spot for over-water villas. From the outside, the vacation homes can often look more like Caribbean shacks, donning palm-thatched roofs and salt-sprayed deck bridges. But inside, it's all chic aesthetics and Egyptian cotton-topped beds. Nice.