Winter wonderland. Book your stay now in Chalet Village North Above Gatlinburg
Property overview
Chalet Village, Gatlinburg, TN, USA
Cabin

Sleeps: 4

Bedrooms: 2

Bathrooms: 2

Min Stay: 2 nights
Also Easy Trip to National Park & Pigeon Forge-Off busy Wiley Oakley Road
Tour this property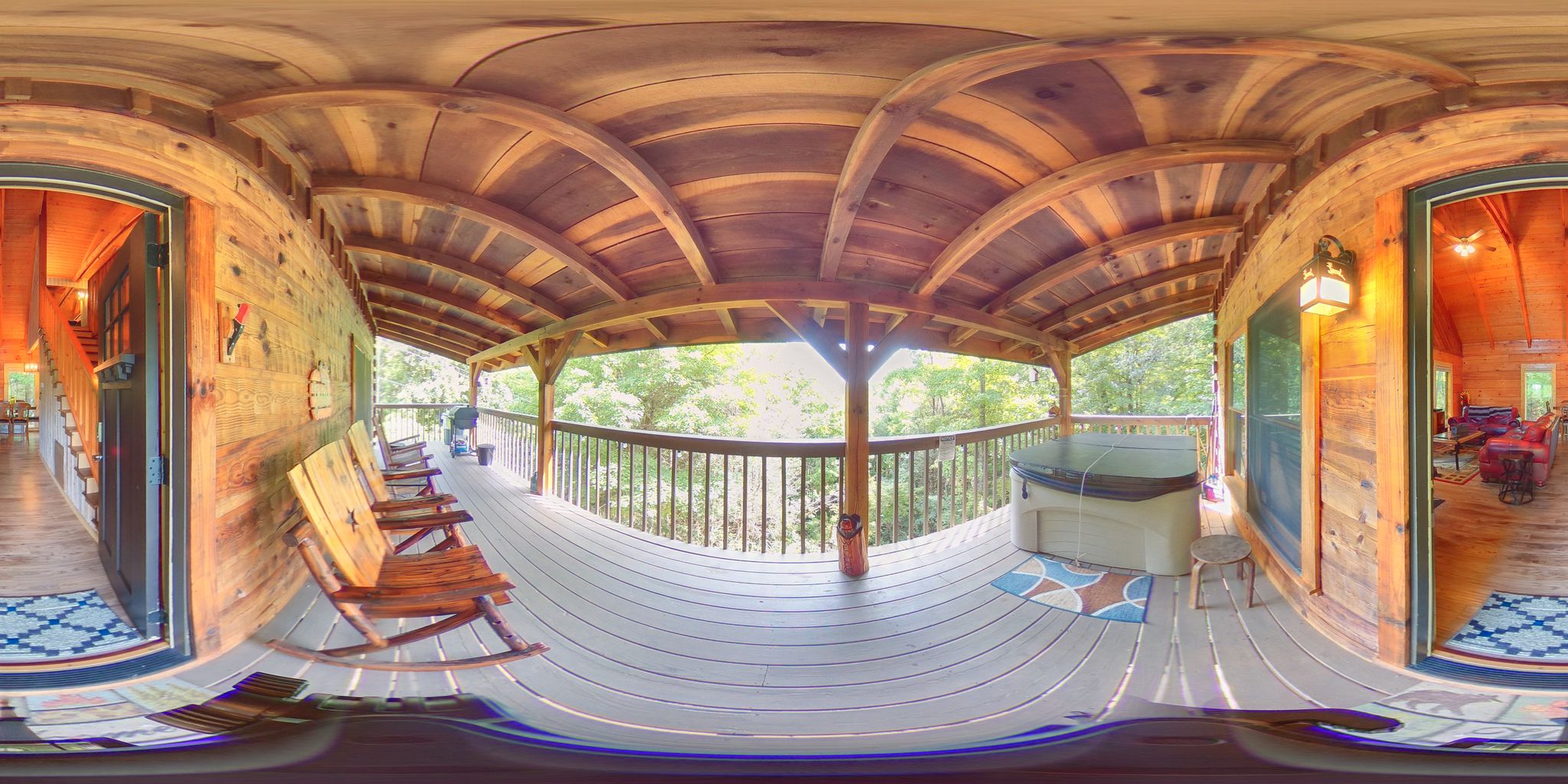 Owner
Ask a question
About Pamela
Enjoy this area so much and am glad to have the opportunity to own this wonderful Vacation Rental and use it with Family and Friends.
Pamela purchased this Cabin in 2016
Why Pamela chose Chalet Village
I wanted something that was convenient but off the main roads of Wiley Oakley and Ski Mountain Drive. I wanted a Real Log home. I didn't want to look to my left or right when sitting on my deck and see my neighbor. I wanted to have a view of the National Park. I wanted to be able to go out on my porch in my PJ's or Hot Tub Swim Suit and not worry about someone looking at me. After a many month search found this gem. There were 3 homes up the drive that is at the end of the dead end road on a culda sac. One of them burned in the great fire of 2016 so now there is only two of us. Bears often pass by my house and there is other nature and views. This is the place I like to come and hike, relax and enjoy the wonderful mountain peace. But if you want crowds and activities they are 15 minutes away at most (mountain road driving). After spending many months remodeling this log home that had not been properly maintained it has turned out to be a very wonderful gem in the mountains.
What makes this Cabin unique
So convenient to the cities of Gatlinburg and Pigeon Forge. Drive down Ski Mountain and take a right and you are in the National Forest!
Amenities
Featured
No Smoking

Air Conditioning

Satellite or cable

Washer & Dryer

TV

Internet

Parking

Fireplace

Heater

Hot Tub

Swimming pool
House Rules
Check-in: 4:00 PM
Check-out: 11:00 AM
Minimum age of primary renter:24
Max guests:4
Cancellation Policy
100% refund if canceled at least 30 days before arrival date. 50% refund if canceled at least 14 days before arrival date.
Reviews
1–6 of 68
Uncomfortable in mile high Cabin
Riding up around 2 plus miles up a mountain with curves in road dangerously close to edge in many places , made me a nervous wreck! The view on the road going up had some great views IF you could actually look ! Fear of running off that road especially if big trucks carrying equipment was coming at you...Some literally on your side of the road! Enough said about road . The cabin did NOT have a good view unless you enjoy just admiring the leaves that blocked the mountains! So disappointed with that!! The inside cabin was clean with very nice furnishings BUT the couches sag in the middle. The last thing that was alarming is the fact there's one door to cabin .... No back door or anyway to escape if a fire started and blocked that one door! So needless to say we'll never go back to "Bears Among Is" ! The owner was nice talking with but made it clear there's no refund REGARDLESS of any problem you may encounter.
Owner's Response:
After speaking with you about the "big problem" because you were unable to figure out how to turn on the TV I knew you would not be happy there or at any place that was not just a simple motel room on the main strip. I immediately contacted my friend and neighbor to come and look at the situation and it was simply a loose plug and so your comment stating that no refund would be made regardless of the situation is untrue. You specifically said that your husband could not live without his TV and I have three of those in my home.
I am sorry that you have such a fear of the well maintained roads Chalet Village North. My home faces Mt. Le Conte and you can see that morning sunrise over the mountain each day. I have posted clear pictures of everything at my home for each guest to look over so that they get exactly what they want plus I work hard to provide additional amenities including coffee filters, spices, and more. Many of the log homes in the area have only one door and there are three smoke alarms though-out Bears Among Us for my guests peace-of-mind. I just spend four nights at my home and found no sags in my good leather furniture and have had many guests comment about the comfort and coziness of things in my home.
I am sorry that my prompt attention to your questions and concerns was not to your satisfaction and that your fear of mountain roads caused you to not enjoy what most would consider a fabulous mountain get-a-way.
Very Cozy Very Clean Perfect Getaway
Bears Among Us was exactly as described in listing- Maybe better !! Very clean and comfortable. We grilled steaks the night we arrived and everything we needed as far as dishes and utensils were there for us including aluminum foil, saran wrap, paper towels, steak knives, nice heavy plates etc. It was very accomodating. The beds were very comfortable and the walk-in showers were awesome. My only regret was this was a short trip so we did not get a chance to enjoy the hot tub or a long soak in the jacuzzi tub !! I would definitely recommend Bears Among Us to a couple wanting to get away and relax. Was hoping to see some bears but didn't but that's ok ....they would have probably scared me to death anyway !!!! Last but not least....communication was great!! Pamela responded to my one question very promptly and her directions to the cabin were thorough and took us right where we needed to go !! The neighbors also brought us some delicious fresh donuts from The Donut Friar in town upon our arrival !! Lovely, cozy and comfortable cabin with the rustic look we were looking for!!
Wonderfully cozy mountain getaway
The cabin was tastefully decorated and welcoming. Wonderful view from the deck. We loved our stay here and would definitely come again.
Very relaxing cabin
This cabin checked all of my 3 C's. Clean, Comfortable, Cozy. Everything was as advertised. My wife and I had a great extended weekend. We will be booking Bears Among Us again in the future. You have neighbors but never notice they are there because from the front porch you are totally secluded. We meet the neighbor in the rear of the cabin and he gave us safety tips for the bears and brought us doughnuts! Very nice. The 3 days flew by and we hated to leave. Big jacuzzi tub in the master. All over body shower that was super relaxing. Plenty of room. Hot tub that worked flawlessly on the deck. 2 bedrooms, both with king size beds. At least a 65" TV over fireplace and 42" in both bedrooms. Bose portable Bluetooth speakers that you can use while in the hot tub. WiFi was great but you do have cell service. In the kitchen all you need to bring is food and coffee. Everything else is provided. Charcoal grill on the porch the we used twice. We shopped at Food City and the clerks there were so nice and helpful. The only disappointment was my wife had never seen a bear before and were packing to leave when she commented how nice it would have been to get some pictures. We go outside to load the car and there they are! A total of 7 bears! One mama, 2 cubs and 4 smaller bears! Not only did we get pictures, we also got video! We played it save, didn't bother them and kept our distance on the porch with the gate shut. They were not aggressive at all and really didn't even pay attention to us other than a quick glance. That was it. Now the trip was perfect! We waited for them to leave and finished loading the car. As soon as we left my wife started calling family and friends to tell them about the bears and didn't stop talking about it until we reached Cherokee NC. She was so excited and posted pictures every where on social media. The cabin is called "Bears Among Us" and absolutely lived up to its name. Thank you Pamela for allowing us to enjoy your cabin. Your communication was great and you were an absolutely wonderful short term landlord. We can not wait to stay again! Book without hesitation, you will not be disappointed. Be sure to at least one day pack a picnic and head to The Smokey Mountain National Park. It's only a few miles away and you will see the beauty this country has to offer us. It was such a great and relaxing getaway and we are already planning our next visit.
Lovely Little Anniversary Getaway
Linda G.
McFarland, Wisconsin
My husband and I rented Pamela's cozy little mountain cabin for four nights, October 17-21, 2019. We came to the Smokies to celebrate our wedding anniversary and wanted a romantic getaway. 'Bears Among Us' turned out to be perfect. It is tucked up into the mountainside just 10 minutes from Gatlinburg and the Smoky Mountain National Park, but, far enough away to feel like you are miles from town. We had cocktail hours sitting out on the porch in the rocking chairs at dusk, and snuggled by blazing fires at night while we planned our next day's activities. The cabin has very comfy couches, a nice little kitchen (even though we ate all our dinners out and didn't cook, you absolutely could), and several big screen TV's (we didn't watch those either), but, those amenities are there if you want to use them. The cabin has two master suites with very nice bathrooms/ showers, so it was a luxury to each have our own bathroom to get ready in!
We did have one mishap with some bears getting into my car! Four bear cubs managed to open my car door and get into my car looking for treats 😳 They demolished a bag of chocolates I had left inside and were looking for more when we happened to see them INSIDE my car! My husband went running outside and scared them away fairly quickly. Luckily, the only damage they did was leaving the inside of my car covered in muddy paw prints! Lesson learned: Do Not leave food in your car! ( or anywhere outside) and Lock Your Car Doors!
Other then that, we enjoyed our time exploring the Smoky Mountain National Park ( so beautiful with fall color just beginning) the city of Gatlinburg ( so much good food!) and our very cozy little retreat on the mountainside!
Thank you so much, Pamela, for sharing your beautiful cabin with us. ❤️
Cozy property!
We had a great time at this cabin. We had a fire going and jumped in the hot tub after long days of hiking. It was perfect!
1–6 of 68
Map
Chalet Village, Gatlinburg, TN, USA