The Marigold Penthouse - Luxurious, Comfortable, Short Walk to Historic Downtown
Property overview
Apartment

1300

sq. ft.

Sleeps: 4

Bedrooms: 2

Bathrooms: 2

Min Stay: 2–28 nights
Tastfully Furnished Two Bedroom Two Bath - full top floor of Victorian 2 story
Tour this property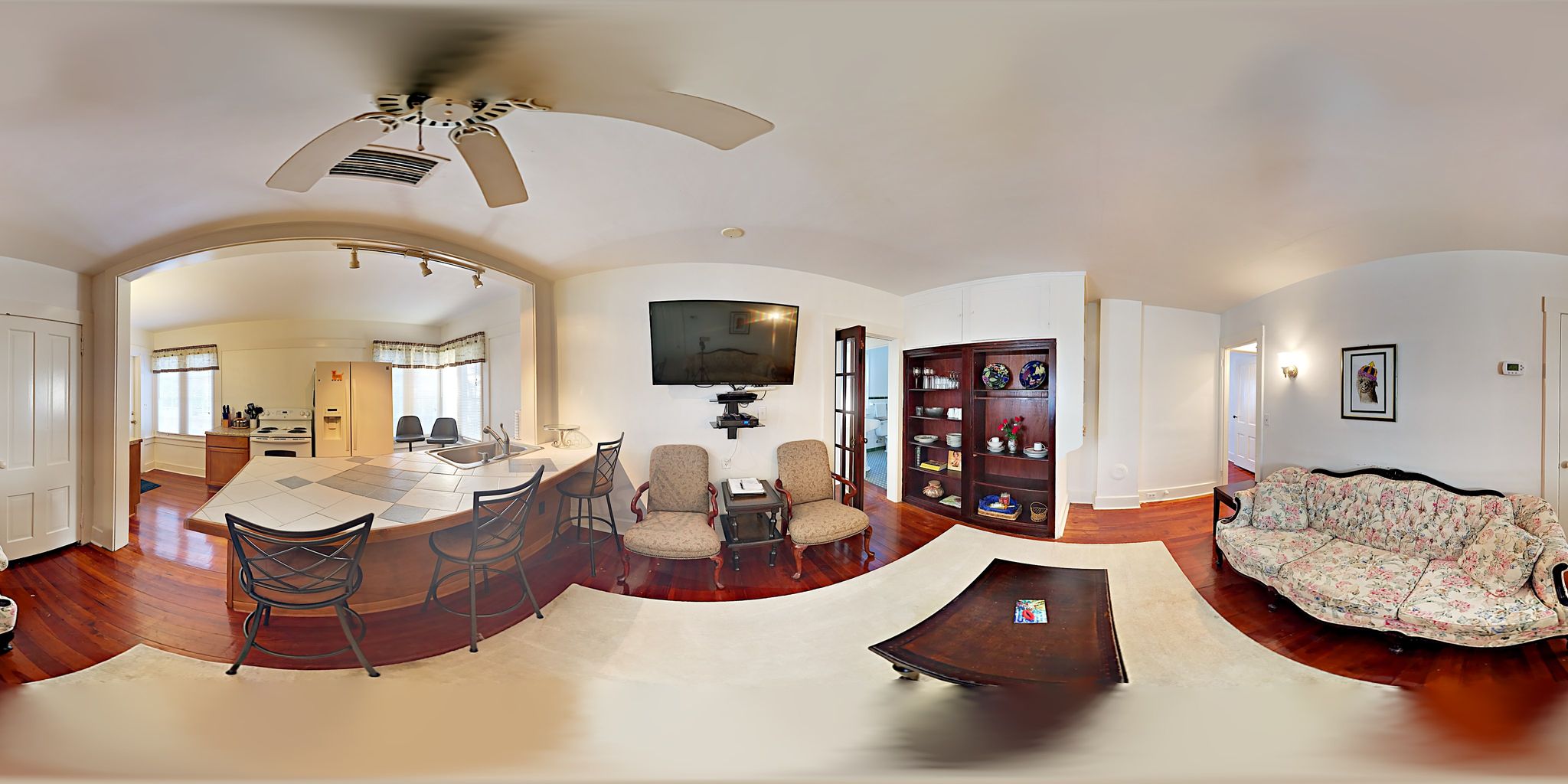 Owner
Ask a question
Bill Watford
Member Since 2013
About Bill Watford
About Bill Watford I am a native Floridian. There are a lot of nice cities in Florida and my two favorite small towns are Deland on the east side of the state and Cedar Key due west on the Gulf of Mexico. I started buying houses to rent as an investment while I had a full time day job, my first in 1985 and I still own it - the Cedar House of Deland. My full time job today is managing the vacation rentals and short stay properties that I own. I have several in Deland: The Units of the Deland Marigold, Grandma's Place, and The Cedar House. I also have two in Cedar Key: The TreeHouse and Goose Cove Cottage. I enjoy what I do and am passionate about seeing that my guests have a great experience while staying in one of my properties.
Bill Watford purchased this Apartment in 2010
Why Bill Watford chose DeLand
This property is located only 4 blocks from the center of Deland, an historic town with a rich culture going back to the Mid 1800's. It has been voted the Best Small Town in America several times. This property's location is in a very private enclave that most people don't even know is there with close proximity to historic downtown full of locally-owned shops and restaurants.. It's as if you are in the quiet of the country. You can hear the bells of St Peters Cathedral across the street and even the gentle waters of their fountain. It is within walking distance of the beautiful campus of Stetson University and also only 3 miles away from the St. Johns River.
What makes this Apartment unique
You're in the penthouse of a 115 year old Victorian home! Inside, the apartment has two bedrooms and bathrooms, living room, and a fully equipped kitchen. Adjacent to the living room is a fully equipped laundry room. Off the kitchen is a side patio that overlooks the landscaped yard, a relaxing place for morning coffee or tea. The whole property is designed for comfort and quietness with beautiful hardwood floors and high elegant ceilings but modern kitchen with everything you'll need for a great stay.
Amenities
Featured
Air Conditioning

Washer & Dryer

TV

Satellite or Cable

Heater

Internet

Parking
House Rules
Check-in: 4:00 PM
Check-out: 11:00 AM
No smoking
No Smokeing Indoors
Minimum age of primary renter:25
Max guests:4
Please do your dishes and leave the beds unmade.
Cancellation Policy
100% refund if canceled at least 30 days before arrival date. 50% refund if canceled at least 14 days before arrival date.
Reviews
1–6 of 32
Great home in the heart of DeLand
Within walking distance of Stetson and downtown. Perfect location. Clean, cute, and very friendly and helpful property manager. Plenty of towels and linens. Thanks for supplying the soap and shampoo. Things we often forget. Well stocked kitchen and safe parking. Hope to stay again during future visits to DeLand!
Great Stay
We enjoyed our stay at Bill's 'Penthouse' in Deland. The accommodations were a great value and in a good location within walking distance of main street that has many great shops and restaurants.
Marigold Penthouse
The Marigold Penthouse was very comfortable and lovely . Had everything we needed , especially enjoyed the deck.A nice stroll to town which is friendly and clean . Thank you !
looking forward to come back
A true home away from home...we were perfectly taken care of. In a beautiful, cosy apartment we had a perfect stay and felt greatly welcomed and totally safe. Also a great place to hang out on a lazy day. Size is perfect for two individuals, and still quite fine for three. Nice neighborhood with a stunning vegetation and gardens, to go for walk or for a morning run. Downtown Deland and restaurants in walking distance. Everyting you need is available in the apartment, from cooler and beach chairs to toaster, microwave and Wifi and and..., easy!
if we would come back? for sure!
Thanks to Bill for having us and
Special thanks to Scott for his help and care.
Christa and Katja
Owner's Response:
Thank you for great review. We strive to have everything our guests would need in a stay and we love to hear that it was useful. Since Deland is so close to famous beaches, Daytona and New Smyrna, I like to provide beach supplies to encourage people to visit them. Plus we have the St John's River so we sometimes host Fisherman. We also host Nascar fans and Bikers who come for Bike Week and Octoberfest. I hope you took a selfie with the stained glass butterfly in our butterfly garden. If you did please post on #DelandButterfly.
Deland
Nice spot right in town, excellent service from the team on the property.
Owner's Response:
Thanks we are owner operators and strive to make every stay great. Deland is a wonderful town to visit and so many things to do. We had a sky dive team stay for a competition at Sky Dive Deland one week and then a biker couple in town for Bike Week. We are also near the St John's River and one repeat guests brings his boat to go after crappy and bass. Its so fun meeting people who make their stay at the Deland Marigold and we are starting to get selfies with the stained glass butterfly popping up on the internet. So next time you're near, walk into the butterfly garden and "Get Your Wings On!"
A very clean, nice place. Having to climb a spiral stair case with luggage was an experience.
Owner's Response:
Yes that staircase is challenging but there is also one inside in the hall that's a bit easier and straight! To get to it go in the entrance on the ground floor at the ramp. There is a hand painted sign on the door that says Penthouse and the Caribbean. The view from up there is pretty sweet though so I hope you'll come again.
1–6 of 32
Map
Ideal Location: Enjoy the very best of both old and new Florida without living and sleeping in the crowds and noise. From visiting the famous Daytona Beach, kayaking in the St Johns River, taking a trip to Disney or Seaworld, swimming with the Manatees at Blue Springs or Ponce De Leon Springs, renting a House Boat at Hontoon, surfing at New Smryna, choosing between 3 nearby water parks, to strolling Historic Downtown Deland, each day can be a new adventure. Enjoy!