Doves Rest Cabins - El Coronado, on the West Rim
Property overview
Cabin

1200

sq. ft.

Sleeps: 6

Bedrooms: 2

Bathrooms: 2

Min Stay: 1–4 nights
Palo Duro Canyon Escape @ Dove Rest Cabins - El Coronado
Tour this property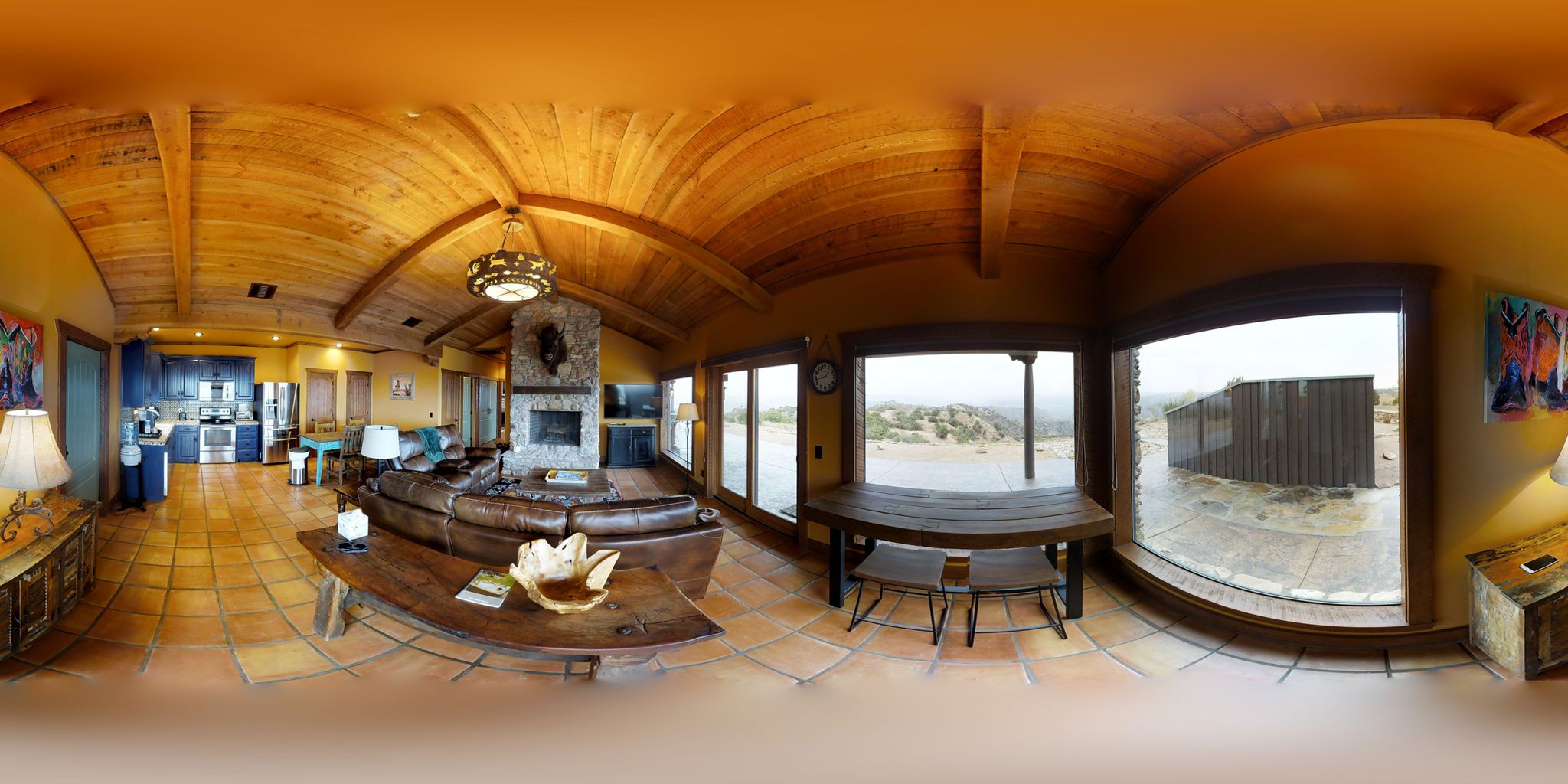 Property Manager
Ask a question
SuZanne General Manager
Member Since 2015
About SuZanne General Manager
Jeff Means is the founder and manager of Doves Rest Cabins. He's an experienced business professional with a 30+ year career in the hospitality & tourism industry. He has overseen countless event executions and destination/resort marketing efforts. He has personally led groups to over 50-countries and worked closely with resorts and hotels to enhance the guests stay and overall experience. He has traveled to every continent except Antarctica, and almost every state/province in the U.S., Mexico and Canada. During his career he has been to many interesting places such as, the Sahara Desert, Amazon River, Great Barrier Reef, Moscow, Marrakesh, Transylvania, Kenai Peninsula, and the Alps from every country, plus most of the Caribbean Islands. Jeff's sister lives in New Zealand who he visits occasionally. Interestingly, she has several successful vacation home rentals projects in New Zealand, Australia and Argentina! Jeff is also an author and accomplished writer. His extensive travels have given him a unique view about the world and the cultures in which we live. His curiosity about world and human origins led him to write his debut novel, Entity of Origin. Jeff was born and raised in Northern California but has called Texas home since 1989.
SuZanne General Manager purchased this Cabin in 2016
Why SuZanne General Manager chose Canyon
Palo Duro Canyon State Park with it's Technicolor walls make for high-desert scenery more commonly seen in southern Utah. It offers more than 30-miles of hiking, mountain-biking and equestrian trails and an additional 1,500 acres set aside for horseback riding. You can bring your own horses so don't hesitate to ask us about local boarding. Mountain bikers can experience the best single track in Texas and will enjoy the well maintained five trail heads networking for some 26-miles throughout the canyon ranging from "mild" to "wild" in technical ability - dirt, rocks, river rock, sand, wash-outs, switchbacks, drop-offs and climbs with alternative trail accesses throughout. During the summer, enjoy a performance of the outdoor musical drama TEXAS. The play, nearing a half-century in its on-going production runs Tuesdays through Sundays, June through August, at the 1,700 seat Pioneer Amphitheater. Watch the stories, struggles and triumphs of early settlers. The family-friendly show has singing, dancing, fireworks and lots of Texas humor. You'll find Doves Rest a place of amazing beauty, quietness and nurturing of soul & spirit. Palo Duro Canyon embodies Texas' sense of place and spirit like few other areas in the state. Doves Rest Cabins is honored to provide the world's only private overnight luxury accommodations to intrepid travelers, offering unique views and an iconic symbol of the American Southwest for our guests to enjoy. Wildlife diversity and abundance around Doves Rest is excellent, including populations of blue quail, bobwhite quail, Rio Grande turkey, bobcat, mule deer, white-tailed deer, Barbary sheep, coyote, roadrunners, skunks, rabbits and numerous songbirds. Fun memories and RELAXATION happen here!
What makes this Cabin unique
Off the beaten path and outside of mainstream destinations, we are far from every other place to stay. We deliver an amazing guest experience that is truly authentic Texan, personal, and character-rich. Doves Rest Cabins is truly a unique base camp from which to explore one of the world's most transformative place – Palo Duro Canyon State Park. Doves Rest Cabins is ideal for travelers who believe small is beautiful, and see travel not as something one does, but rather identifies it as part of who one is. If private and quiet surrounded by nature with friendly wildlife nestled in your own little world only a few minutes away to the second largest canyon in America interests you, then you're in the right place!
Amenities
Featured
Internet

Air Conditioning

Heater

No Smoking

Parking

Children Welcome

TV

Washer & Dryer

Satellite or cable

Fireplace

Hot Tub
House Rules
Check-in: 3:00 PM
Check-out: 11:00 AM
No smoking
Smoking outdoors only and no outdoor fires
Minimum age of primary renter:25
Max guests:6
Cancellation Policy
100% refund if canceled at least 60 days before arrival date.
Reviews
1–6 of 69
Parents' Weekend
We love staying here! We enjoyed relaxing with our college kids for parents' weekend. As always, Dove's Rest cabins exceeded our expectations.
Beautiful sunrises, gorgeous sunsets
Deanna D.
Grandview, Texas
Couldn't ask for a better view of the canyon. My son and I spent the evenings pointing out where we had walked or peaks we walked near.
We spent mornings chilling at the big picture window looking for sheep, coyotes and listening to the morning birds and planning our hiking adventures each day
Amazing Cabin with Stunning Views!
Carrie C.
Southlake, TX USA
We had a wonderful time in the cabin. We spent 3 nights and never wanted to leave. The cabin exceeded our expectations in every way. Very clean, well-stocked, and the views couldn't be better. Very convenient to the state park, horseback riding, jeep tours, and hiking. We highly recommend staying here.
Owner's Response:
Thank you for your delightful review of your stay with us at Doves Rest Cabins! We hope to have you return again. All the best!
Awake to big horn sheep!
The stay at the property was way too short. Absolutely beautiful views and all the amenities you would want for a get away. We will definitely be back.
Owner's Response:
We are so happy that you enjoyed your stay with us at the El Coronado cabin! We hope to have you visit us again at Doves Rest Cabins. The sheep will be waiting.
Excellent Cabin with Million Dollar View
Absolutely fabulous cabin. The view literally takes your breath away when you first come up on it. It looks almost surreal. Saw lots of wildlife roaming around during the weekend. Cabin has nearly everything you could possibly want for, and is perfectly sized. We had 4 adults and 2 kids with us for the weekend, and were perfectly comfortable. Only complaints we had were with the coffee maker and TV selection. The Kerurig is nice, but had trouble brewing every time we used it, and needed some kind of clean out of the needle, which my husband attempted to do about five times just in order to brew one cup. That was a tad frustrating, but we just used the French press coffee maker instead then. The TVs in each room worked well and were nice, but there were hardly any channels available to watch - not a huge gripe, but enough to be bothersome when we needed something to keep the kids occupied and distracted to watch a movie during a huge storm that passed over one of the evenings we were there. Small things, not a huge deal. Only other thing I would suggest is a large standing mirror somewhere in the hallway or bedrooms to check outfit reflection, and a pizza cutter in the kitchen, as we needed that one evening. : ) Otherwise we were perfectly content and happy and could not recommend the place more. Lots of trails to hike through the canyon, lots of natural beauty to soak in, and so peaceful. Hope to get to come back and stay again sometime in the future. Fabulous.
Owner's Response:
We are delighted you enjoyed your stay with us at Doves Rest Cabins. We would love to have you visit us again in the future. Cheers!
Great Place on Canyon Rim
Perfect for 2 couples! We did day trips to Palo Duro, Canyon Museum and Winery and cooked at home every night.
1–6 of 69
Map
Palo Duro Canyon Escape @ Doves Rest
Welcome to Doves Rest. The #1 and only private vacation home overlooking Palo Duro Canyon State Park.
Doves Rest is located 3,500 feet above sea level situated in the heart of the Texas Panhandle, also known as the Great Southern Plains near the cities of Canyon and Amarillo. Palo Duro Canyon, "The Grand Canyon of Texas," is just below you from Doves Rest stretching 20-miles across. Your view is only limited by your eyesight! Enjoy staggering sunrises and sunsets - stars appear in numbers beyond belief in the crisp clear night air as this area has some of the darkest skies and cleanest air in the United States.
Here is where the Buffalo roamed. It's Southern & Quahada Comanche (the most powerful & ruthless Indian tribes in American history), Kiowa, and Cheyenne and Arapaho territory. During their time, around 150-years ago, millions of Buffalo made this land their home and Palo Duro Canyon was a retreat for these nomad Indians - hunters of Buffalo. Chief Quanah Parker, the last of the Quahada Comanche warriors, fought the battle of Palo Duro Canyon not more than 20-miles east from Doves Rest in September 1874. It brought an official end to the U.S./Indian wars and the eventual peace that finally allowed settlers to occupy this last remaining freedom-outpost of "uncivilized" land in North America. Now, fun memories and RELAXATION happen here!
If private and quiet surrounded by nature with friendly wildlife nestled in your own little world only a few minutes away to the second largest canyon in America interests you, then you're in the right place!